The newest office buildings in Prague! What has been built and what is still being built?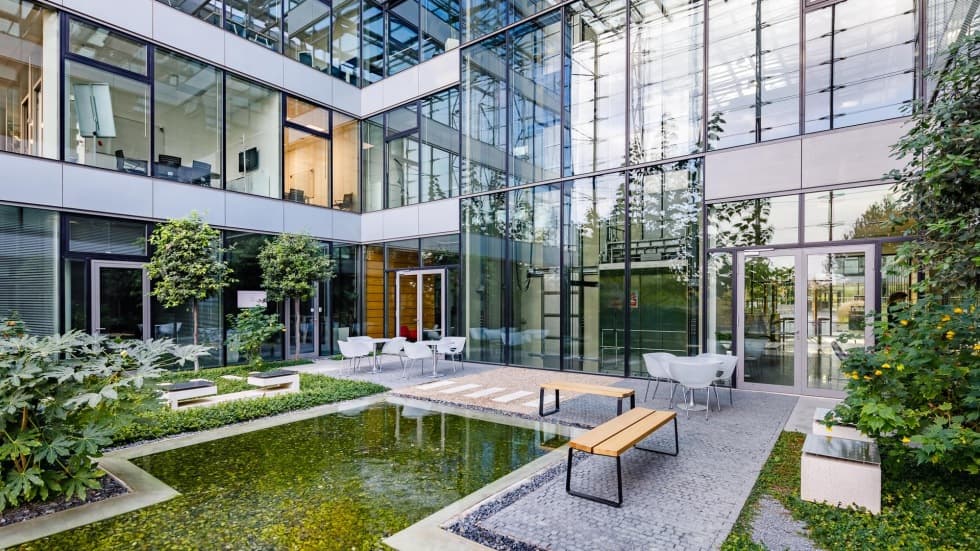 Office buildings or commercial buildings with office sections have been growing like weeds in recent years in Prague. New spaces are popping up all over the city, so companies really have plenty to choose from. Let's take a look at the most interesting modern office buildings in Prague, some of which haven't been completed yet. You may just find your future address.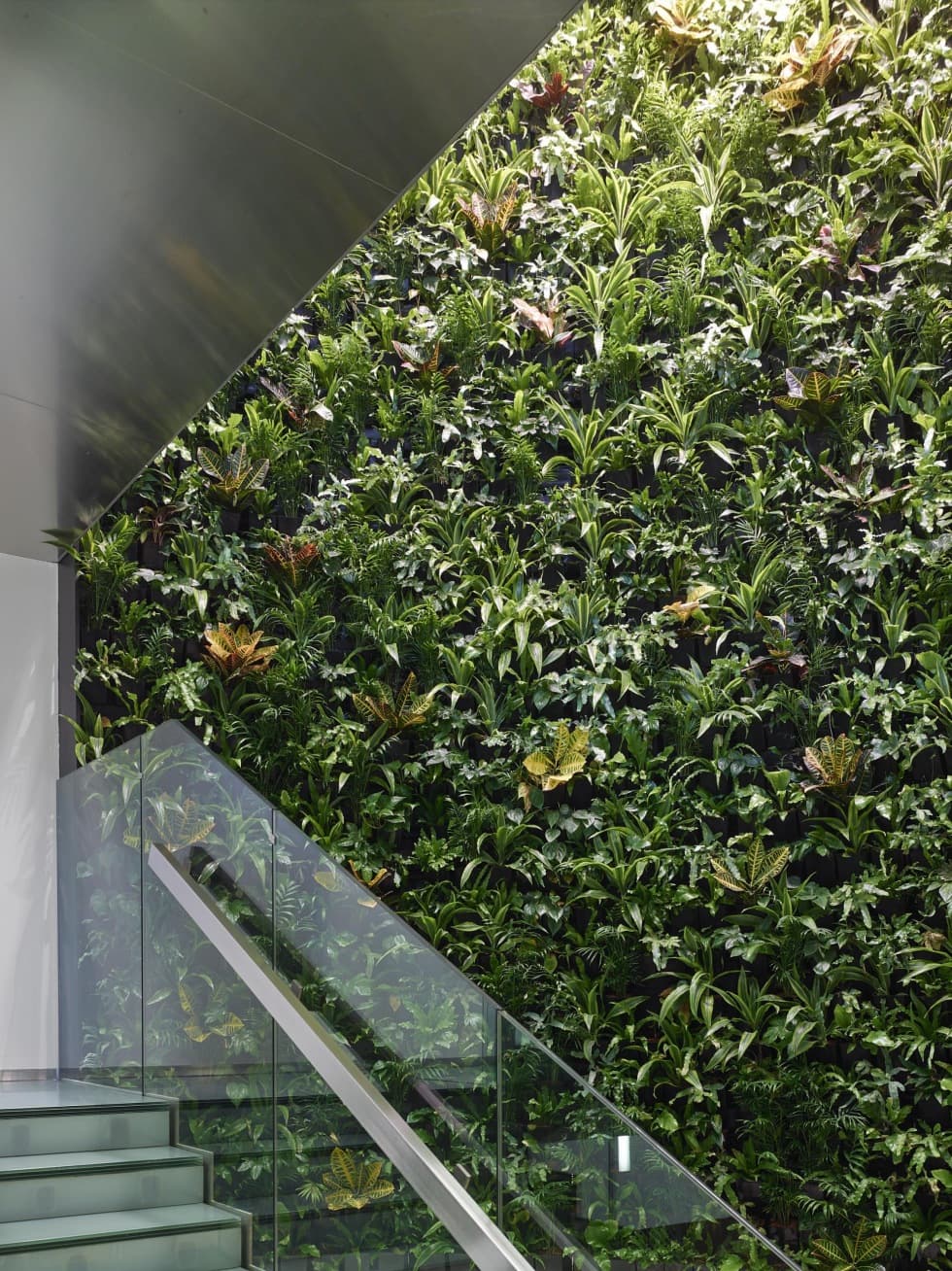 The Flow Building
Address: Václavské náměstí 47, Prague 1
Lettable area: 15,000 sqm
The Flow Building is a multifunctional building on Wenceslas Square, which offers a large amount of office and retail space. It is the first building in the Czech Republic to earn BREEAM Outstanding certification and was designed to offer passive methods to reduce tenants' energy consumption. There are 129 parking spaces beneath the building, including 50 spaces for charging electric vehicles. This is a great choice for prestigious companies that want to be right in the middle of the action. In terms of retail space, this building is known as the future location of the first Czech branch of discount clothing chain Primark. The development company Flow East is behind the project.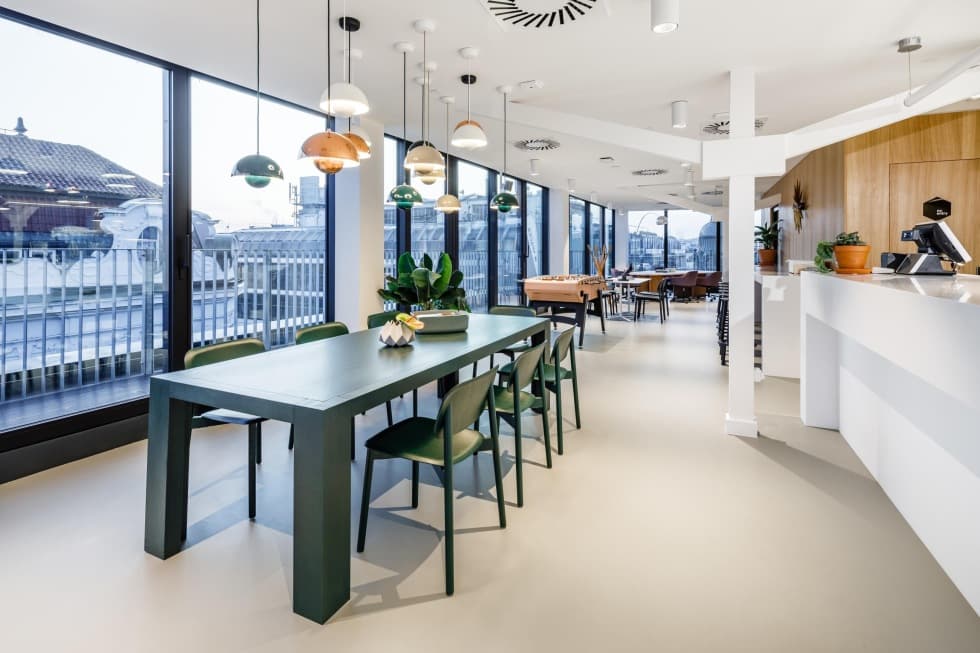 Albatros
Address: Na Perštýně 1, Prague 1
Office space to let: 3,500 sqm
The office building is located on the corner of Národní and Na Perštýně streets. The building has undergone a successful renovation (completed in 2015) and now boasts attractively designed interiors. Together with its excellent location, the former Children's Book House and Albatros publishing house is a great choice for offices in the centre of Prague. The building is home to Dutch company coworking Spaces and Česká spořitelna.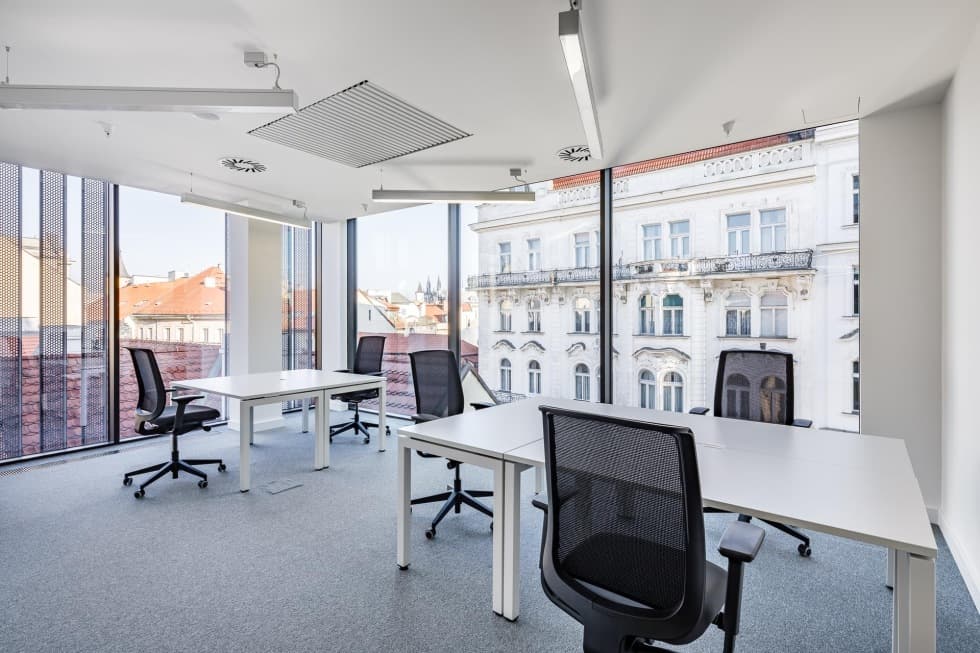 Masaryčka
Address: Na Florenci, Prague 1
Lettable area: Up to 10,000 sqm
The future around Masaryk Railway Station is called Central Business District Prague. It will be a complex of multifunctional buildings in which up to 10,000 employees will work. In addition, residential buildings and commercial zones will be added. The appearance of the complex will be refreshed by parks and many public spaces. By 2025, the completed complex should connect Prague 1, 3 and 8, as well as Masaryk Railway Station with the Main Railway Station. The builder is Penta Investments.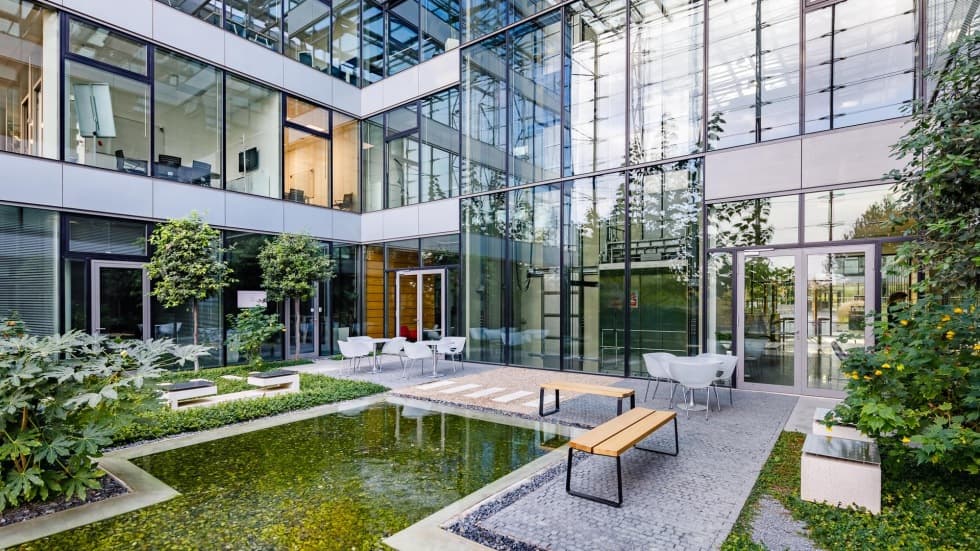 Churchill Square
Address: Italská 67, 120 00 Vinohrady, Prague 2
Lettable area: 14 202 sqm
Churchill Square is the name of an office and residential complex of three buildings with LEED Gold certification in Prague 2, near the Main Railway Station. The pride of the complex are the outdoor relaxation zones with a water feature and unique terraces with views of Prague Castle. In addition to offices and apartments, there is a central square with restaurants and cafés and a public shopping arcade with comprehensive services. Churchill Square can be easily reached by car and public transport, or by the Žižkov cycle path connecting Prague 2, 3 and 8. The owner of the complex is Českomoravská nemovitostní and Corporate Finance House Group.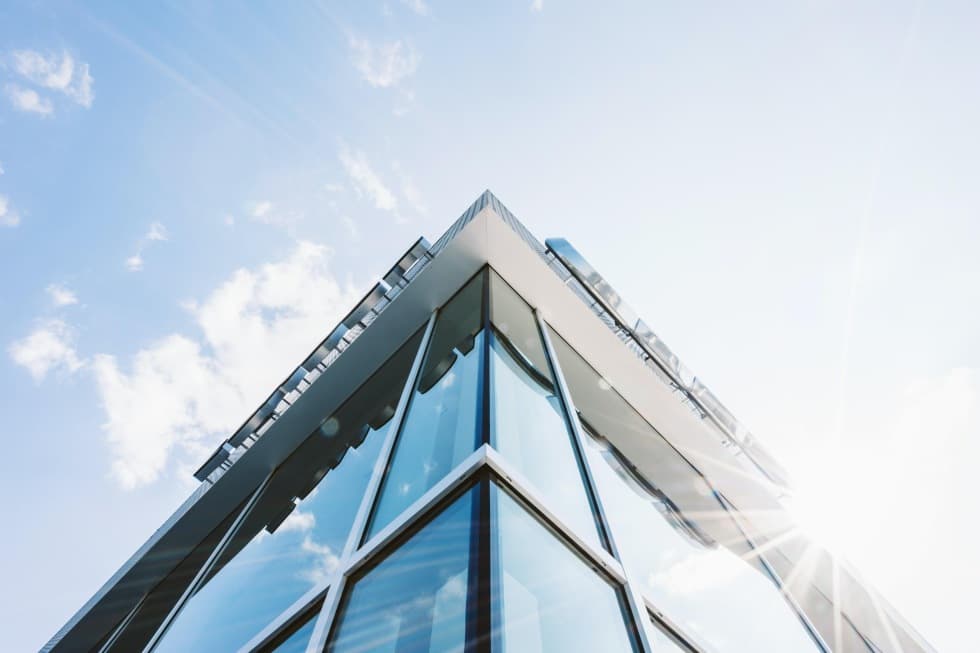 Parkview
Address: Pujmanové 1753/10a, Prague 4
Lettable area: 15 747 sqm
The Parkview building in Prague's Pankrác district, designed by renowned American architect Richard Meier, has been available to clients since last year. The building is characterized by the environmental friendliness of the materials used and the health of the environment for employees, thanks to which it has earned LEED certification. Parkview is just a minute's walk from the metro, and all necessary civic amenities can be found in the area. The developer is Skanska, from which the building was bought at the beginning of 2021 by Deka Immobilien.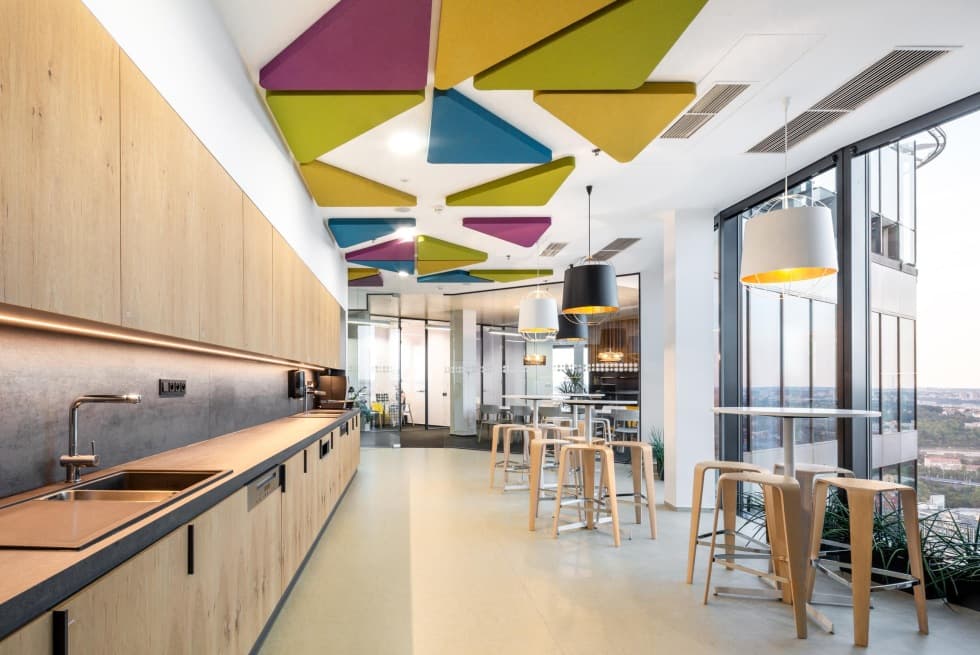 BB Centrum B
Address: Vyskočilova 1422/1a, Prague 4
Office space to let: 14,600 sqm
The BB Centrum multifunctional complex brings together 17 buildings that were built at the end of the last century. Office building B has recently undergone a complete renovation, which has made it a place for work and quiet contemplation. There is also an atrium with a water element and all the essentials associated with the economical operation of the building. The developer is the Passerinvest Group headed by Radim Passer.
Do you want to see what the sample offices in BB Centrum look like? Then take a look at offices for the PRO.MED.CS Prague reception in the Filadelfie building, multimedia showroom or office for Passerinvest (Filadelfie Building).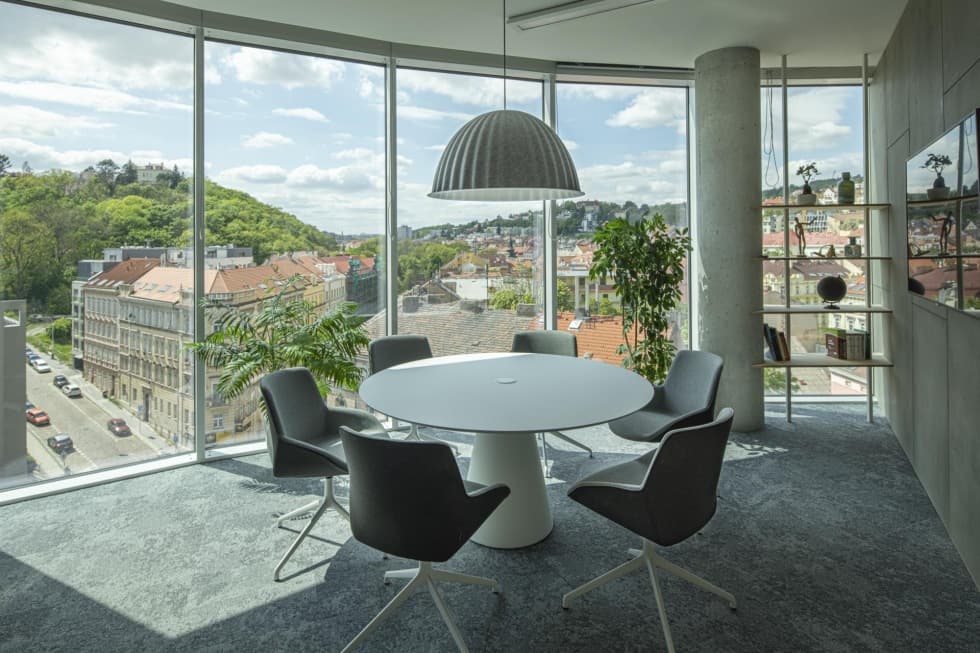 Green Point
Address: Plzeňská 3351/19, Prague 5
Lettable area: 7000 sqm
Green Point is an office building at the heart of the action. The building is in Prague's Smíchov district, at the intersection of Plzeňská and Mozartova streets and the exit from the Mrázovka tunnel, which is part of the Prague city ring road. The whole building is built in an economical style (according to the BREEAM Excellent certificate standard) and there are natural elements in the form of a green roof and an inner green atrium. The project is a private investment by Alessandro Pasquale, owner and CEO of Mattoni 1873.
One of the most beautiful offices in the whole building is our unique space for MSC, which received the Project of the Year award from the Archello platform.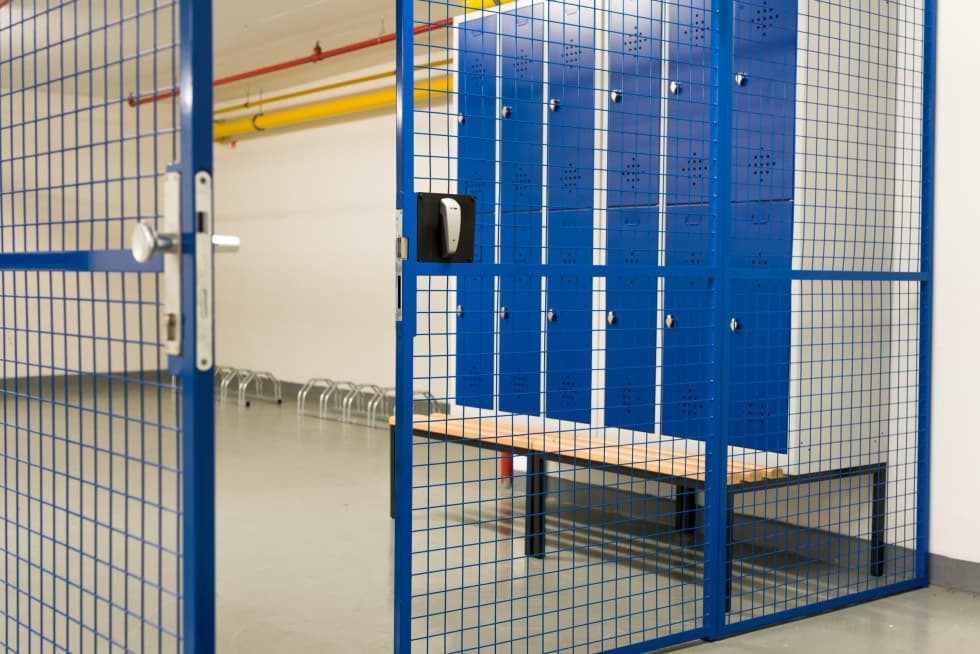 SmíchOFF
Address: Plzeňská 18, Prague 5
Lettable area: 10,090 sqm
As the name suggests, SmíchOFF is a modern office building in Prague's Smíchov district that boasts LEED Gold certification. The naturally lit offices offer gorgeous views of Prague and thanks to its location, getting to SmíchOFF is easy. The designers made sure that the whole building operates efficiently and supports employees. In addition to 91 parking spaces, there are also 60 stands for bicycles, including showers and toilets for cyclists. The investor is the financial group Penta Investments.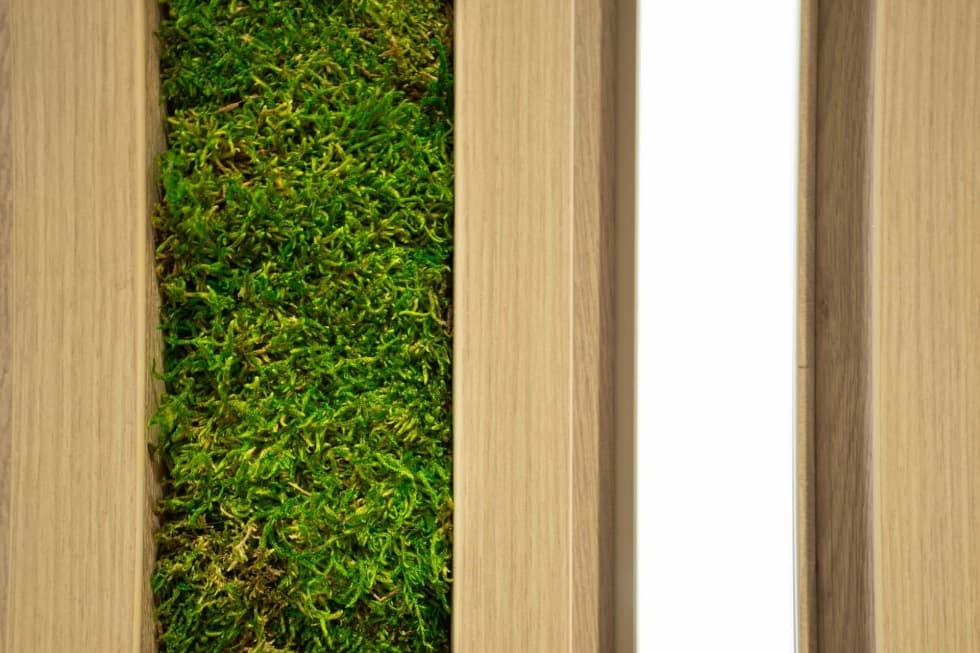 Bořislavka Office
& Shopping Centrum
Address: Evropská, Prague 6
Office space to let: 24,000 sqm
Bořislavka is located on Evropská třída. The project was developed by the KKCG group and was designed by Aulík Fišer architekti. Its advantages lie in the excellent combination of rest areas, greenery, retail space and offices of the highest standard. The complex is LEED Gold pre-certified. All office floors allow for a cellular or open layout. In the basement there is parking for office tenants and visitors to the shopping centre.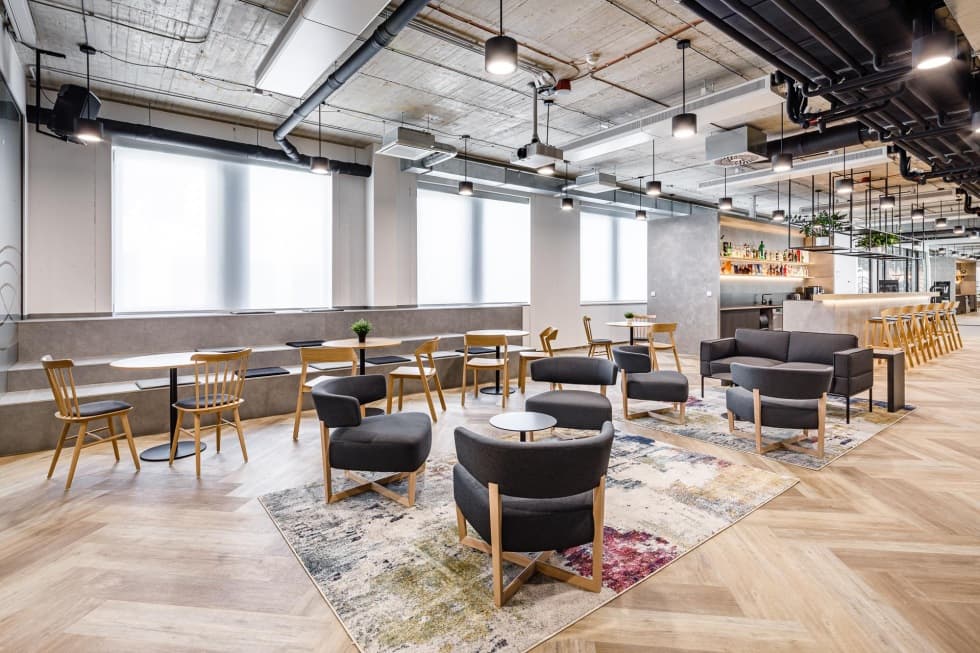 Centrum Stromovka
Address: Veletržní 200/24, Prague 7 – Holešovice
Lettable area: 5,600 sqm
The Centrum Stromovka offers offices and all important civic amenities in one. This is an ideal space for combining work and relaxation, as it is located 300 metres from the Holešovice Exhibition Grounds, 600 metres from the Prague Planetarium, and just a few steps from the Stromovka park. The owner of the building is Lordship.
If you are interested in what the offices in this building can look like, check out our work for renowned Czech company Becherovka.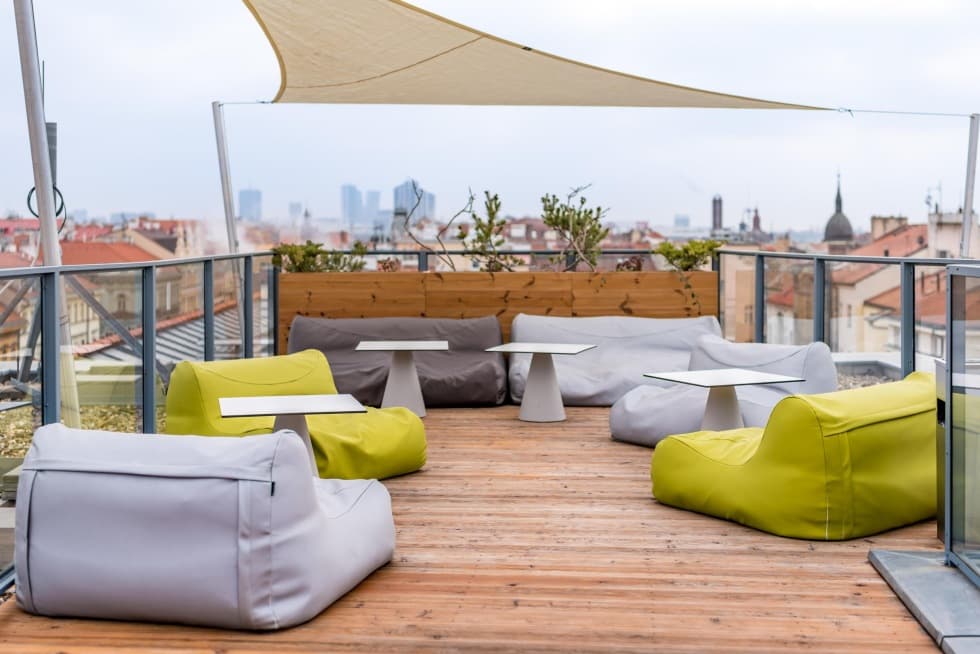 Visionary
Address: Plynární 1617/10, Prague 7
Lettable area: 20,000 sqm
Visionary is an office building completed in 2018 in Prague's Holešovice district, located on the corner of Plynární and Argentinská streets near the Holešovice Railway Station. Clients have 214 parking spaces available on three underground floors and there is also an intelligent parking system. Under normal circumstances, employees can also enjoy the benefits of an open-air cinema, a public garden or a unique running track on the roof of the building. Visionary building has obtained the LEED Platinum ecological building certificate and the WELL Gold certification for healthy offices. The owner is the Austrian company CA Immo.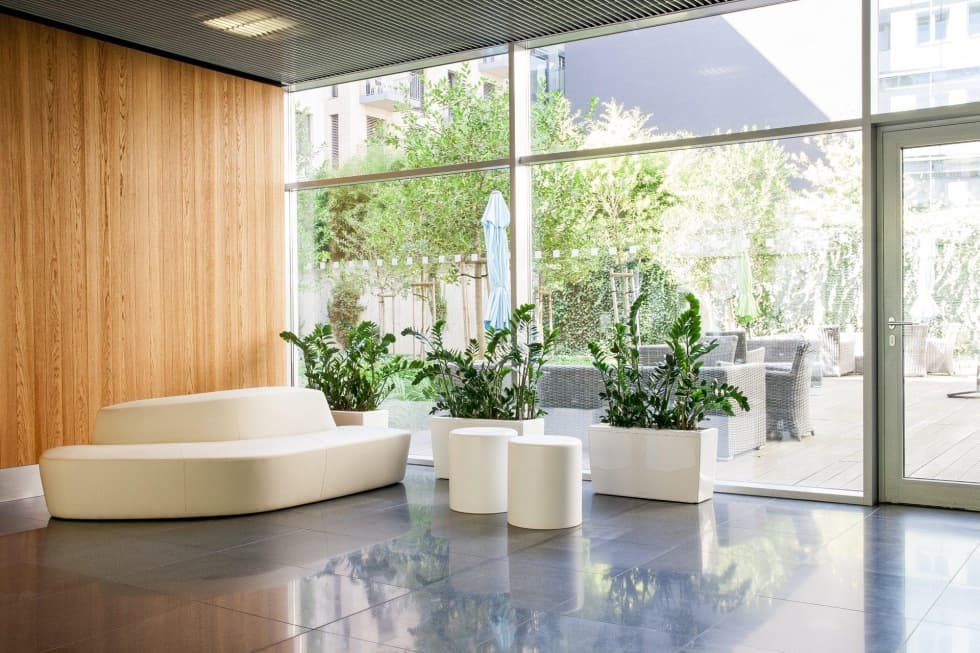 Butterfly Karlín
Address: Pernerova 691/42, Karlín, Prague 8
Lettable area: 23,000 sqm
Butterfly Karlín is an elegant office complex consisting of two six-storey buildings, which was completed in 2018. The whole complex is characterized by round shapes and many natural elements. The project received the BREEAM Excellent certificate, which indicates the energy efficiency and sustainability of the building. Butterfly Karlín earned this certificate, among other things, thanks to the intelligent control of systems on all floors (heating, ventilation, cooling) or the geometry and orientation of the building, which prevents heat loss. The developer is AFI Europe.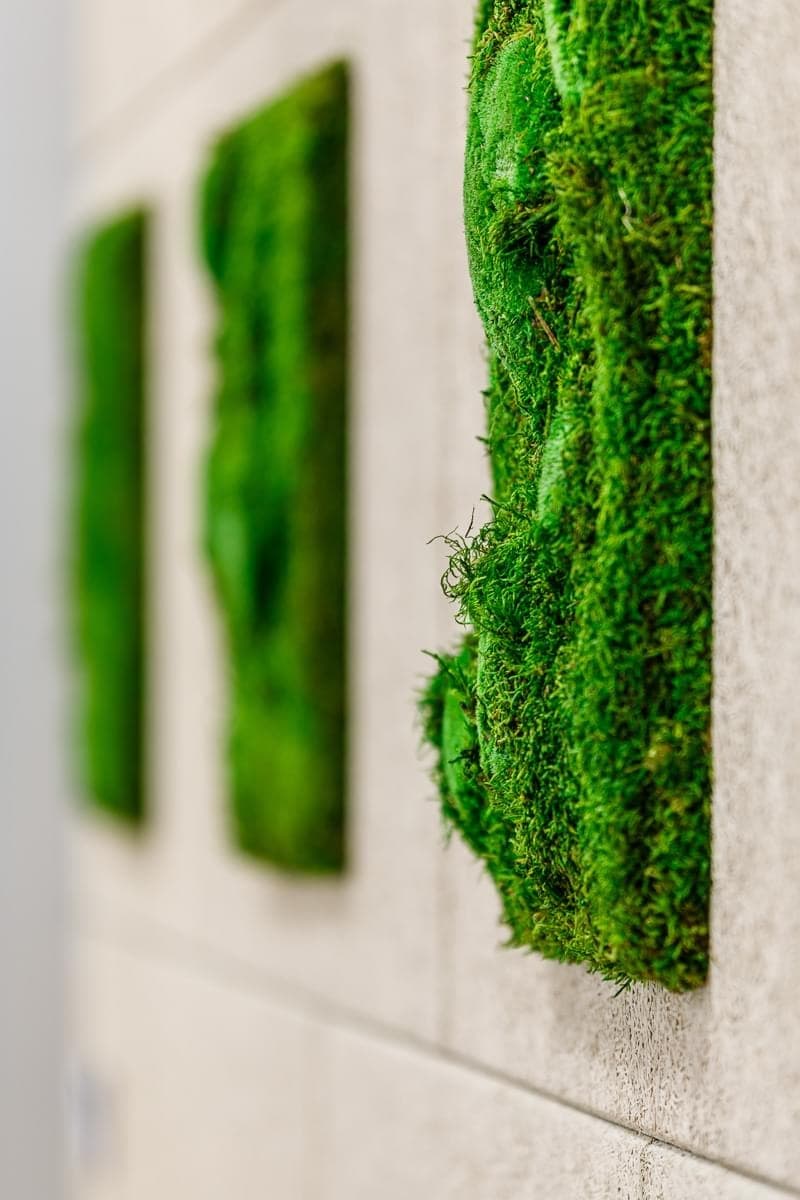 Praga Studios
Address: Křižíkova 682/34a, Karlín, Prague 8
Lettable area: 11,814 m²
The Praga Studios office building is in Prague's Karlín district and its construction was completed in 2019. It is a six-storey building built in accordance with the requirements of LEED and WELL certificates, built on the site of a former industrial plant. In addition to energy-saving systems in the building, clients can also save energy with the digital Eco Dashboard system, which was specially developed for the Praga Studios project and allows water, electricity and gas consumption to be monitored in real time. The developer is Skanska, which sold the building to CBRE Global Investors, for who CAPEXUS had previously designed and built offices.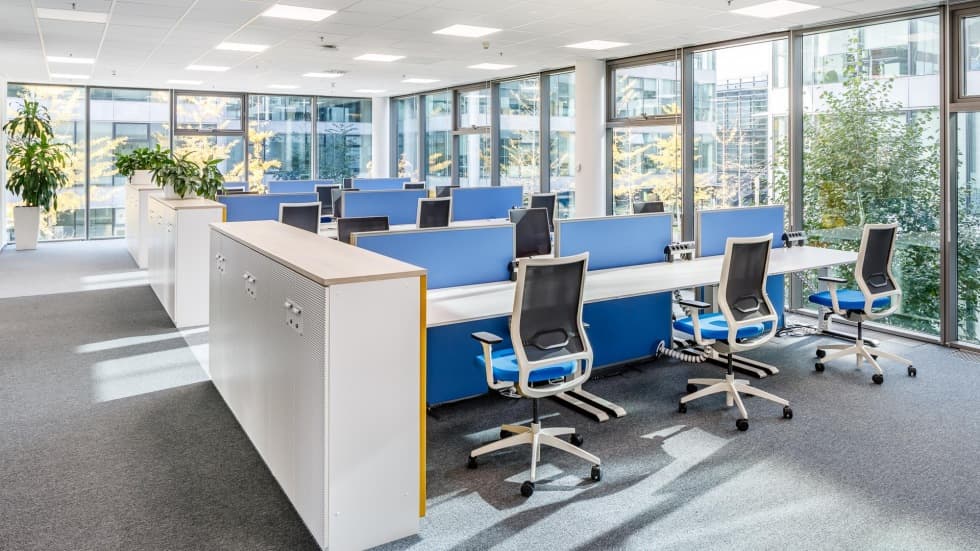 Mississippi House
a Missouri Park
Address: Zábranská 1, Karlín, Prague 8
Lettable area: 20,750 sqm
The real estate company CA Immo is behind the construction of two office buildings in the River City Prague complex. The expected completion date is in the first half of 2021 and the total lettable area will be an impressive 20,750 sqm (Mississippi House 13,380 sqm and Missouri Park 7,370 sqm). The architecture, which is dominated by a glass facade, was designed by the Danish studio Schmidt Hammer Lassen. The whole project emphasizes state-of-the-art technology and sustainability, as one of the buildings' ambitions is to obtain LEED Platinum certification.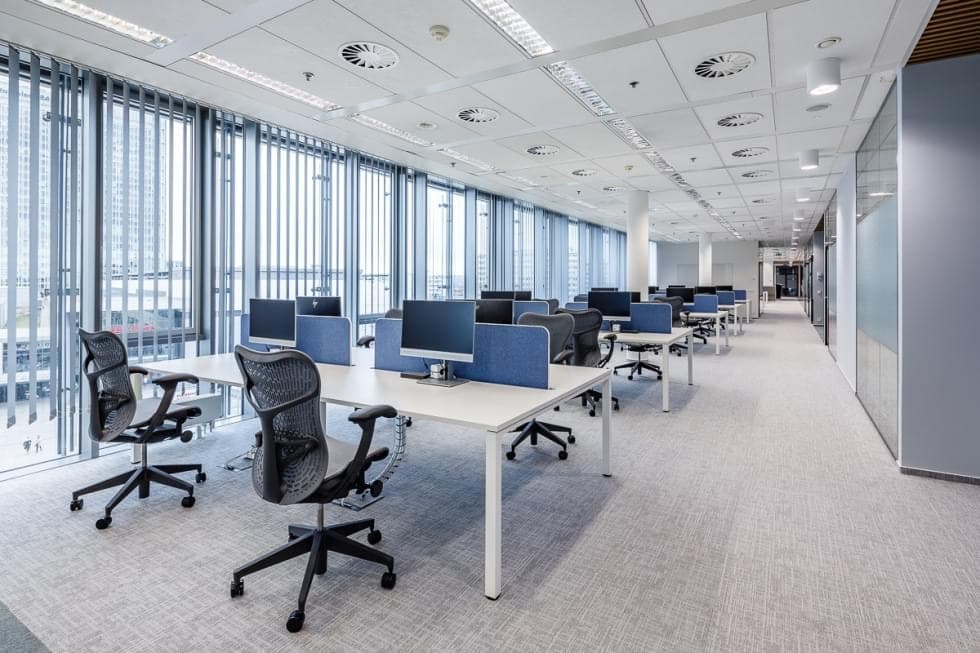 AFI City Tower
Address: Kolbenova 9, Prague 9 – Vysočany
Office space to let: 17,300 sqm
Prague 9 is a dynamically developing area that attracts companies with new facilities and elegant buildings. These include AFI City Tower, designed by CMC Architects. The 19 floors house offices equipped with the latest technologies, along with a beautiful reception area, shops and other civic amenities. Individual floors can be rented as a whole or split in two. The whole building is designed as an environmentally friendly building. The developer is AFI Europe.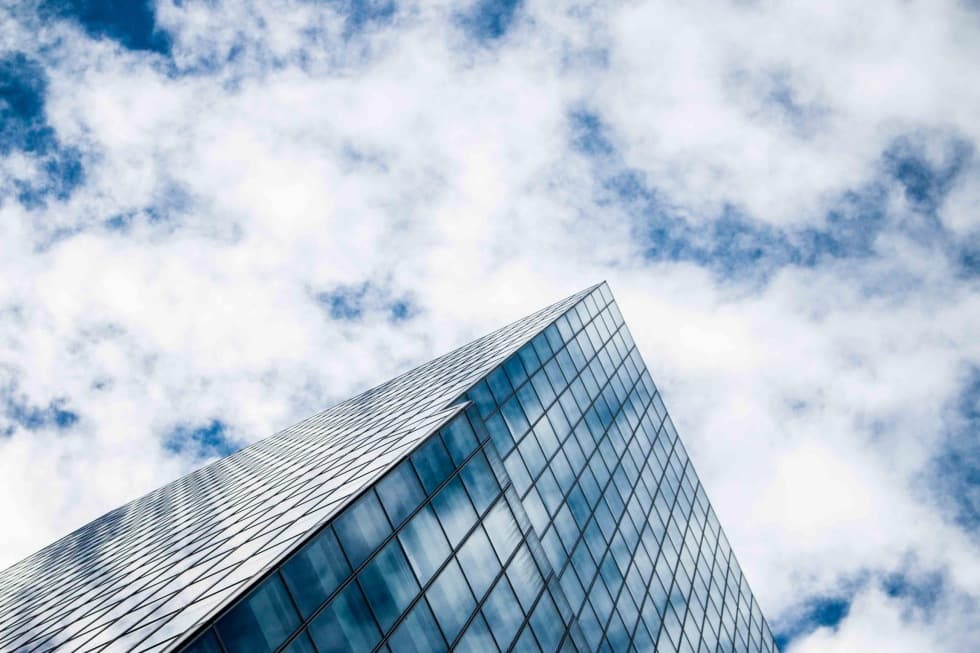 Harfa Business Center
Address: Lisabonská, Praha 9
Office space to let: 30 600 sqm
A new modern office complex has been rising near the O2 arena in Prague for several years. Part of the premises will open to retail and brand-new offices will be ready in the last quarter of 2021. Among the big pluses for clients are easy transport accessibility, proximity to one of the city's main cultural and shopping centres, as well as extensive underground garages. Entrepreneur Karel Pražák's Kaprain group is behind the project.
If you are looking for a new address for your modern offices, let us know. Our team, which is made up of more than 100 specialists, will take care of your project from A to Z. Based on your requirements, we will help you choose a suitable building and implement the office space itself.
Photos authors: Unsplash, Petr Andrlík, Filip Šlapal
Published: April 13, 2021
Got interested by this article? Share it.