Avast leads by example and is ready for the "new normal"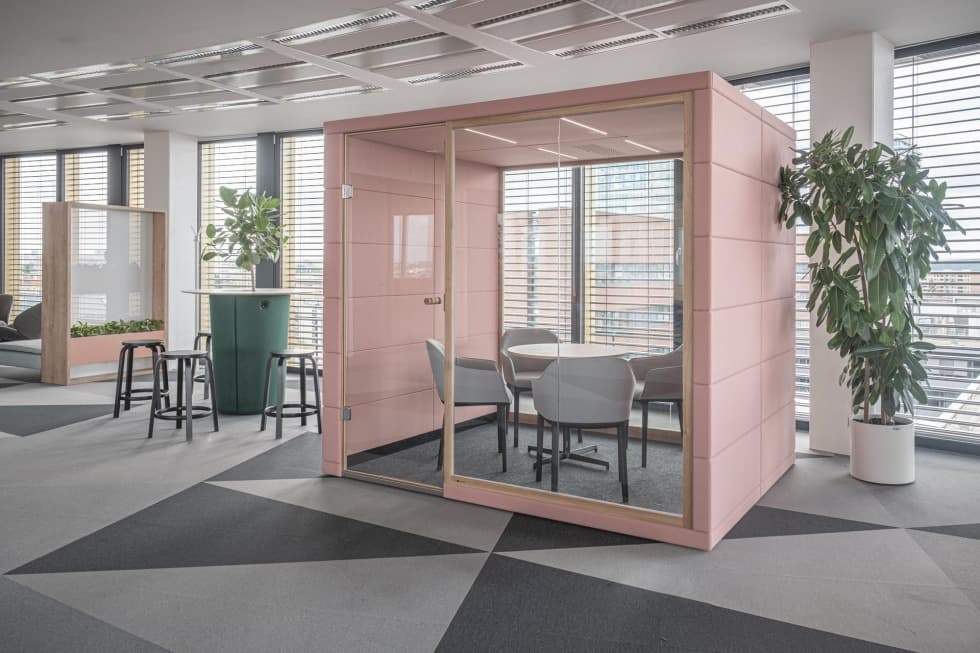 The Czech multinational antivirus company Avast needs no lengthy introduction, and this is doubly true after the announcement of the largest acquisition in the history of the Czech Republic. However, the company is leading by example not only in its vision of security and user privacy but also in its ability to adapt to new trends and demands in the workplace. This is demonstrated by our inspiring transformation of nearly 13,000 sqm of offices at our Prague headquarters in Pankrác. The space now offers greater flexibility and meets the needs of individuals and teams.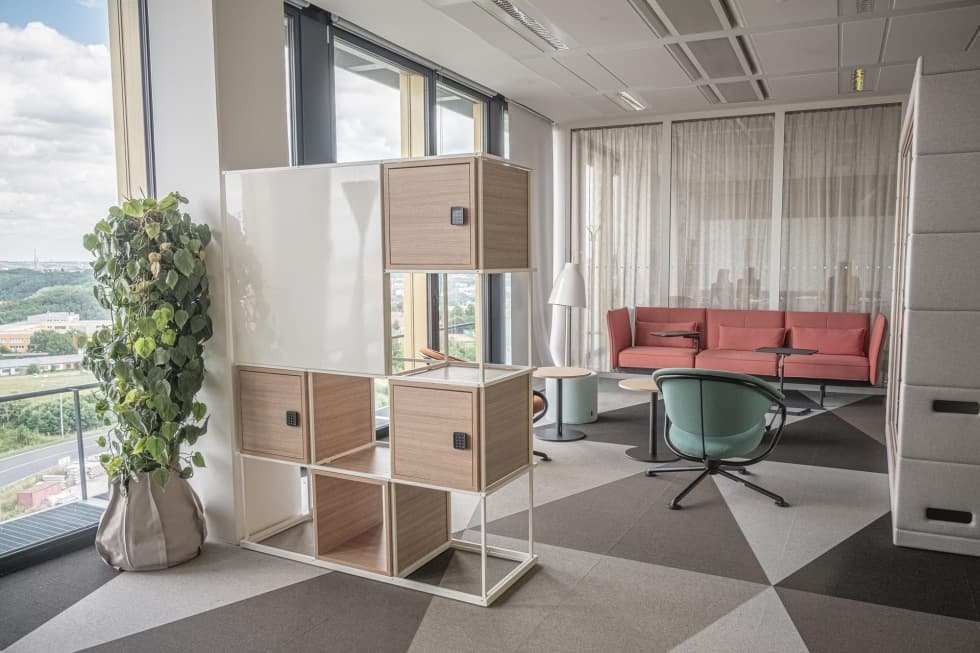 Six floors of flexibility
The offices are coming back to life after the pandemic. It's no coincidence that Avast reacted in time to prepare their premises for the ,,new normal". A six-floor remodel in the Enterprise Building shows what new types of offices that emphasize an agile way of working can look like. Around 600 employees are returning from home offices to these spaces permanently, while 300 others prefer a hybrid model. In practice, this means that employees have access to the offices but can work from anywhere for most of the week.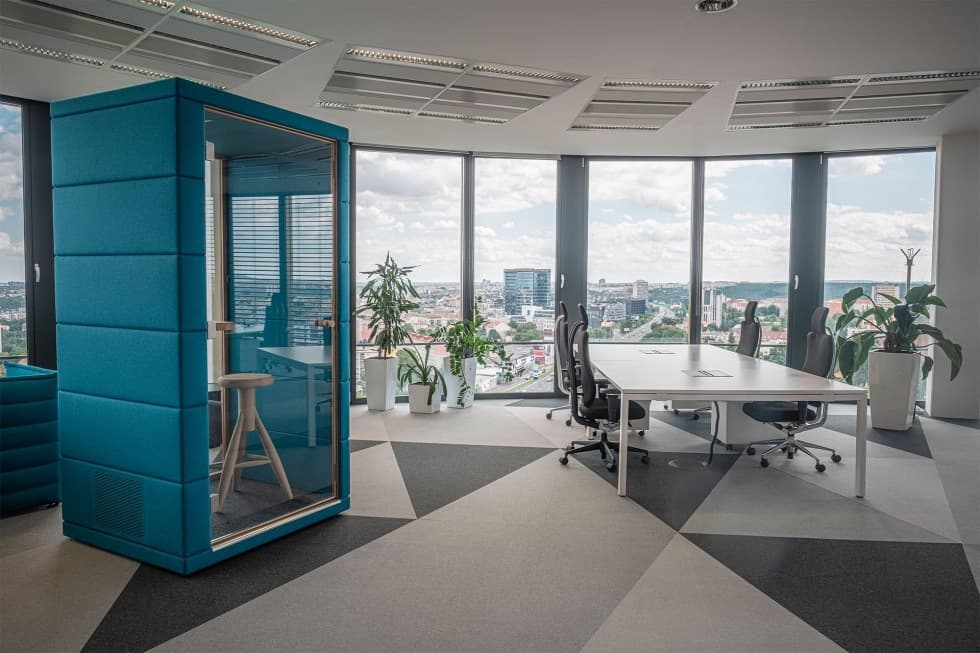 Ideal interior concept
A regime during which many employees do not spend five days a week in the office brings with it the need to think about the importance of effective collaboration as well as the right conditions for building a company culture and community. The new type of workplace
is characterized by flexibility, modern technology, and flawlessly designed zones. That is why we designed
a complete office interior concept for Avast at the beginning of the cooperation, considering the needs
of teams and individuals.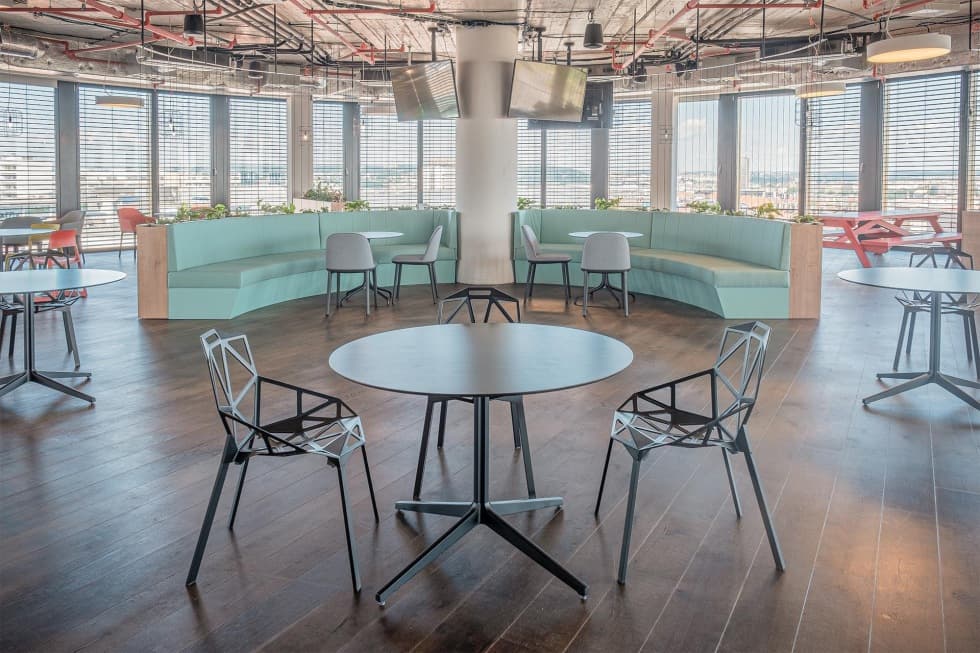 A successful sequel
is always a challenge
In the case of the redevelopment, we based our design on the principles of urbanism and naturally followed the very successful design of Vrtiška & Žák studio from 2014-16. We aimed to maintain consistency on many levels, whether it be in the choice of materials or the palette of colors and patterns. As a result, the redevelopment fits into its original context, although it is represented by several radical changes.
In the building, employees will now find 24 meeting rooms with good acoustics, 14 formal for pre-planned meetings and a further 10 for informal gatherings. Regardless of the category, each is equipped with quality technology for hybrid video conferencing. The informal meeting rooms are also suitable for workshops and brainstorming sessions.
Flexible working environment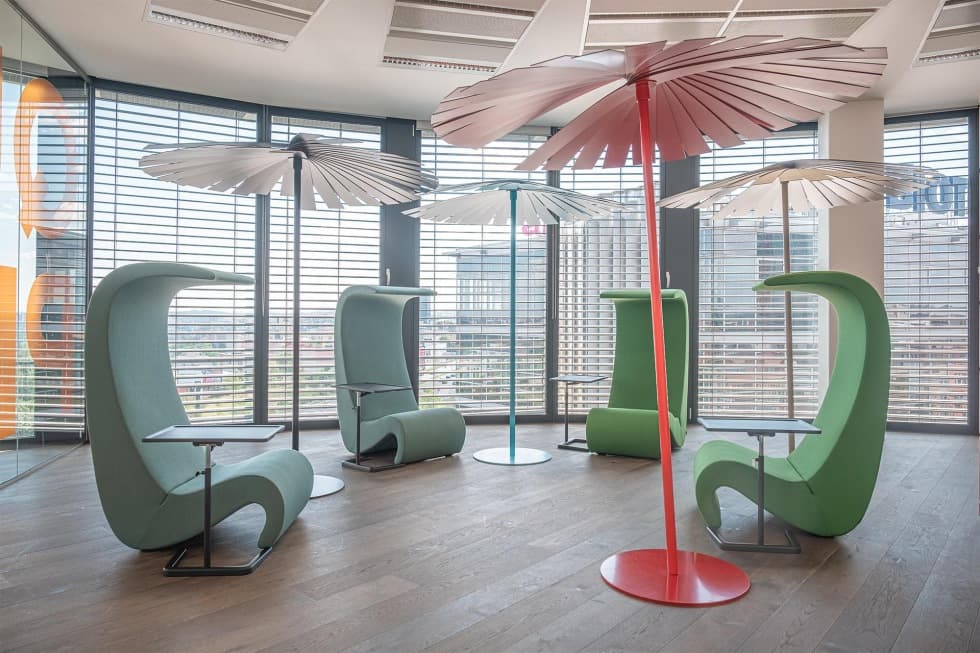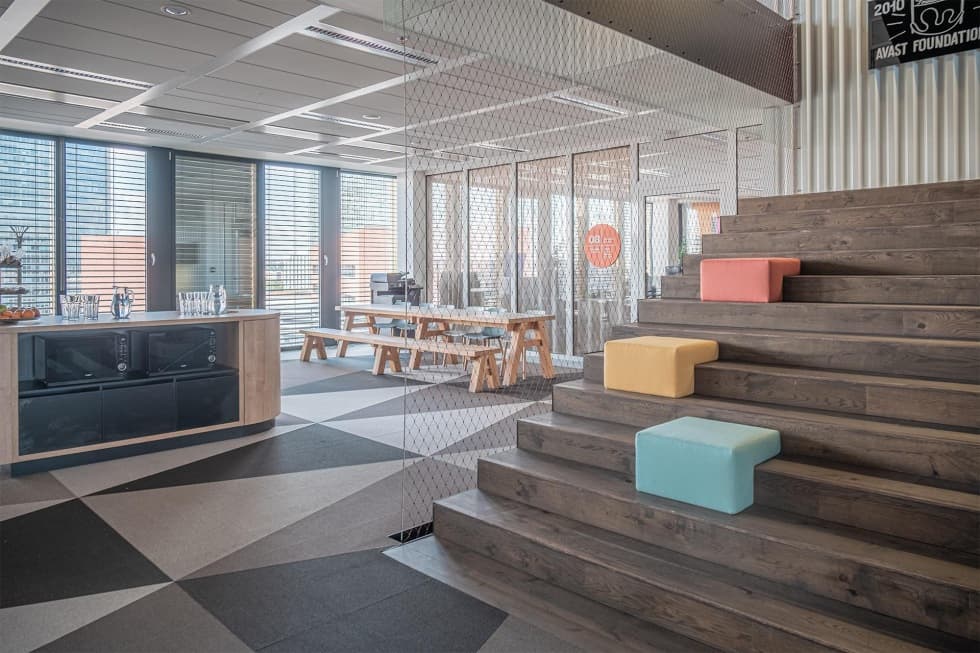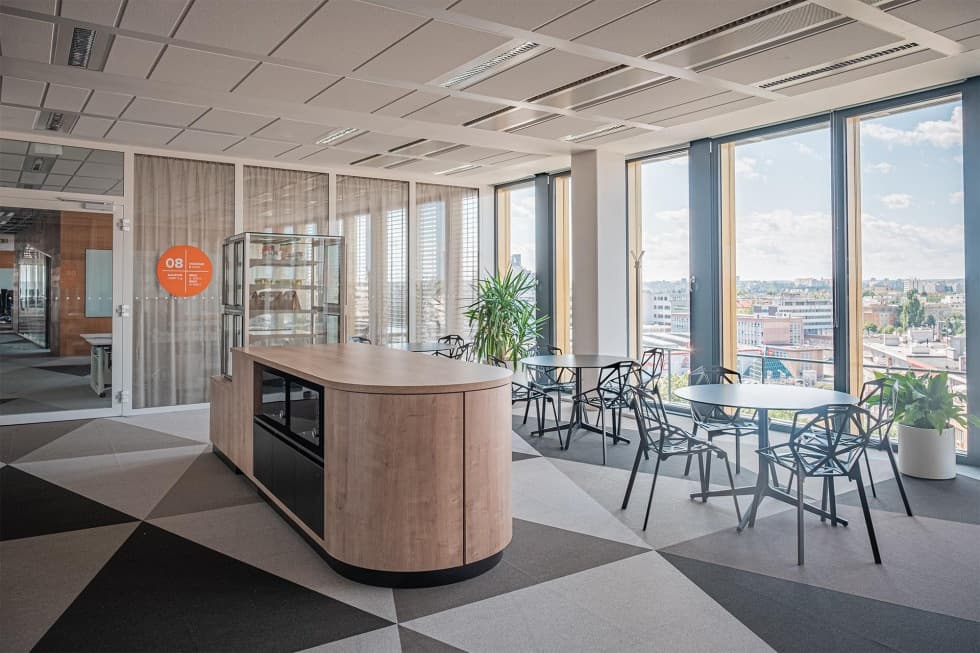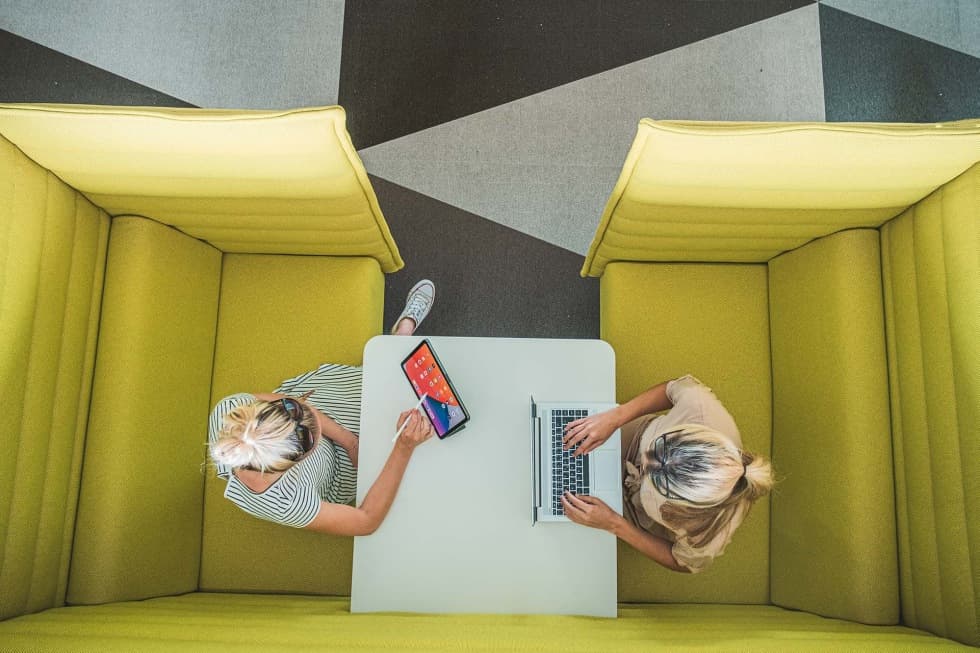 Quiet zones
Another interesting change and novelty are a total of
10 silent zones for concentrated work. These are complemented by 8 soundproof micro-offices for one person. Working away from the classic workstation is thus no problem. Employees can change the environment without complications and choose one of the many dedicated zones according to their current needs, which can include rest. In synergy with the agile way of working is the incorporation of flexible furniture and positionable tables on castors.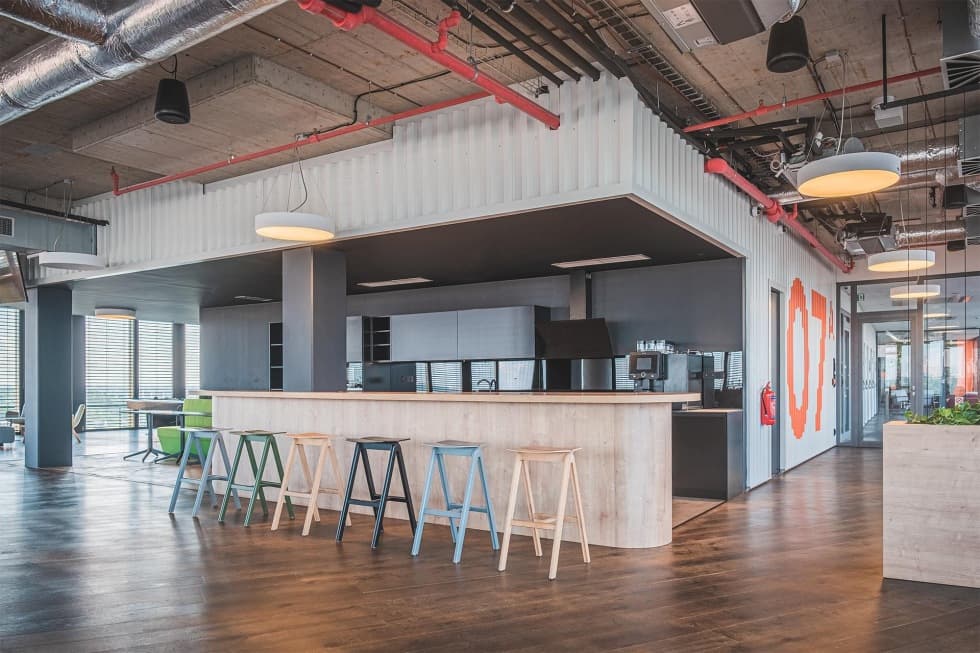 Meeting spaces
The ,,new normal" works with the idea that offices are more than ever a meeting place for employees. They encourage personal contact and natural interactions that are catalysts for efficiency and creative thinking. The former canteen is now replaced by a multifunctional meeting space with a self-service café. Right here, people have the opportunity to prepare food and meet. In addition, there is a kitchenette and snack bar on each floor, offering free hot and cold drinks, fruit, or even sandwiches.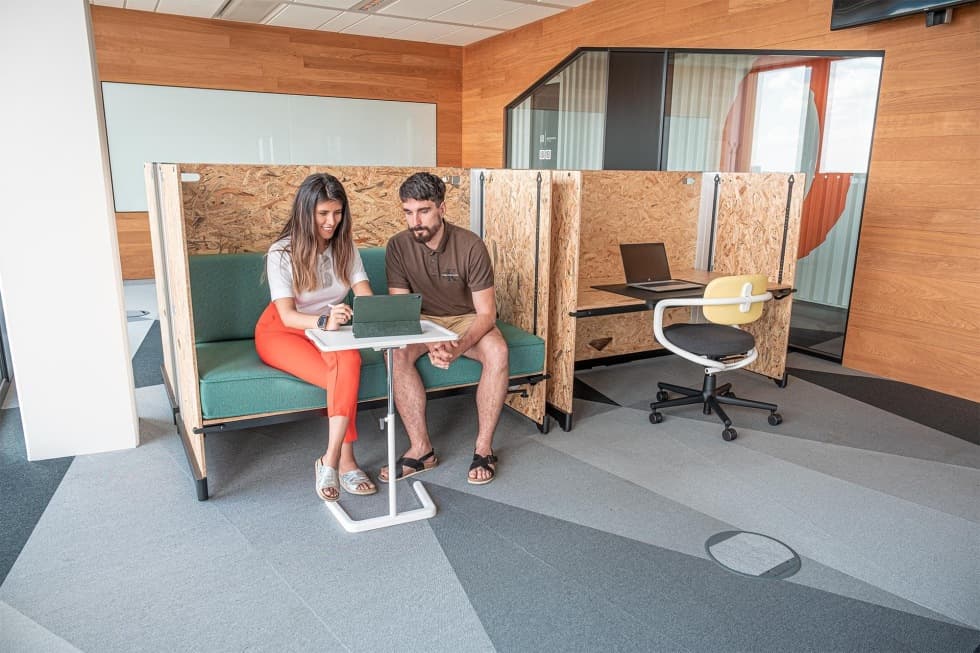 Staff are a priority
The offices of technology companies are characterized by the offer of functions for relaxation and leisure. Of course, Avast is no exception and relies on promoting employee wellbeing and health. The golf simulator has left the premises and a room for yoga or massages has found a home there. Change like this shows the company's willingness to think about variation and the desire to positively motivate employees to meet in person in offices they can genuinely look forward to.
A new type of workplace
Avast, which employs more than 1,700 people in the Czech Republic, has decided to get off on the right foot in the new conditions and requirements for the work environment. All this with the support of experienced experts from the CAPEXUS team and the knowledge that modern offices need to be as flexible as possible. If you too want to transform your space in the name of collaboration and offer employees more variability for working, don't hesitate to contact us.
Author of the photos: Prokop Laichter
Do you like it? Share it.
Want to sit in an office that looks like this?
Write to us with your requests and wishes. We will create your dream interior.