Training and education center with the Porsche emblem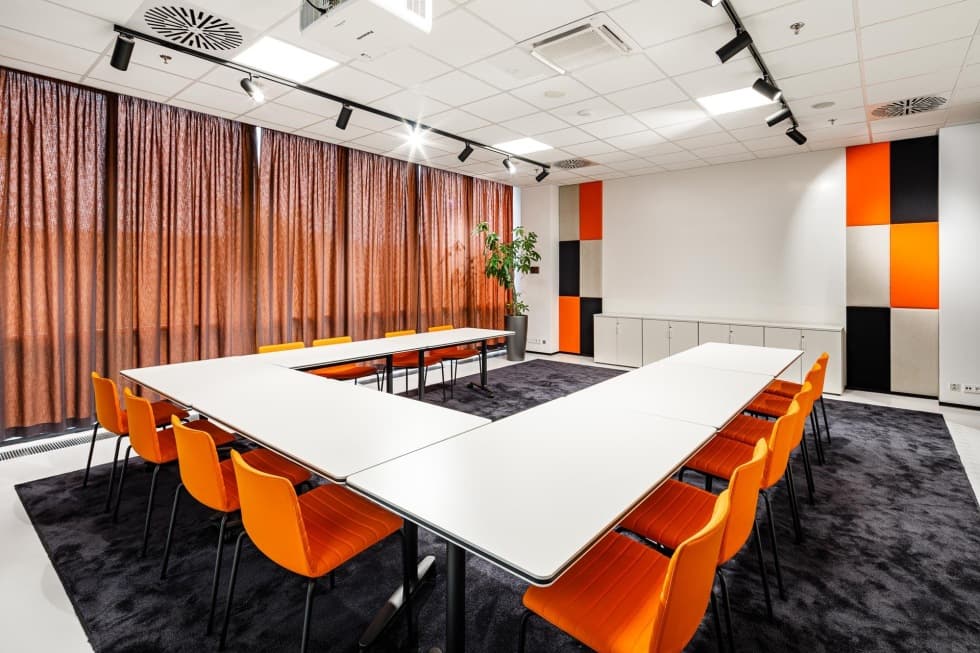 Top sports cars with high performance and exemplary reliability, which has been tested by many won 24 Hours of Le Mans. This is the iconic Porsche brand. CAPEXUS designed and built a new training center for the employees of this German carmaker in Prague's Butovice. However, space where there is no need for the smell of petrol, like Porsche cars, can offer original design and advanced solutions.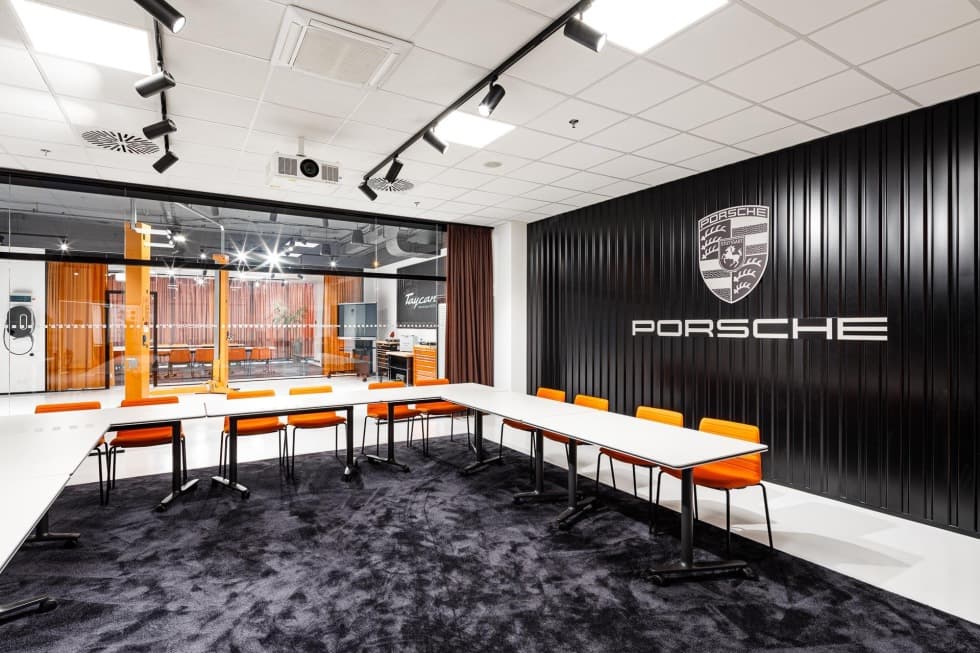 An "Office" for car mechanics
Engine repairs, diagnostics, charging of electric cars
as well as organizing mass training on new Porsche models. These are activities calling for a specially adapted space, which with its focus differs significantly from the common realizations of the CAPEXUS company.
A combination of a representative car workshop, meeting rooms, office, kitchen, and storage space is a great demonstration of what variability we can do to be achieved in one proposal.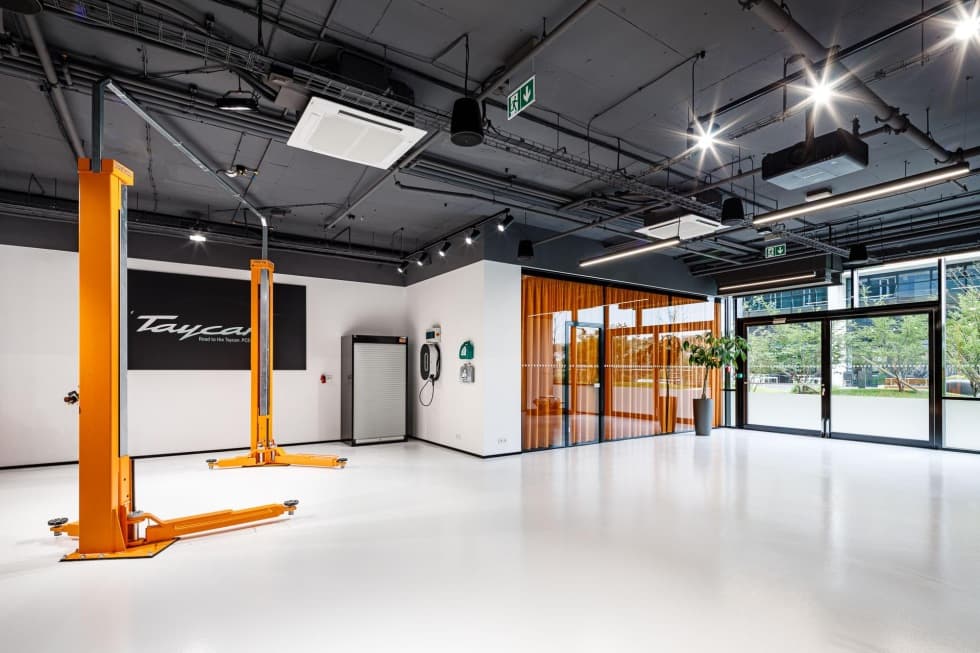 Cars come first
With this project it was necessary to consider several requirements, from the need to safely manoeuvre cars in a confined space to easy cleaning in the event of a leak of operating fluids. The façade doors were widened to allow trouble-free entry and exit. The concrete aggregate floor provides chemical resistance and gives the whole concept an unmistakable measure of road character.
Hydraulic jacks correspond perfectly to the entire space and the exposed ceiling. The pair of wall boxes we installed reveals Porsche's ambitions in the field of electromobility.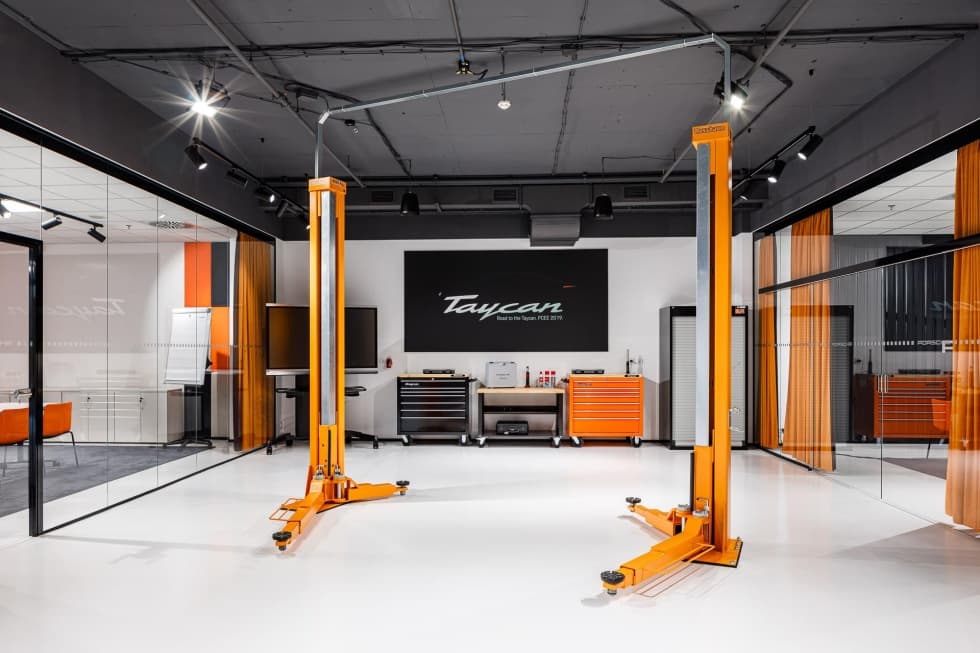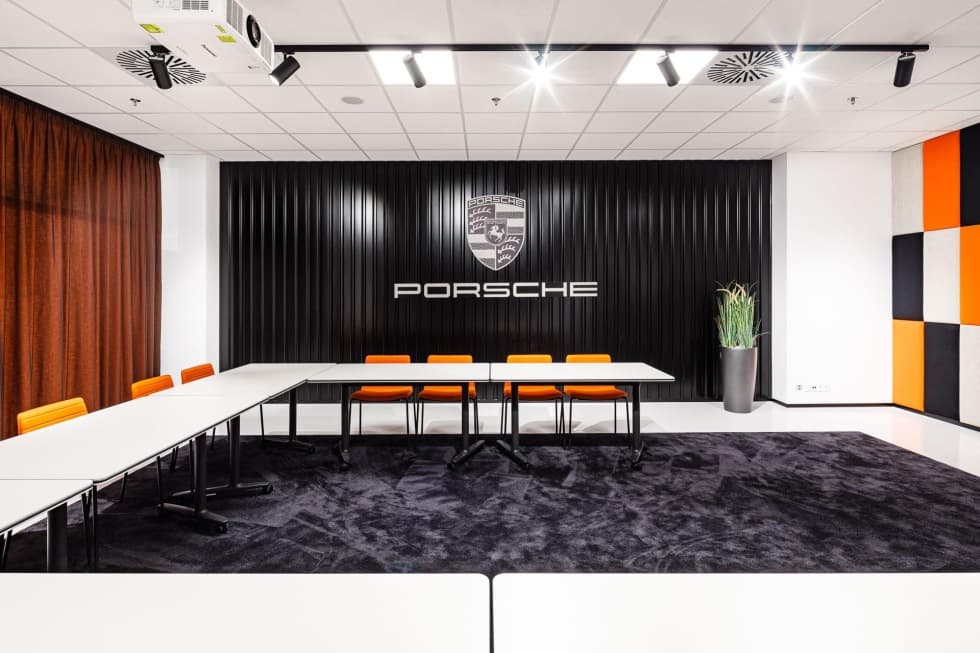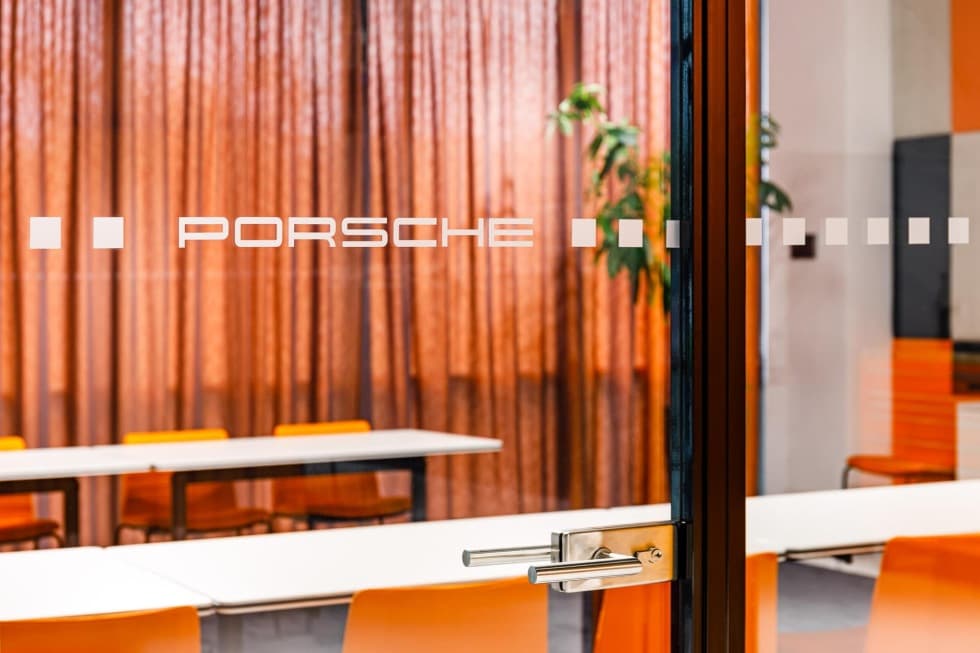 A meeting room for fans of speed
Two large meeting rooms with folding tables by Actiu are reserved for training. The corporate colours black and orange are repeated in the furniture and, for example,
in the two-colour curtains, atypical carpets or acoustic elements. The glass partitions create an interesting contrast with the trapezoidal sheet metal, which proudly bears the Porsche logo. It is also easy to regulate the temperature and the amount of light in the rooms.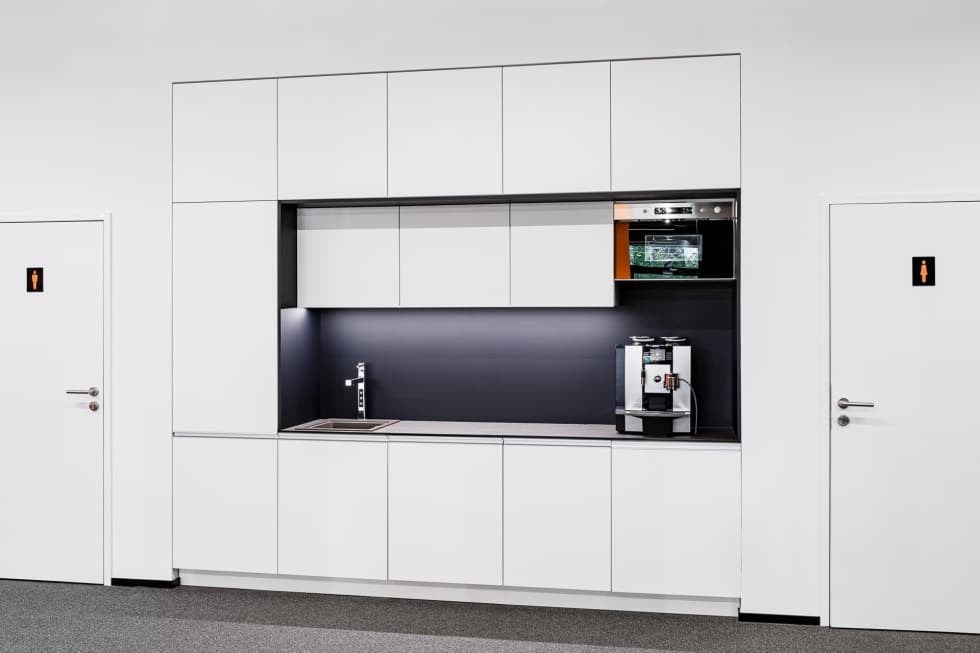 Pit stop
If the training takes a few hours, a visit to a modern kitchen with a coffee machine and a designer faucet
is a welcome pit stop. The centre also includes toilets and a furniture wall with plenty of storage space. This facility, in conjunction with the above-mentioned parts of the project, constitutes a training and education centre corresponding to the highest standards.
Information about the building:
Explora Jupiter is a modern office project in Nové Butovice in Prague 5 and LEED® Gold certification holder. It was built by Avestus Real Estate, which is one of the largest developers in Central Europe in the field of commercial and residential real estate development. The building has excellent transport links, there are a lot of restaurants, shopping mall and other services nearby.
Do you like it? Share it.
Want to sit in an office that looks like this?
Write to us with your requests and wishes. We will create your dream interior.