Tatra banka's Elevator Lab – the future of banking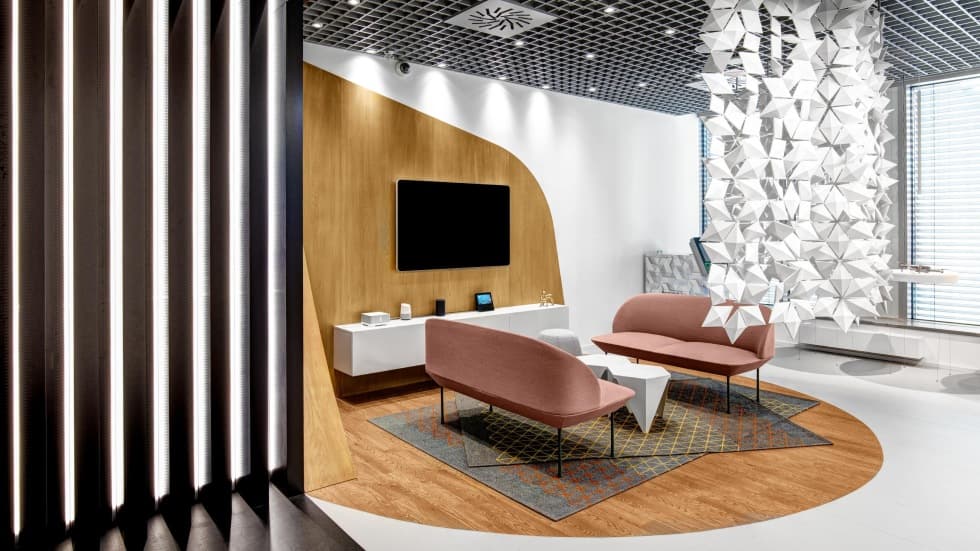 Elevator Lab is the largest fintech accelerator in Central and Eastern Europe. For its operator, Tatra banka, it was a logical step to set up a showroom to present new technologies, applications and prototypes. CAPEXUS designed a showroom full of cool and warm colour contrasts in which the technological solutions of one of the largest Slovak banks – which wanted to show clients and visitors what the banking of the future looks like – themselves stand out as much as possible.
Tatra banka established Elevator Lab as part of its Research & Development Department to develop innovative banking solutions at the HubHub coworking centre in Bratislava. The complete design was created by our architect Sonia Dianová, who divided the space conceptually into two parts.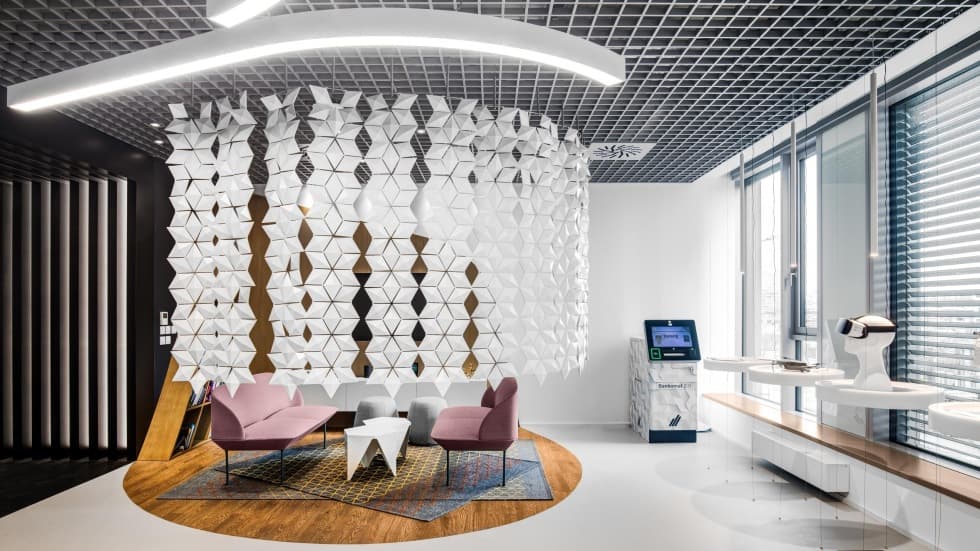 Retail vs. hi-tech style
The retail part is characterized by cooler colours and clean lines suggesting a laboratory of the future. Visitors can experience how new applications will be used in practice, for example when purchasing goods in stores and how banking will change overall. They can try out innovative POS and ATM terminals, virtual reality glasses, social networking, holograms or an assistance robot.
An interesting feature is the installation of a car interior with a Porsche Cayenne dashboard and Porsche Macan seats. This allows you to try out a new method of payment, right in the car dashboard.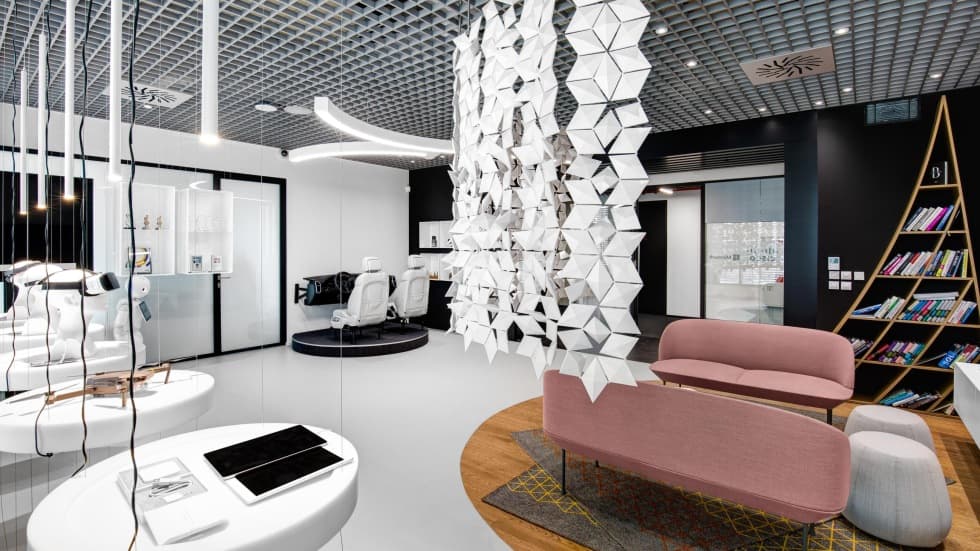 Levitation in space
Our architect chose HI-MACS artificial stone panels
to present the tech products. They give the impression
of levitation, as they are attached only by subtle steel cables anchored in the floor and ceiling. Storage boxes for promotional materials and the POS terminal, which are made to order by Plexiplast from Perspex acrylic glass, are fastened in the same way.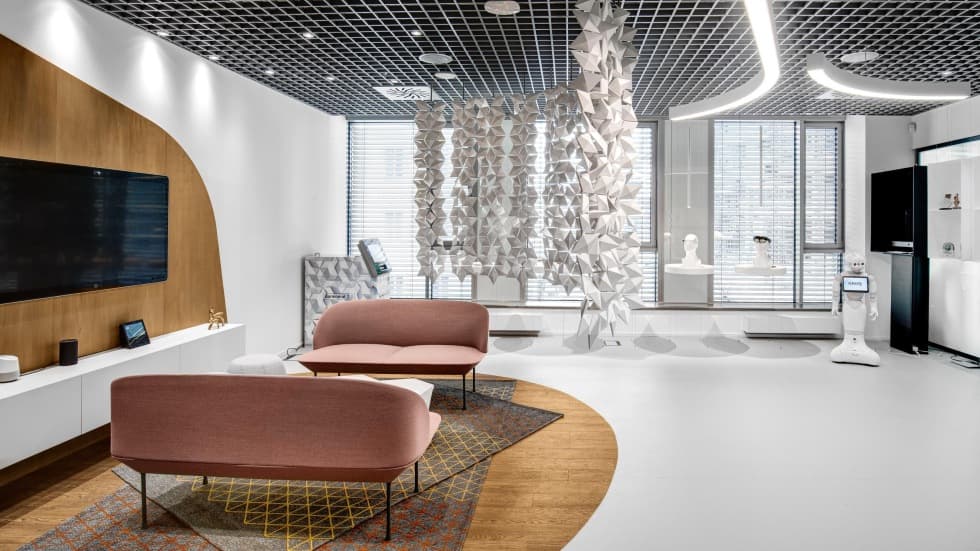 A cosy living room
The living room was designed in contrasting colours: warm tones combined with wood. It is furnished with comfortable seats, pouffes and carpets in a minimalist design.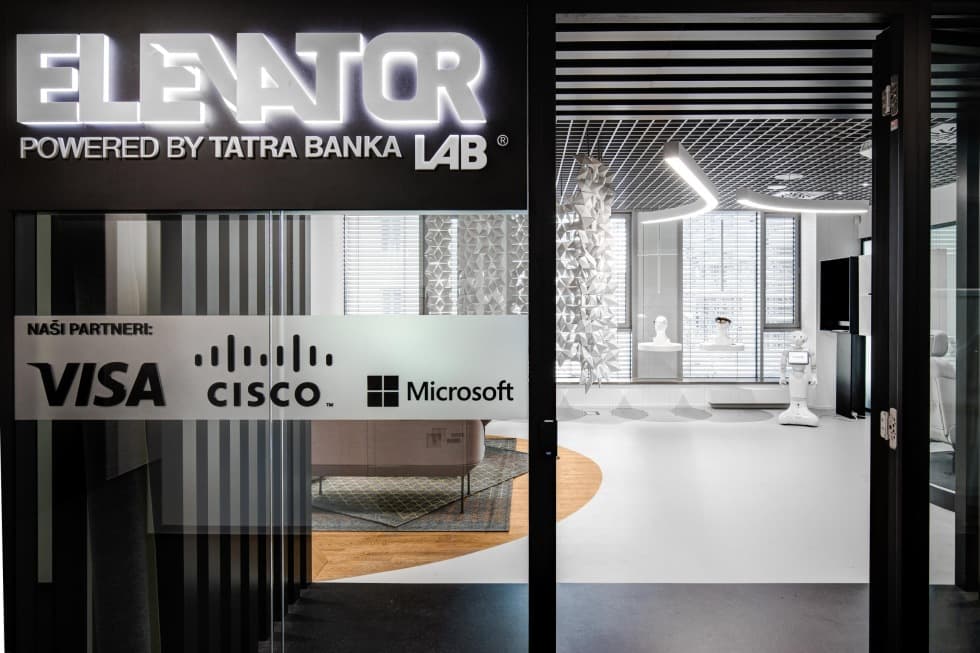 Design lighting
The overall atmosphere of the space is enhanced by
the efficient use of lighting. The entrance to the room consists of a huge lamella portal with LED backlight. Arcade LED lamps illuminate the retail area and
the living room. The technological innovations exhibited
in the retail section on "levitating" boards are individually illuminated by specially designed spotlights.
Do you like it? Share it.
Want to sit in an office that looks like this?
Write to us with your requests and wishes. We will create your dream interior.