Custom made offices for Tabella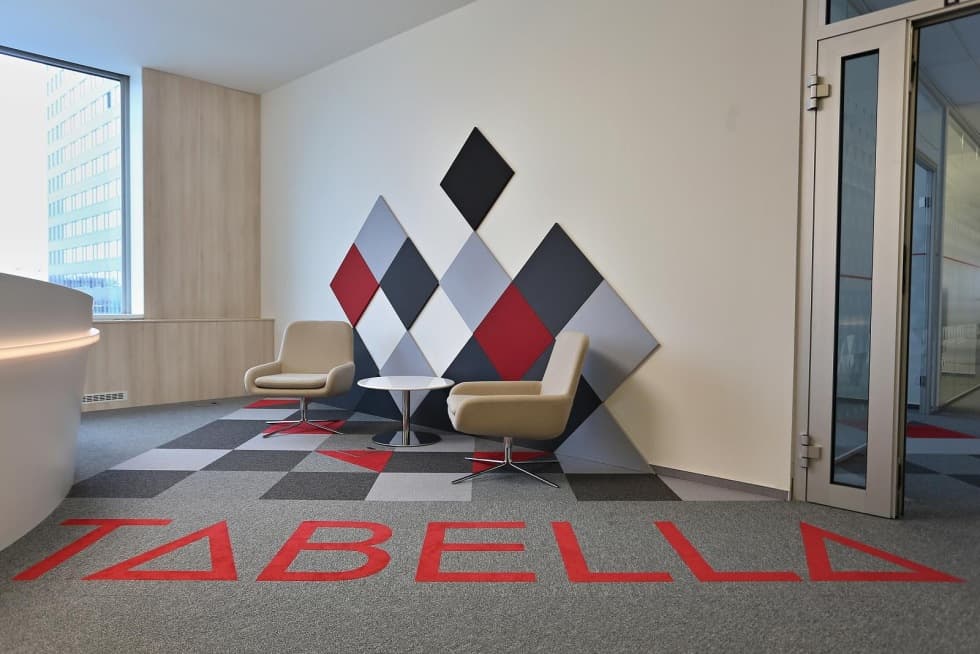 CAPEXUS completed an extraordinary realization of an office complex for the company Tabella. With 1 300 m² of office space in two separate floors, the offices include enough space for both work and leisure activities. The most interesting part of the project is the relaxation zone with a climbing wall and a football table.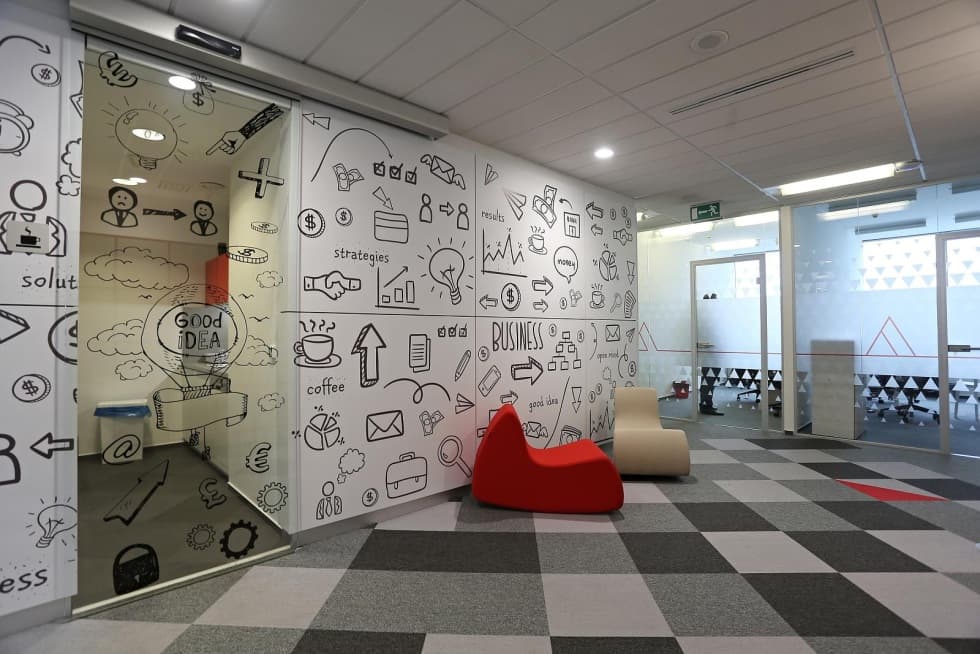 Colour connection
CAPEXUS realized the entire project, including the architectonical study, all the constructional work and final furnishing works. The Architecture includes the reception, kitchen, a few individual offices, a meeting room, manager's office and call center offices with a relaxation room. The rooms are connected by a motive of the company's logo in the corporate color.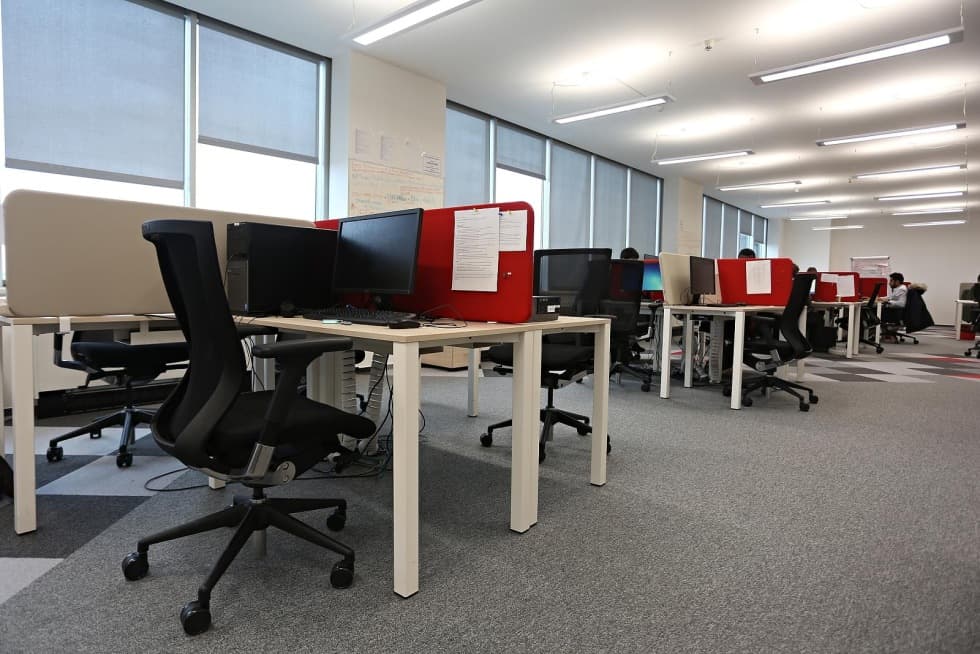 The acoustic in a call center
An interesting reception desk introduces you to the entrance, together with the company's logo in an original motive with the corporate colors. The call center is created in an open space area with installed acoustic screens from the company SilentLab, also in the corporate colors. The furniture is from the Spanish company ACTIU in the Longo series, with acacia decor, and Cron chairs.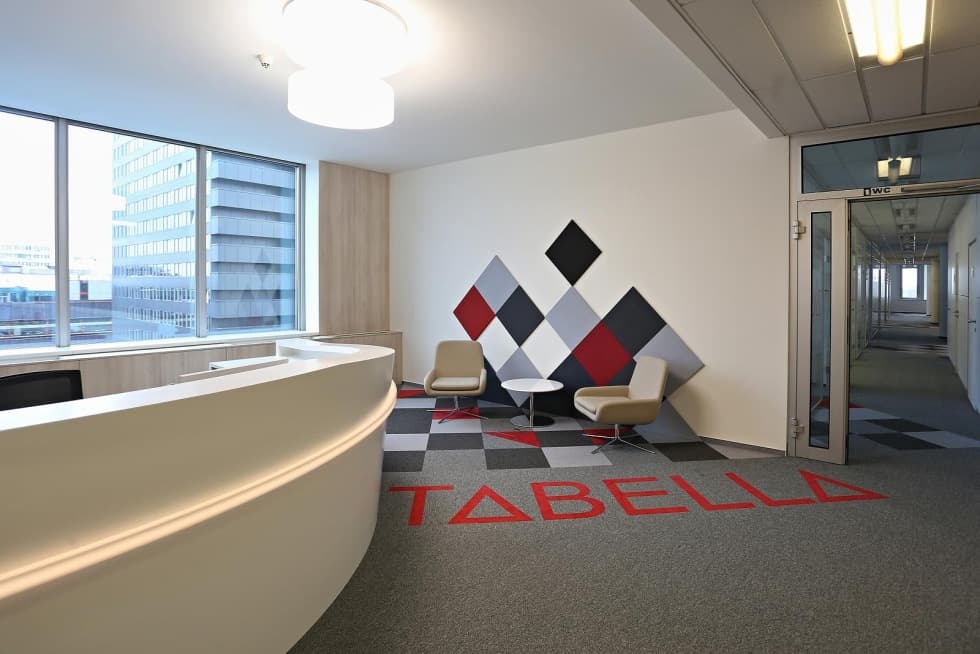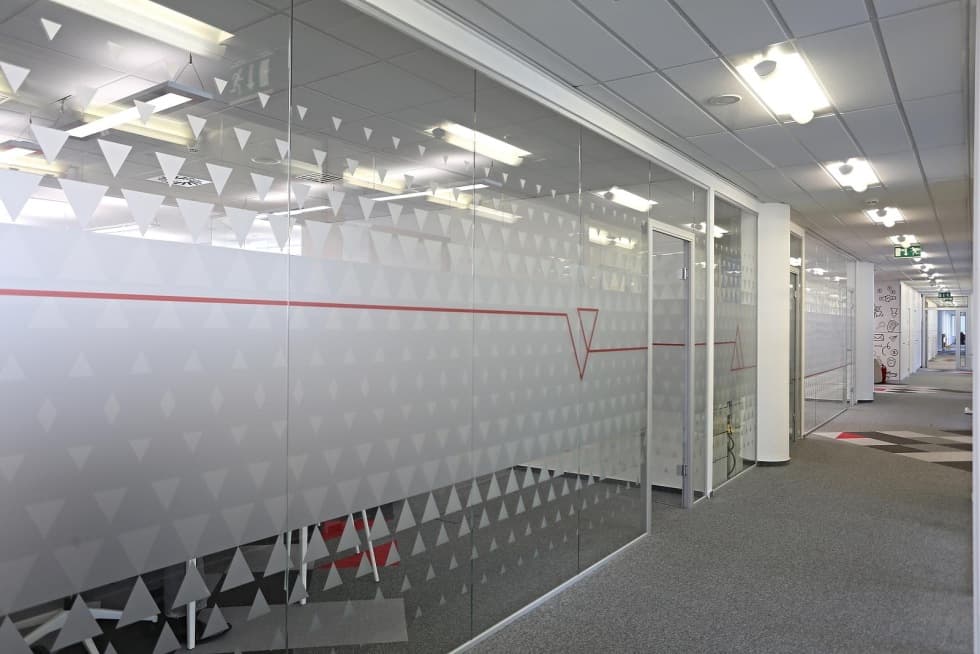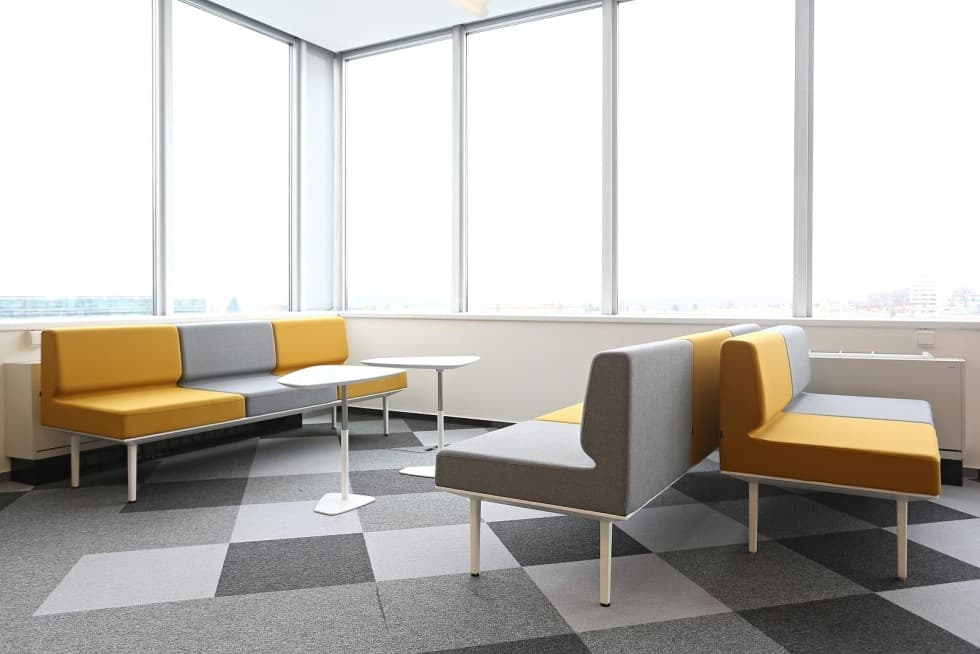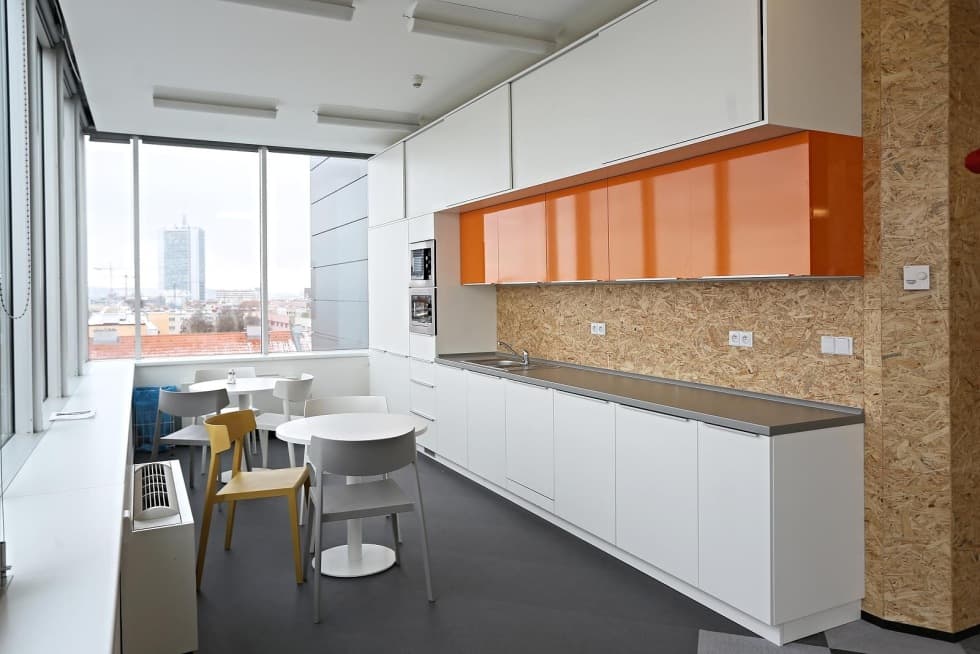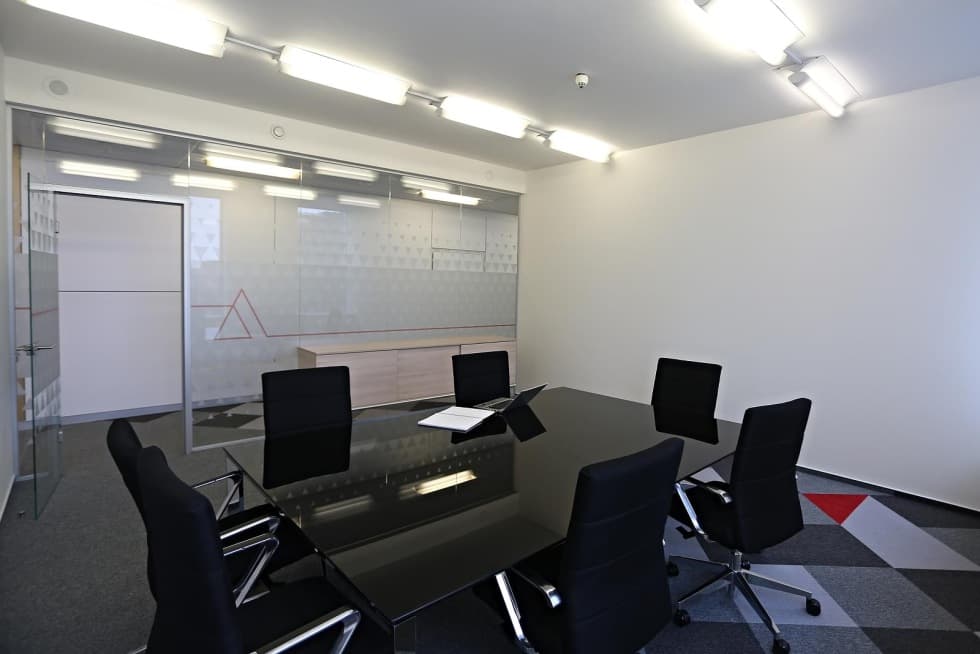 Logo at wallpapers and carpets
The meeting room has Urban chairs, the manager's office has a higher class of Longo furniture, together with Cron chairs, this time in synthetic leather. The soft seeting is from SoftLine: the Opera sofa. The rooms are divided by VERTI glass partitions with bold wallpapers. The floors also share the motive of the company's logo, created by VOXFLOR carpets from the lines SanSiro and Goth.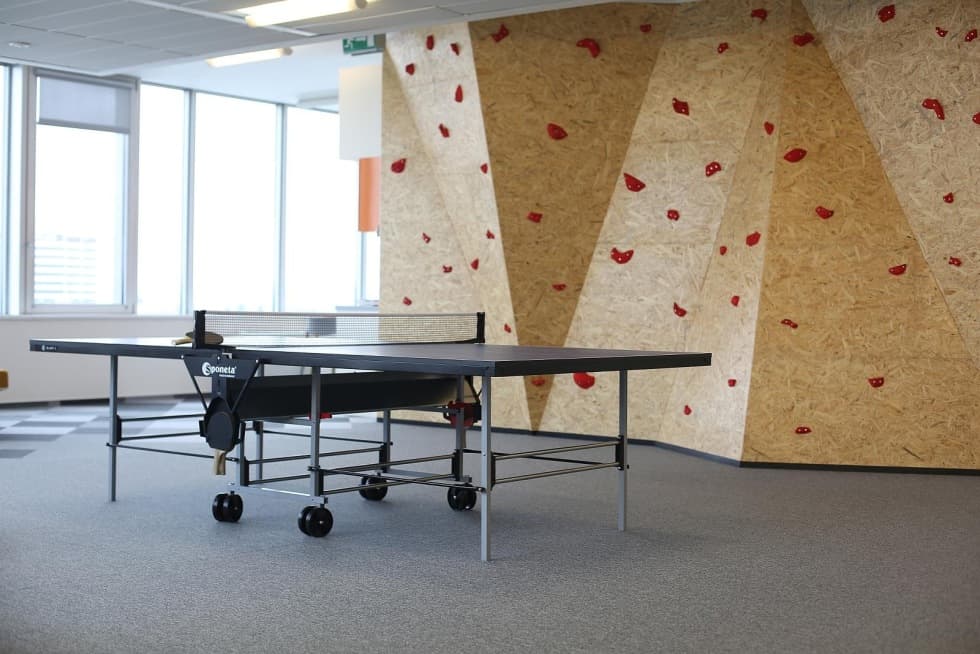 Rest or sport?
The architect from CAPEXUS, Jan Andrle and Monika Radová designed an original relaxation room with a climbing wall and a football table and table tennis that is highly appreciated by the employees. The offices have lockers for employees to use.
The Square
The building with 17 593 square meters of commerce space offers its' tenants modern offices in one of Prague's most attractive and dynamic locations, directly at the Budějovická "C" line metro station. This strategic location offers great sight of the building, very good accessibility by car and great public transport options. The location also has great infrastructure. The building can be seen from the D1 highway. The Square is a thirteen story building with 214 parking spaces is three underground levels and 21 parking spaces on an outside parking lot.
Do you like it? Share it.
Want to sit in an office that looks like this?
Write to us with your requests and wishes. We will create your dream interior.