Slovak Telekom adapts offices to hybrid way of working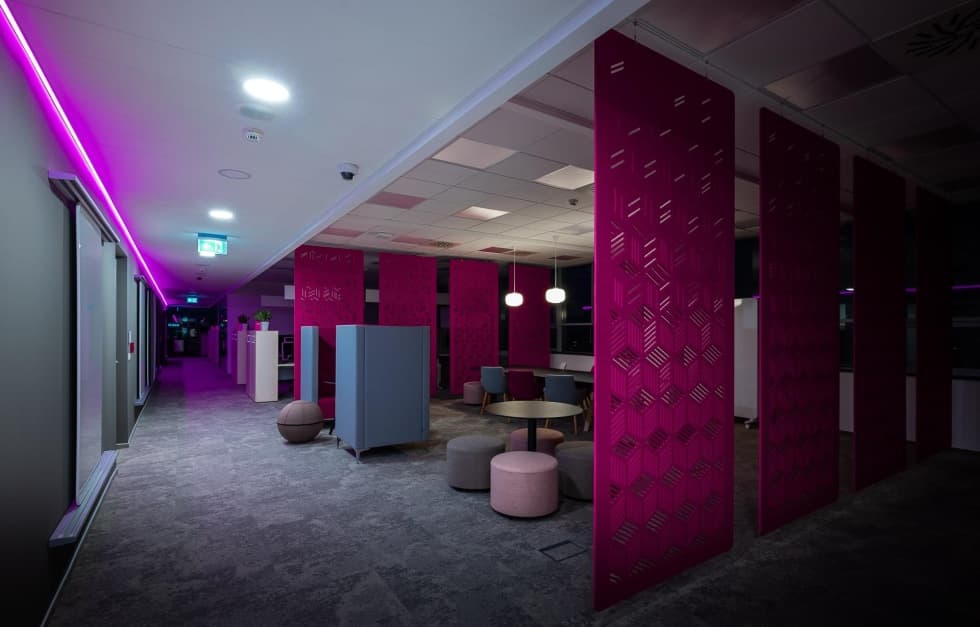 Slovak Telekom is the largest Slovak multimedia operator with many years of experience and a responsible approach to business. The company offers a full range of data and voice services, and owns and operates a fixed and mobile telecommunications network. And as well as taking care of its clients, it does everything possible to keep its employees happy. It is also for this reason that the company decided to extensively renovate its original office space on Bajkalská Street in Bratislava after ten years.
The realisation and design works are divided into
into several phases. The first phase (9th and 10th floor) is already in active use by the employees themselves.
This space is divided into work and worklaunch zones, meeting rooms of various sizes and a café-style kitchen.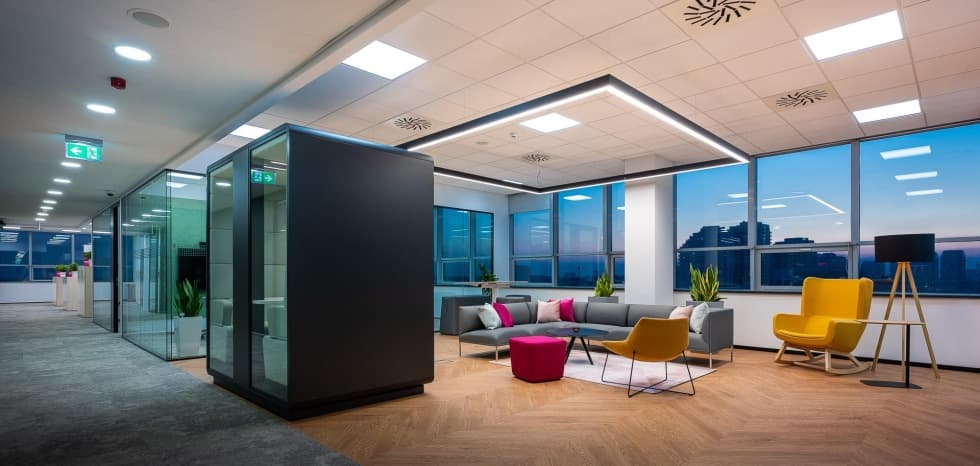 The first impression
is substantial
The entrance to the work area gives you a "living room" feel right from the start. The space is used not only
for work, but also for meetings or informal gatherings.
The zone is naturally connected to smaller meeting rooms, which contain everything you need for business meetings, including modern IT technology. In this case, emphasis was also placed on quality acoustic elements, both in terms of construction and spatial acoustics.
Slovak Telekom is a dynamic and fast-growing company, and this fact had to be kept in mind when designing the new offices. The entrance work area has therefore also been enriched, for example, with a room for podcast recording purposes.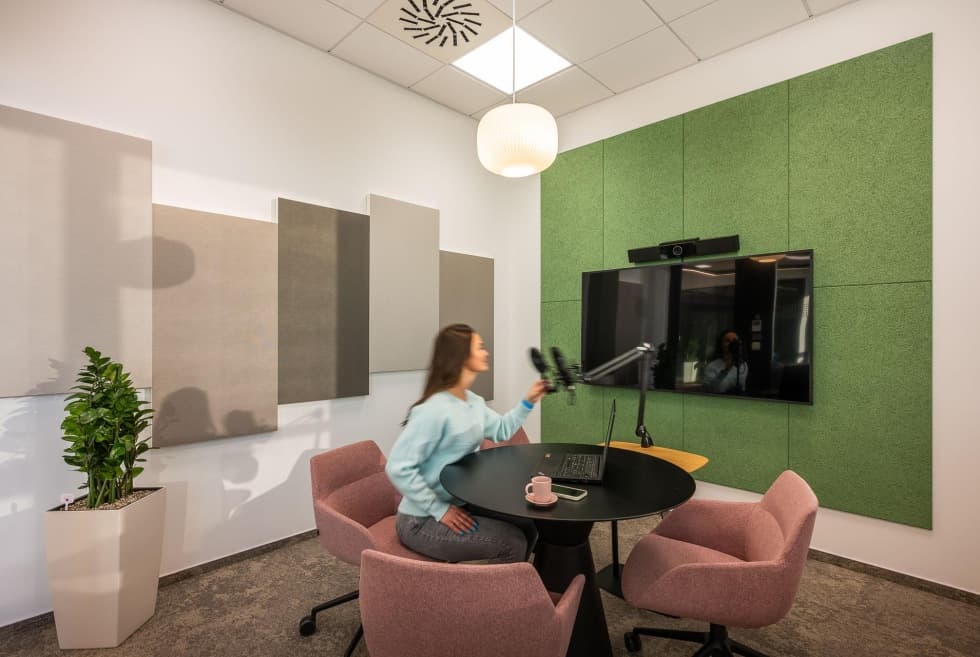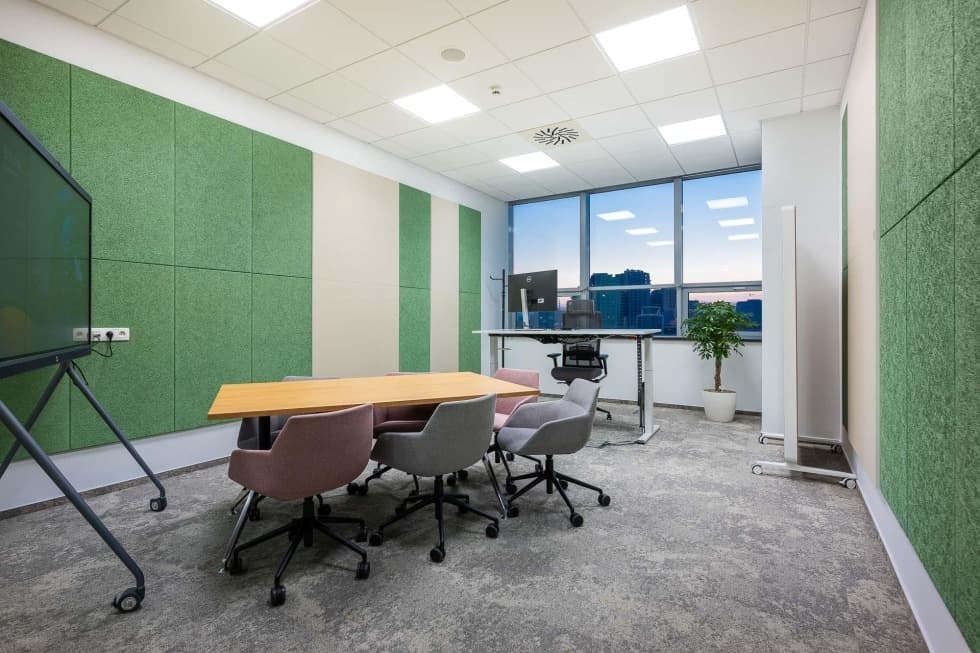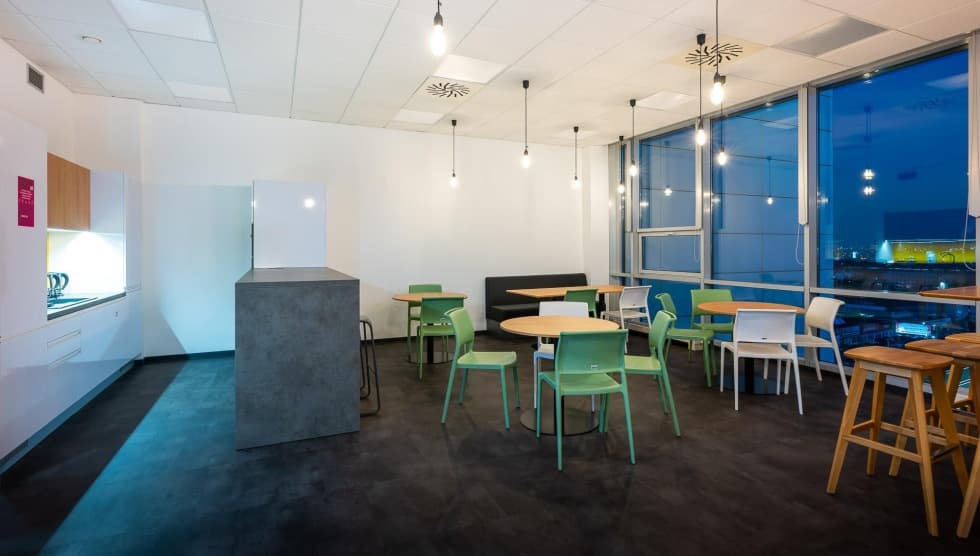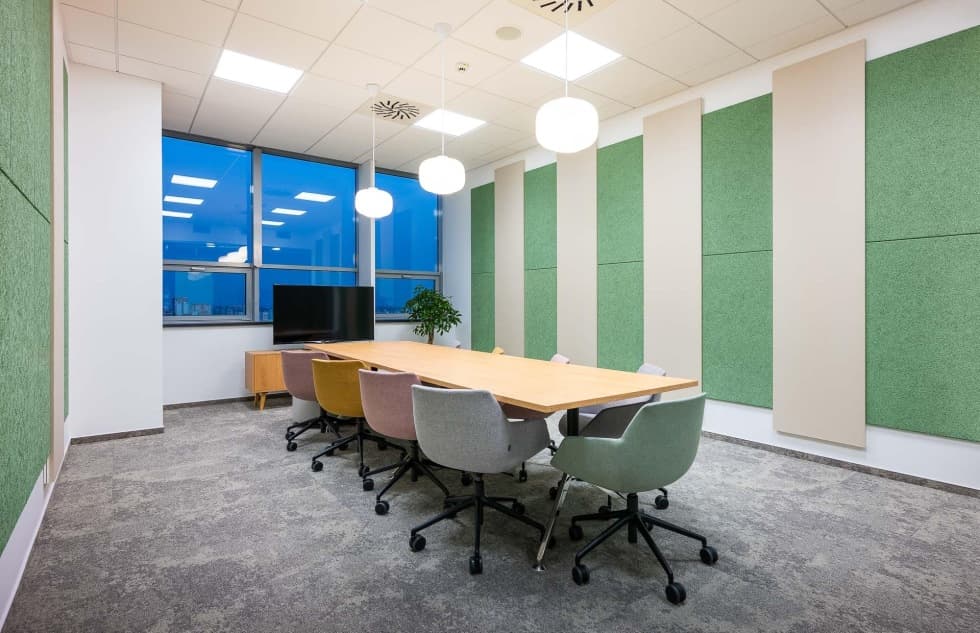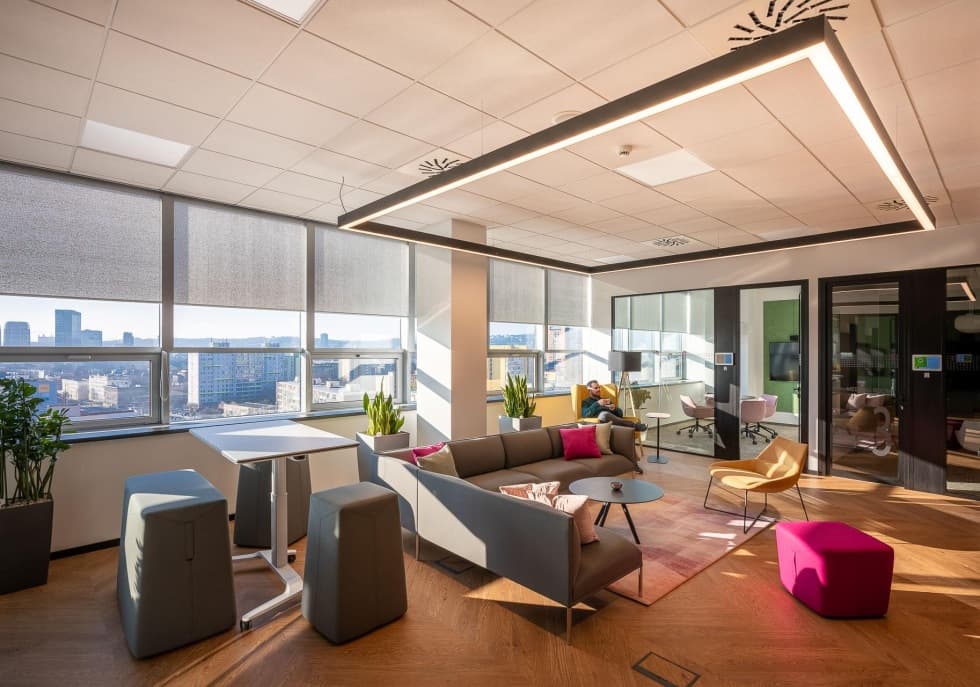 We have not forgotten the details and hidden meanings. These are the attributes that the designed square-shaped light contains. The inspiration came from the company logo itself. This element also appears in different variations on other floors of the building.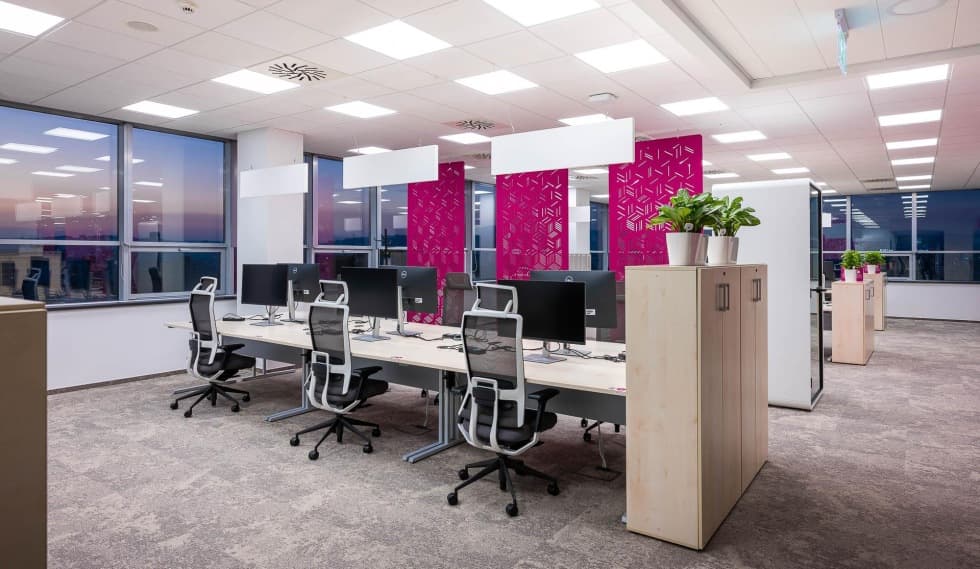 Magenta is simply IN
Individual work zones alternate with a space that
has a hybrid meaning. It is in these areas that teams whose work requires collaboration, quick meetings
or cooperation on projects meet.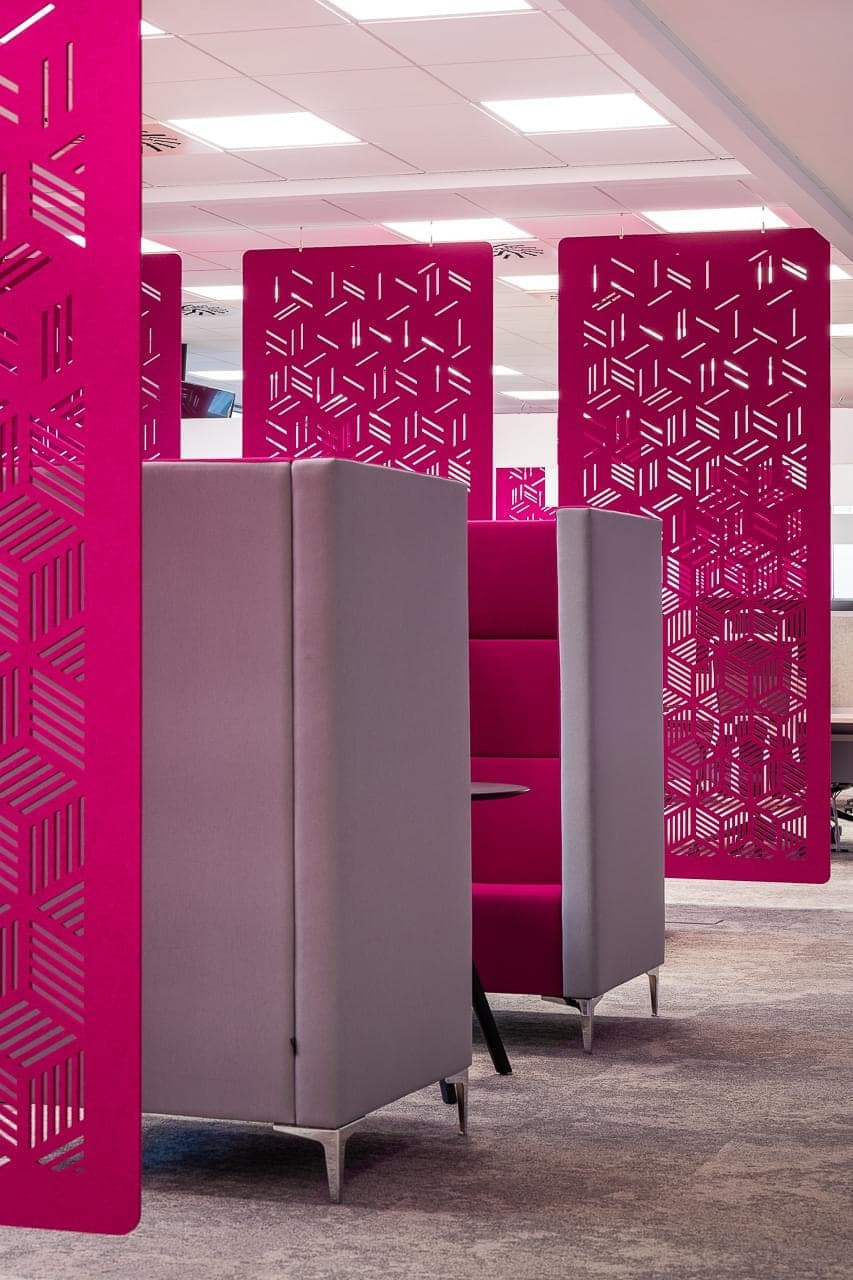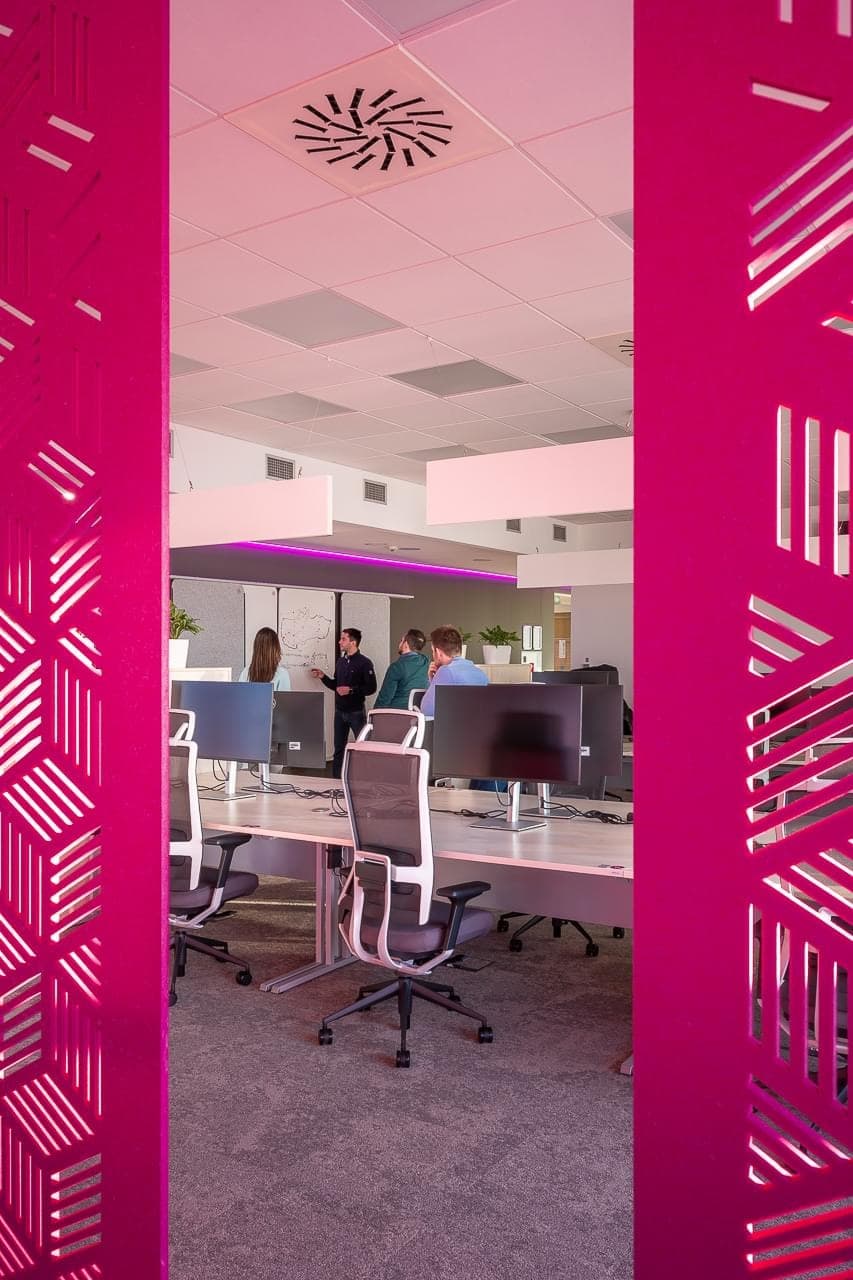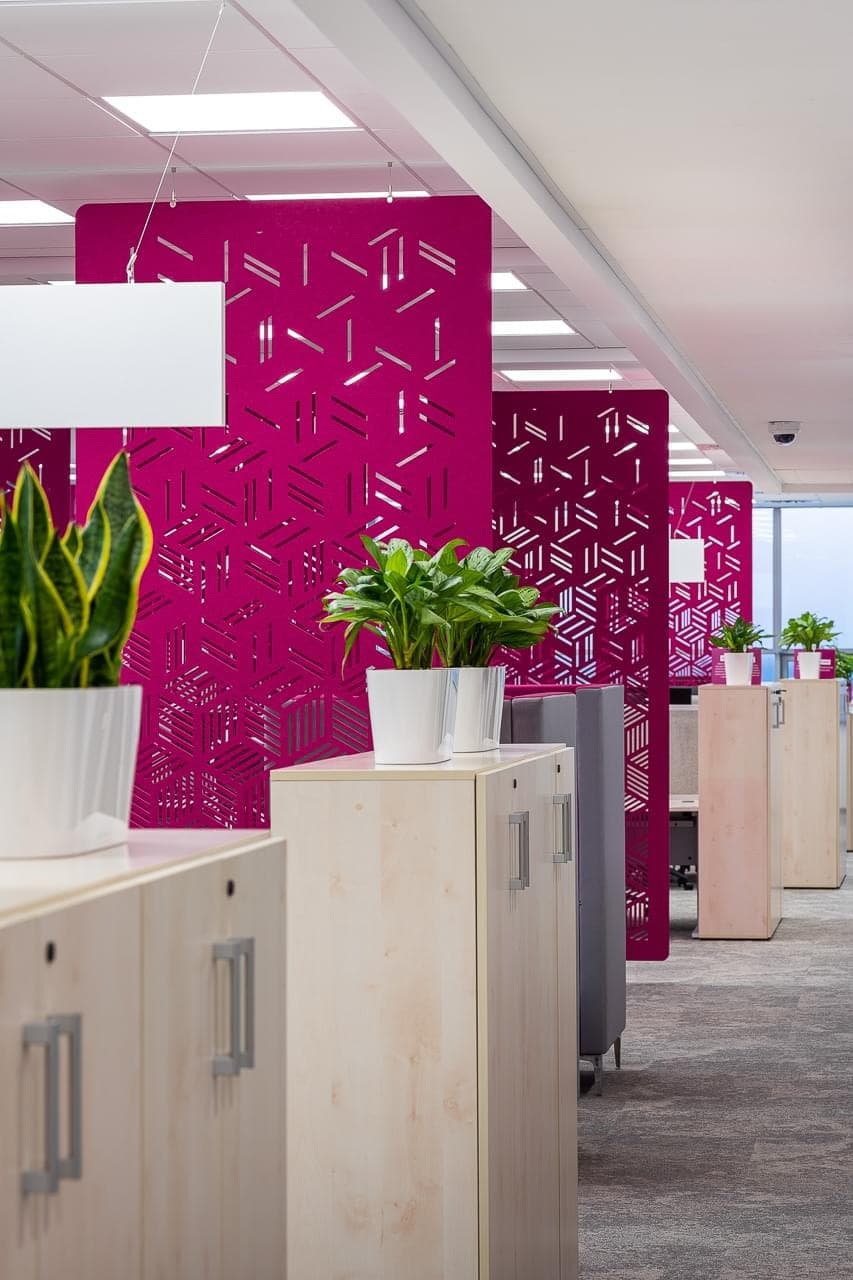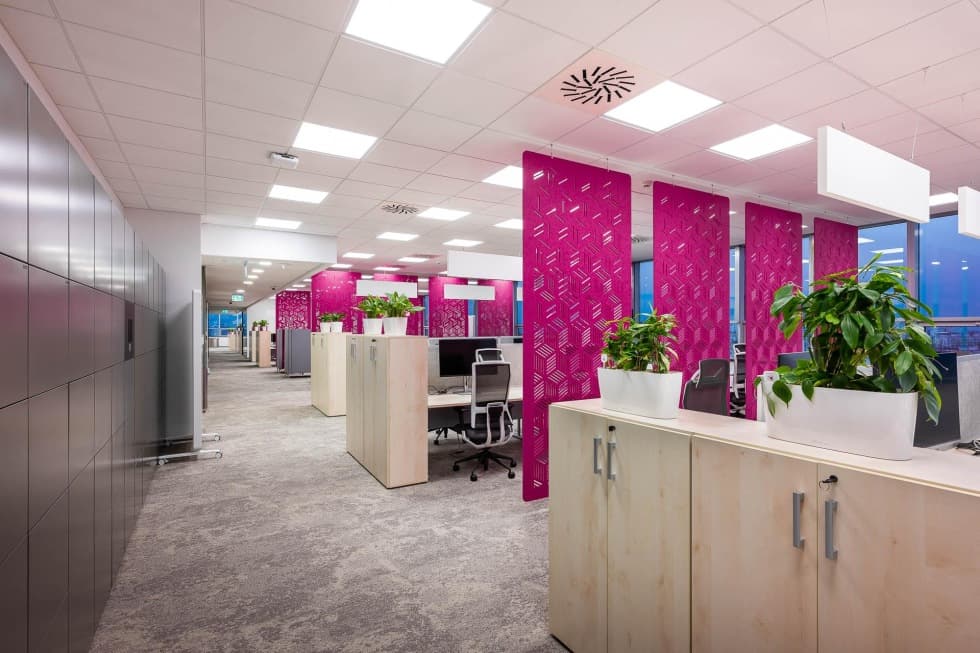 Enhancing the space is the application of innovative elements such as a mobile stage or acoustic seating.
To maintain the feeling of openness and airiness of
the space itself, we have separated these zones with magenta-coloured acoustic panels, which are also
a specific design element.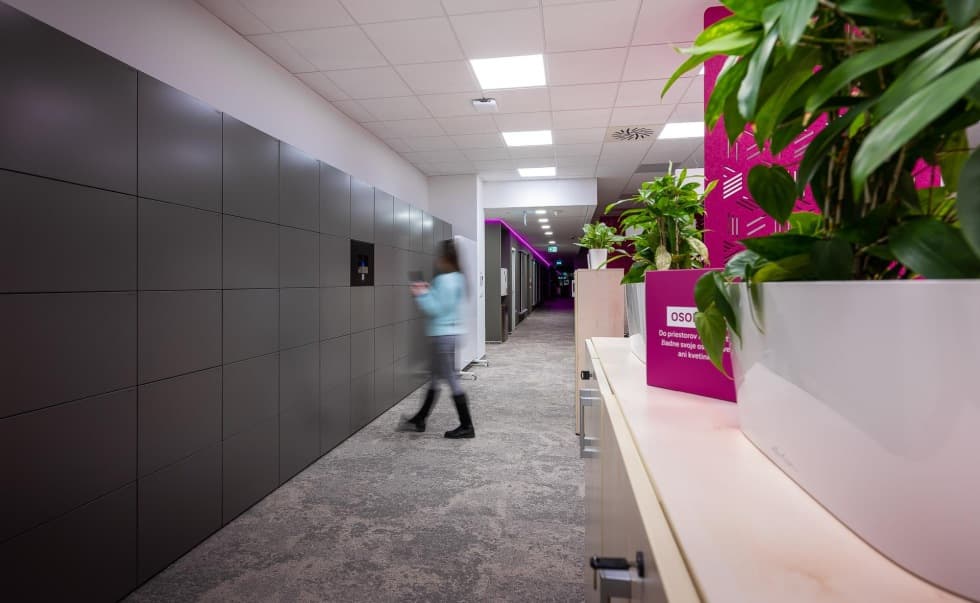 Supporting
the circular economy
Slovak Telekom is a conscious company. That is also why in more cases than not it gives usable furniture a so-called second life. At the same time, the management has proceeded to share the workspace, which again saves costs. In order to maintain comfort at work, employees can store their personal belongings
in lockers that can be unlocked by scanning
a QR code on their mobile phones.
The lights themselves also contribute to the economic factor and sustainability - the original tubular lights have been replaced with LED panels. To complete the overall pleasant emotion of the working environment, we have used harmonious greenery that can be noticed
in every zone.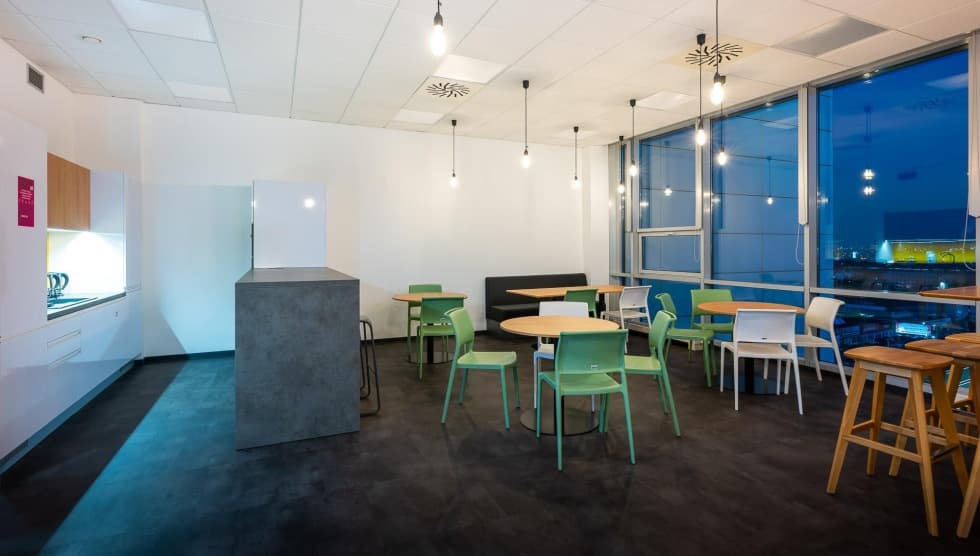 Slovak Telekom's office space is an example of a working environment where, instead of being eccentric and completely replacing the furniture, the company relied partly on the reuse of functional and aesthetically matching elements.
If you are looking for a unique design of your workspace, do not hesitate to contact us. We are happy to undertake comprehensive
design & build services that are not only pleasing to the eye, but also keep the needs of your employees in mind.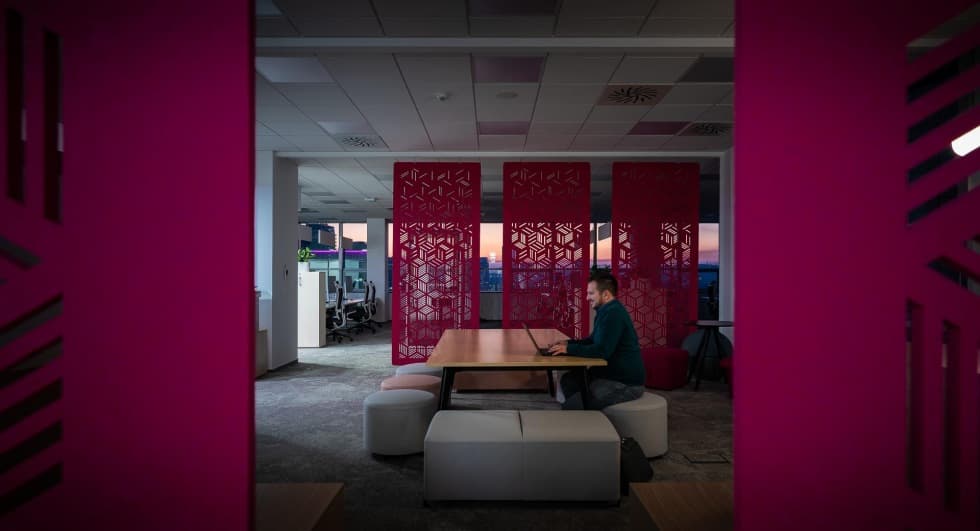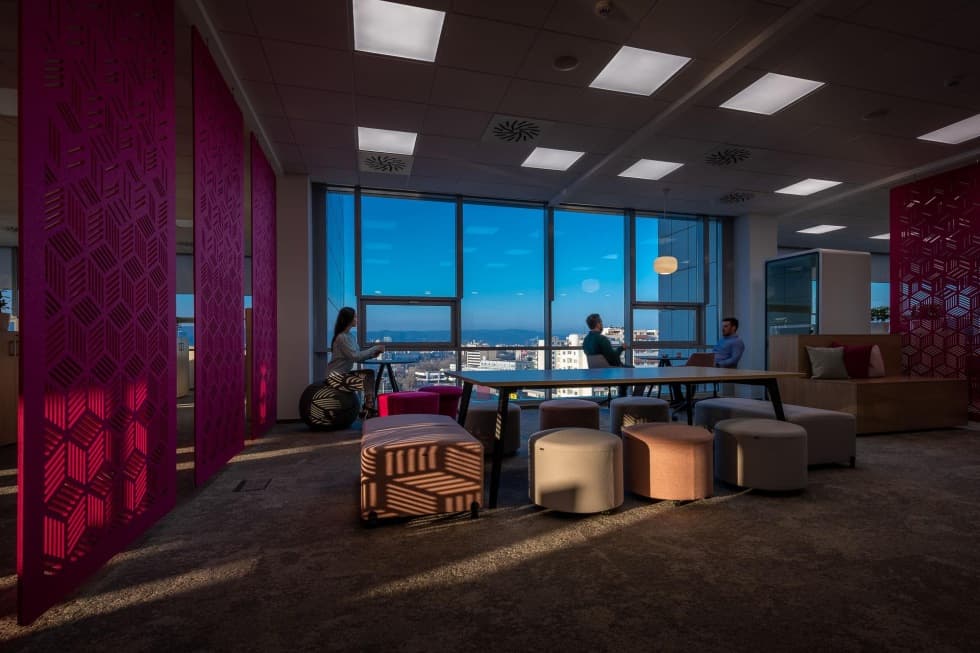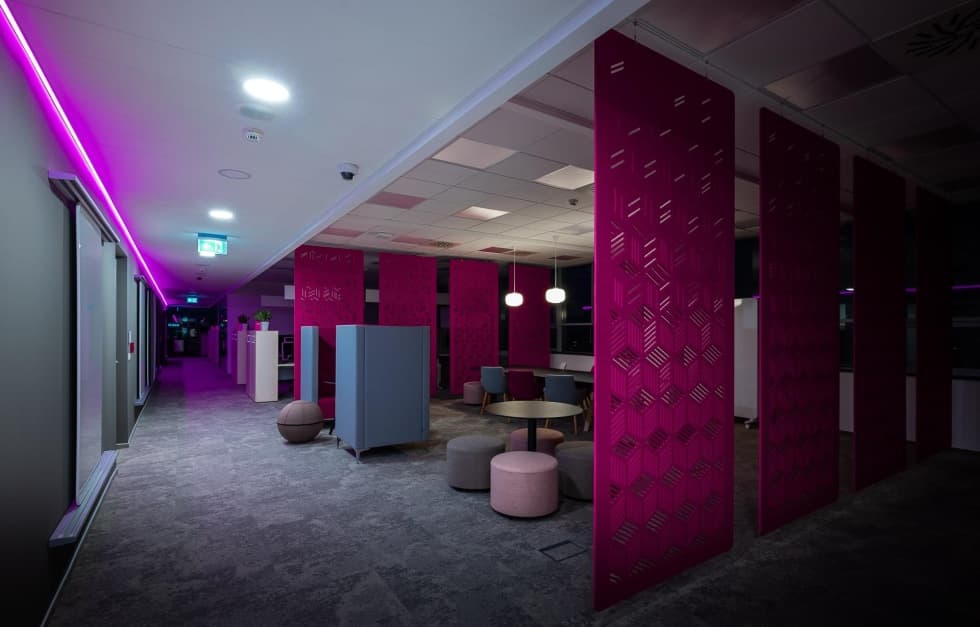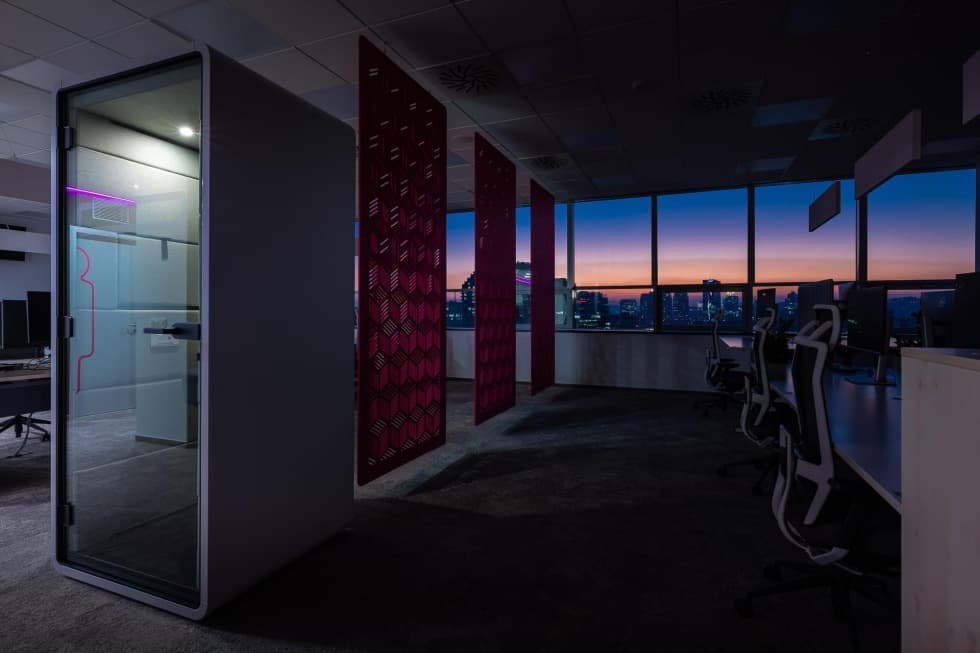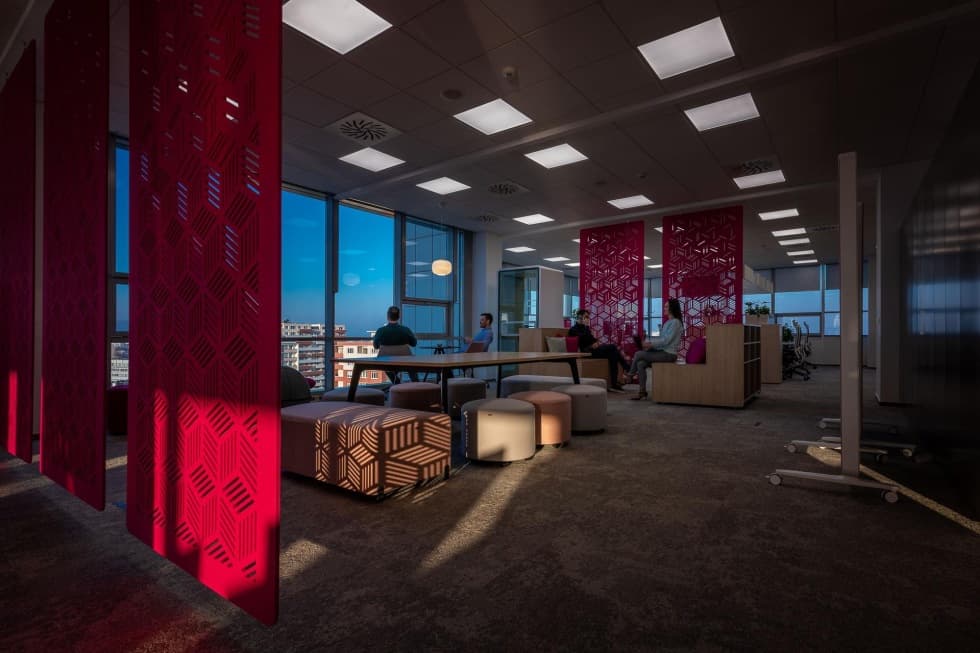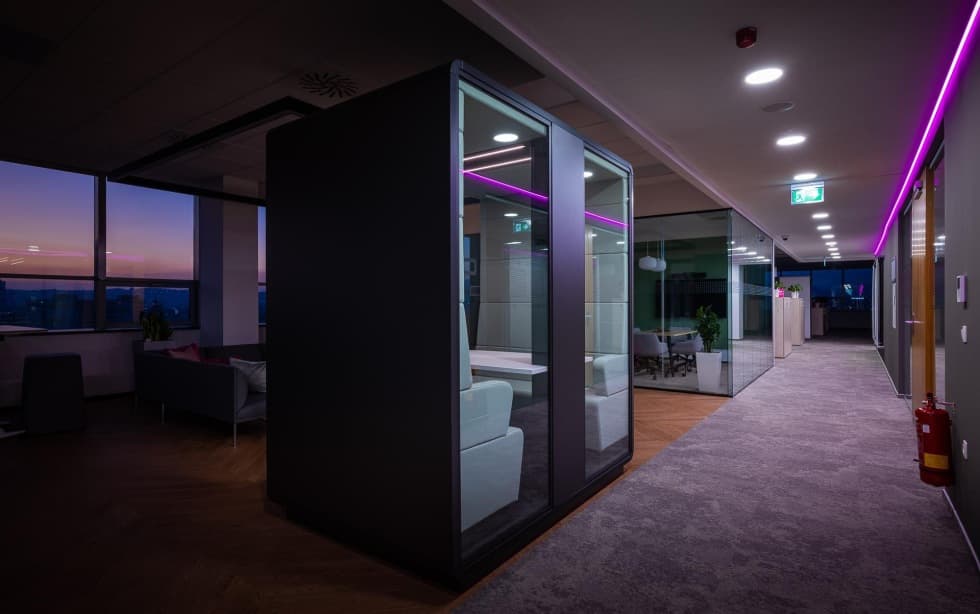 Author of photos: Aeternus Pictures
Do you like it? Share it.
Want to sit in an office that looks like this?
Write to us with your requests and wishes. We will create your dream interior.