Just cosmetic adjustments? No, in Pierre Fabre's new offices you will find a jungle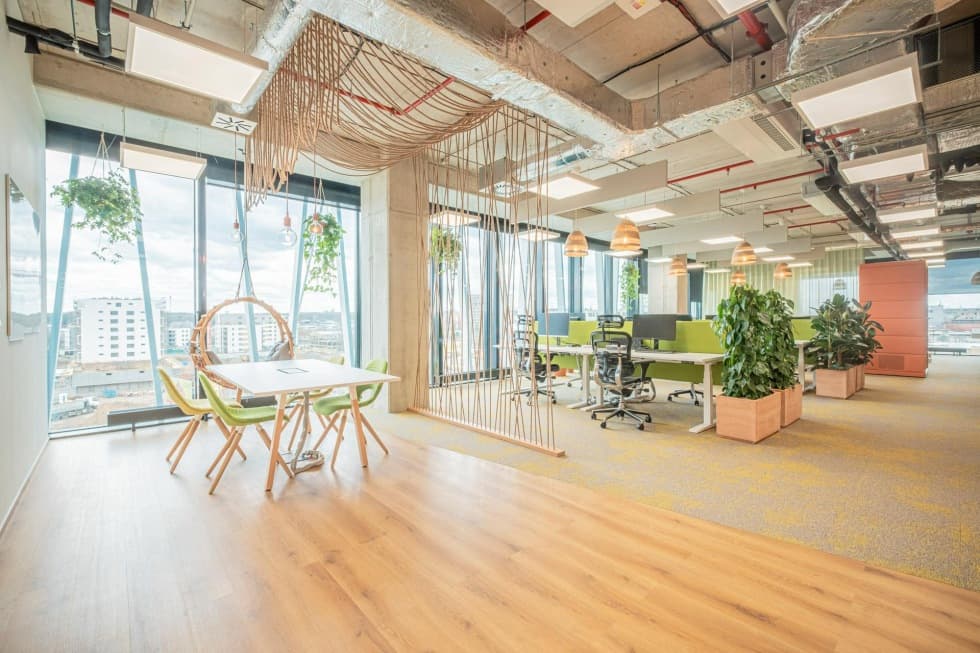 Pierre Fabre is a pharmaceutical company with a strong name in the field of dermatology and skin care. CAPEXUS had the opportunity to design and build completely new offices in the modern AFI City office building in Vysočany, Prague, which feature French charm, prestigiousness, purity and, last but not least, connection with nature. Take a look and get inspired.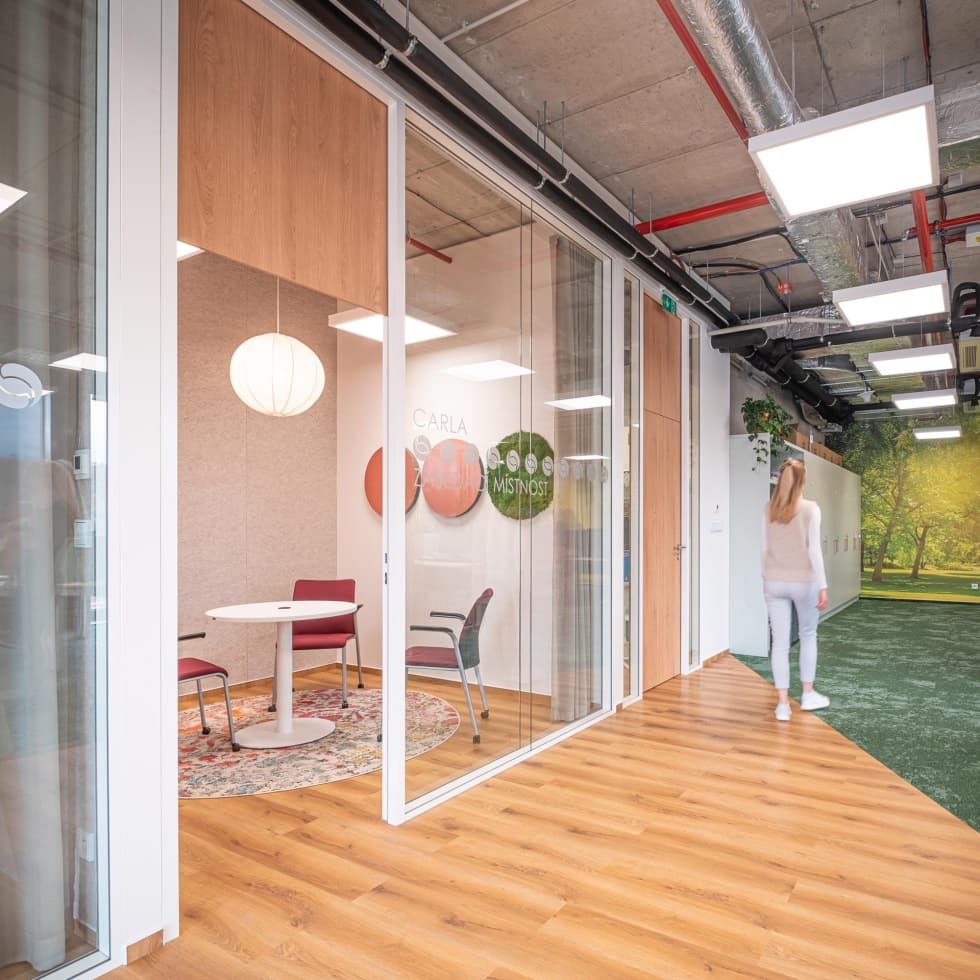 Beauty in the details
Pierre Fabre bases its products on quality, speed and
a perfect combination of know-how from various fields. We too share these values and therefore it was very important for us to meet the client's high expectations. The company Flexjobs provided advice on work flexibility and workspaces, while CAPEXUS took care of the complete spatial architecture, project management and final interior design.
The result is a truly unique office space in one of the most modern office buildings in Prague.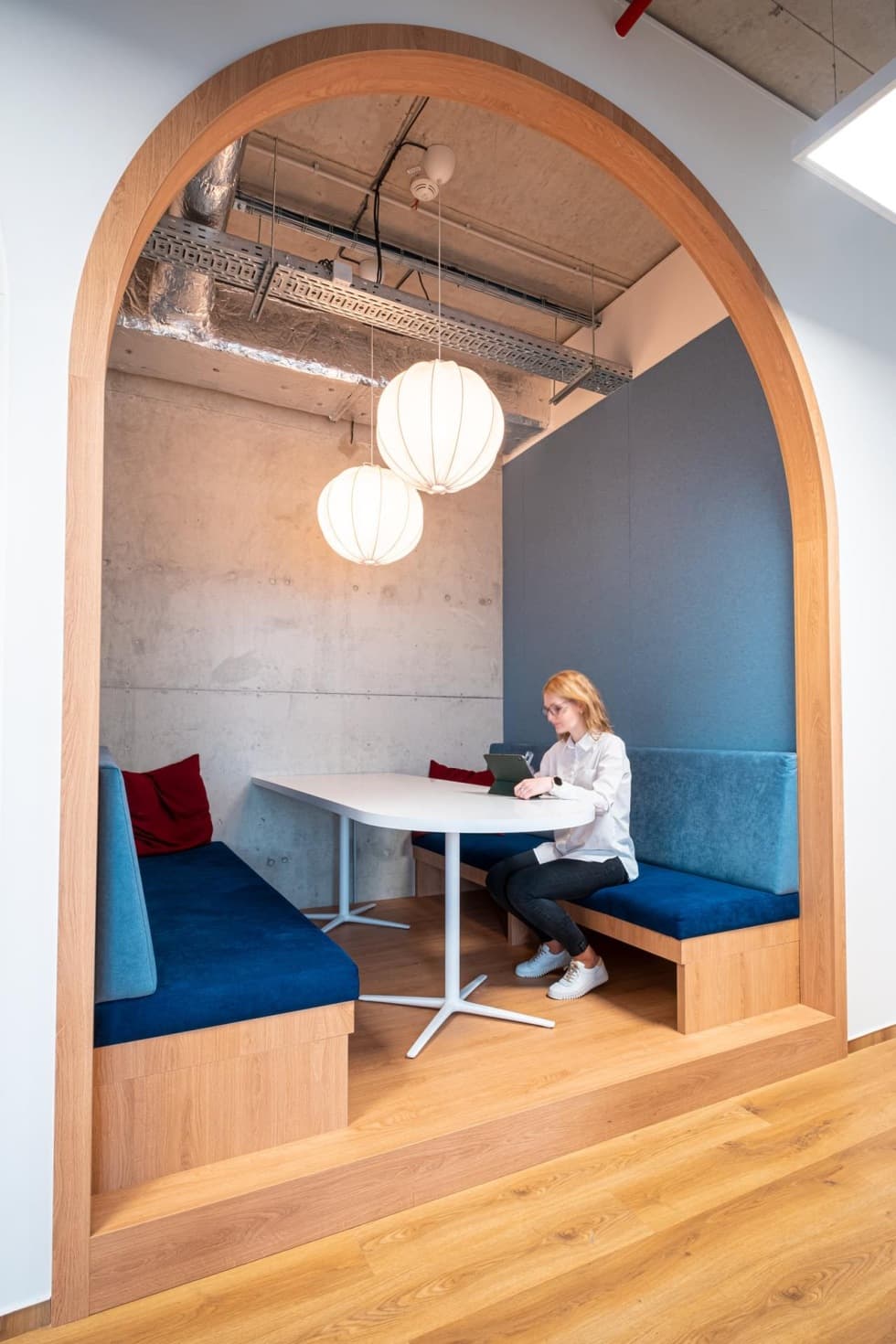 Concrete design
The whole interior is largely characterized by open ceilings with visible piping and exposed concrete, which is also located on some walls. Another significant design element is the arch, which appears in various forms throughout the office.
These include arches in the corridor lined with wood, suspended glass displays for products or circular acoustics and lighting fixtures. Even the stickers on the glass partitions look like circles from a distance, but in reality are small Pierre Fabre logos.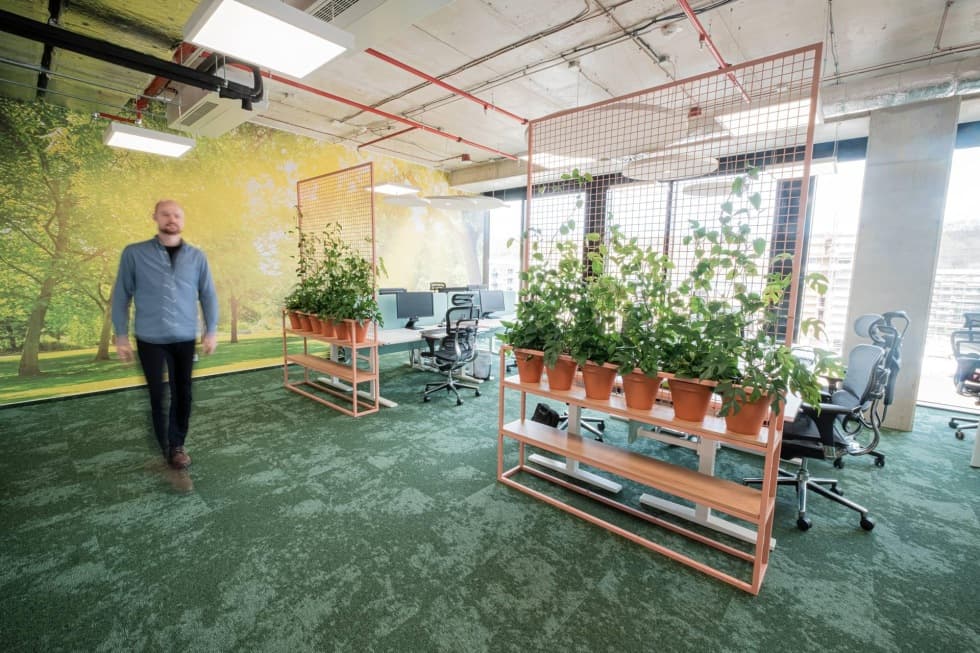 Functional nature
With an area of more than 530 m2 the offices consist
of several functional parts. The open space called the Garden is designed primarily for quiet and focused work. There are elements that create the feeling of a garden, such as a fence with creeping greenery separating the workstations from the corridor. The dominant colours here are pastel mint, muted peach and wood.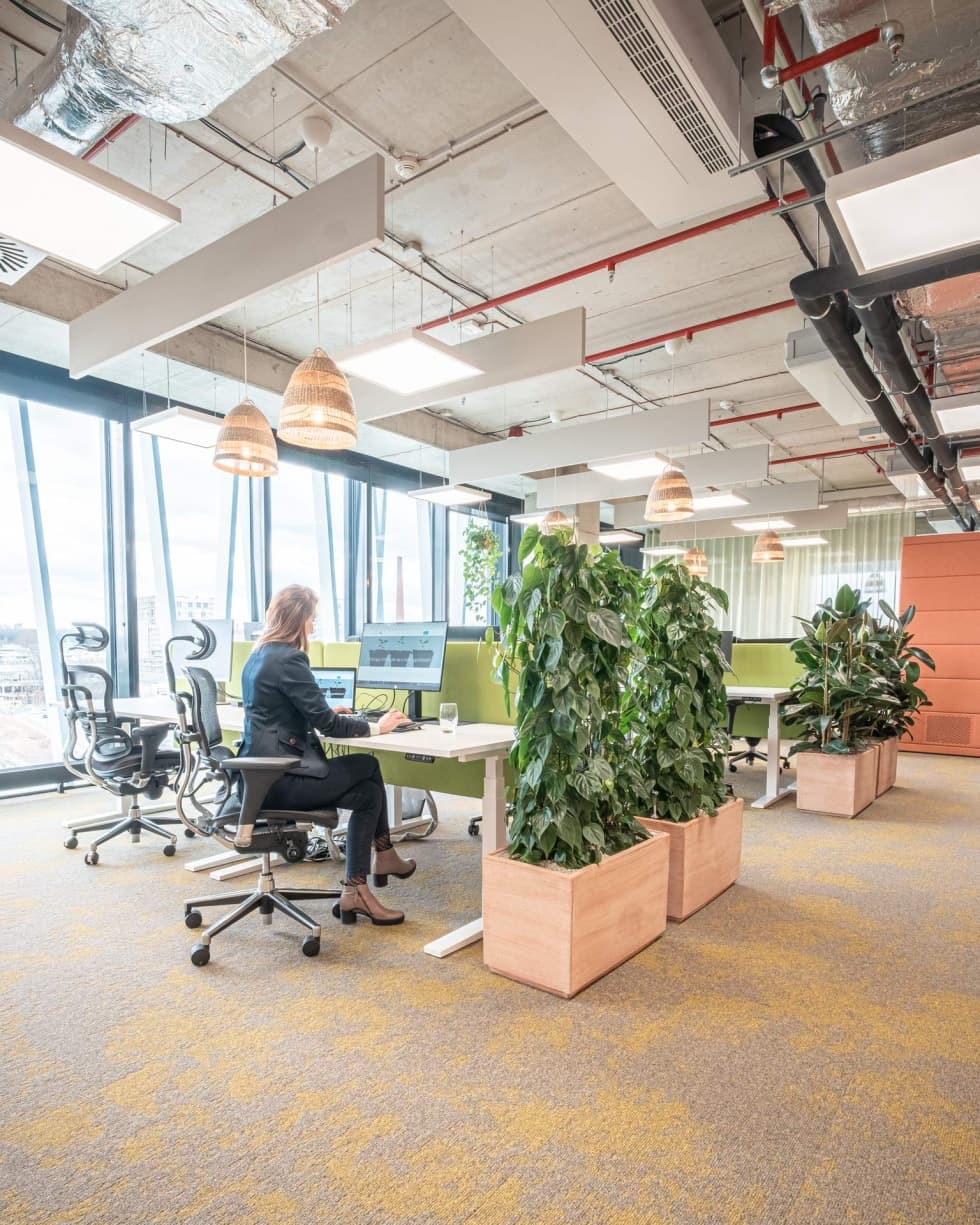 Office "forest"
The second open space called the Jungle is suitable for everyday work and collaboration. In this open space there is a large amount of greenery in terracotta pots. The colour is a combination of green, orange, yellow-beige carpet and wood. A significant element at the entrance to the Jungle are the ropes that evoke creepers. In addition, they are complemented by lights and a swing. The Jungle is underlined by designer wicker lamps.
A place for everyone
The Coworking Zone connects the entire space. The dominant elements here are the exposed concrete, wood and pastel mint and peach shades. The zone contains a kitchen with a large bar counter, a spacious table ideal for collaborative work, as well as softer seating in the form of armchairs. There is also a staircase podium and benches, creating great variability and flexibility, so that everyone will find a suitable place to work or just have a cup of coffee.
The reception area and meeting rooms are decorated rather in corporate colours. The star here is dark blue in combination with wood and a more muted apricot colour. Even in these areas, a large amount of greenery is present.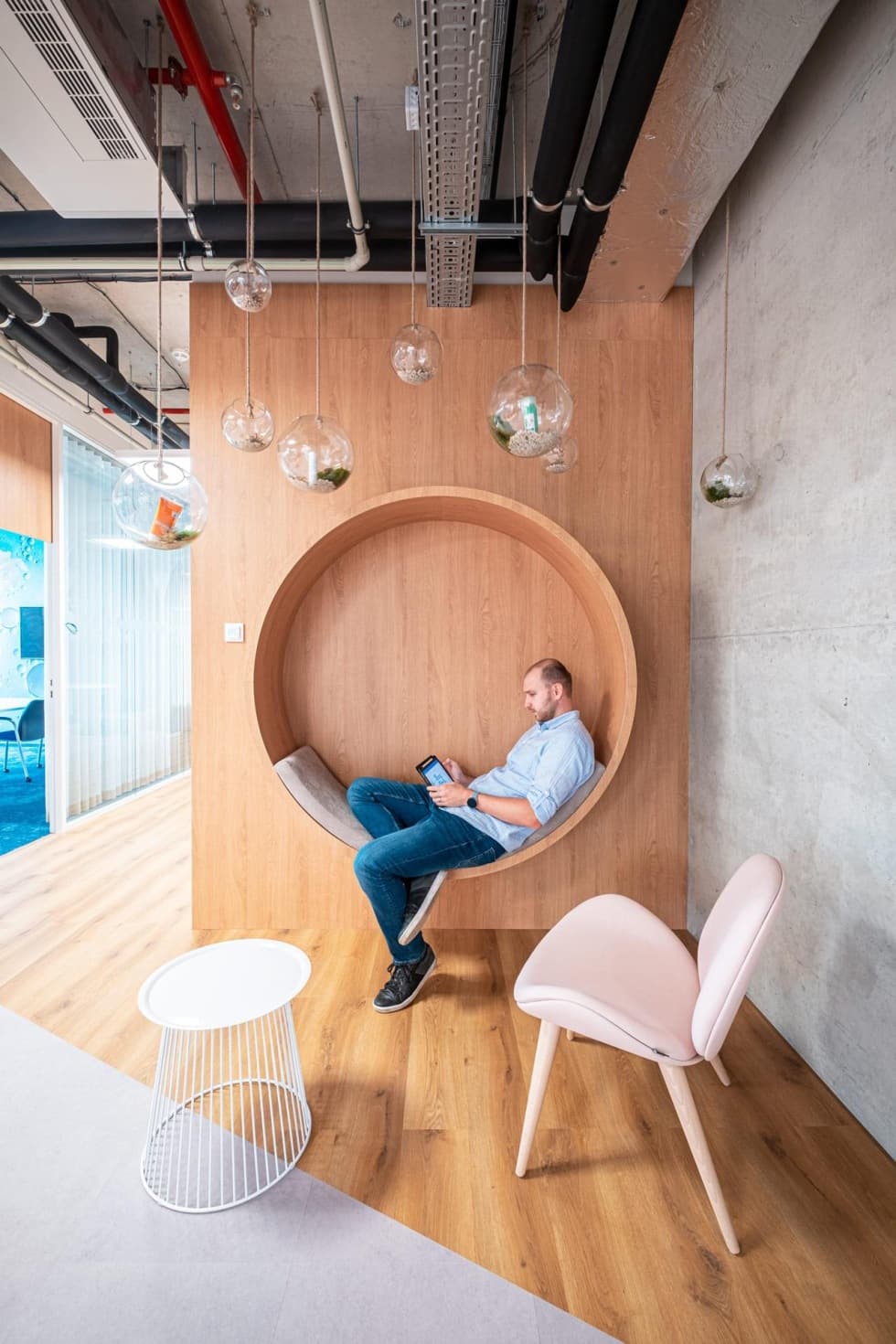 For a more
beautiful office
Pierre Fabre's new offices are a perfect example of how well design and functionality can match the philosophy and corporate identity of the brand. If your offices are also calling for a change, do not hesitate to contact us. We will take care of your project from start to finish.
Photos author: Prokop Laichter, Martina Prášková
Do you like it? Share it.
Want to sit in an office that looks like this?
Write to us with your requests and wishes. We will create your dream interior.