Welcome to the world of the largest Slovak provider of webhosting services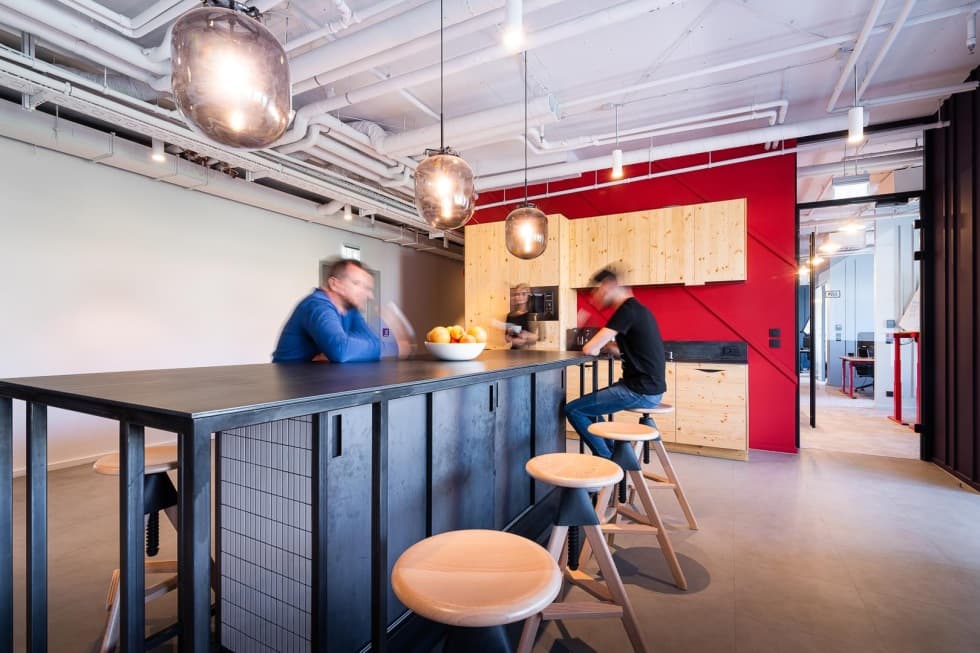 Today, it's no longer a secret that companies have become much more sophisticated and creative when it comes to their work environment. The IT sector is no exception, which is why Websupport, which has been on the Slovak market since 2002, has entrusted itself to experts and prepared offices for its employees that are a pleasure to work in. The first phase of the successful collaboration already took place back in 2018. The implementation of the fourth floor was completed on 14 August 2020. Employees enjoy the space with its coloured walls and velvety undertone of dark purple, emerald green, burgundy and white.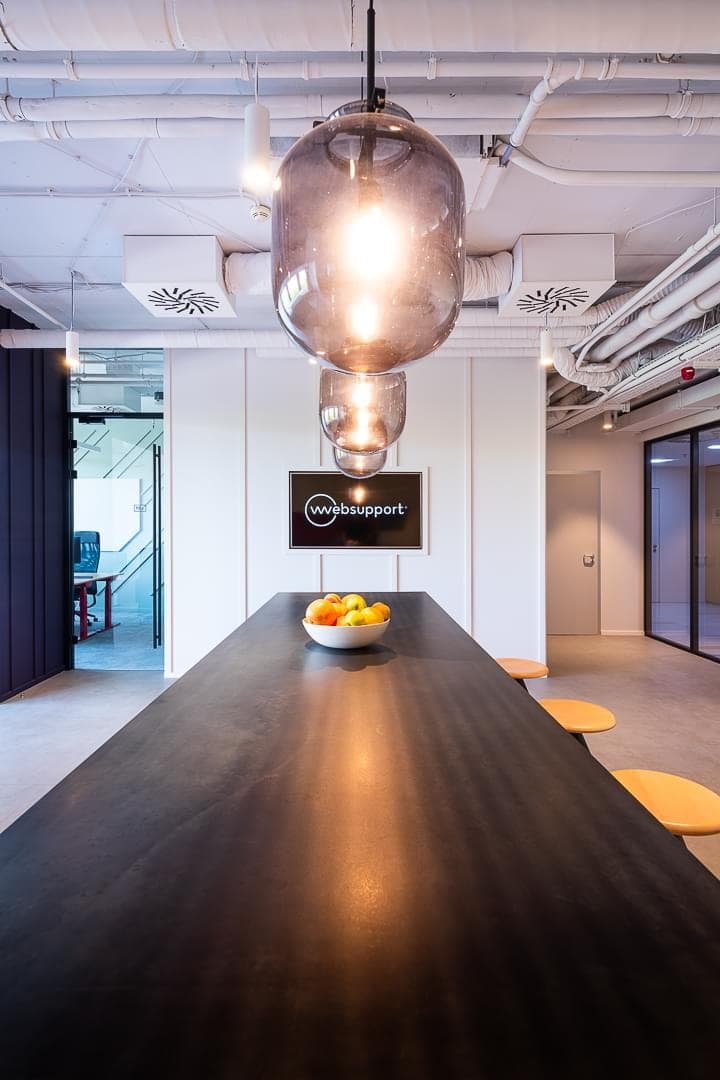 Creative material
in the kitchen
The meeting place has definitely become the kitchen, which is open and creates a pleasant impression as soon as you enter. The long table and barstools are great for quick informal brainstorming sessions. The atypical kitchen unit itself takes inspiration from the industrial spirit.
The boards on the cabinets are natural and untreated. An interesting element is the sink, which flows smoothly into the worktop. The selected material is made of untreated steel. When releasing water from the tap, the steel plate naturally rusted, which was the intention of the architects from the Czech studio Perspektiv.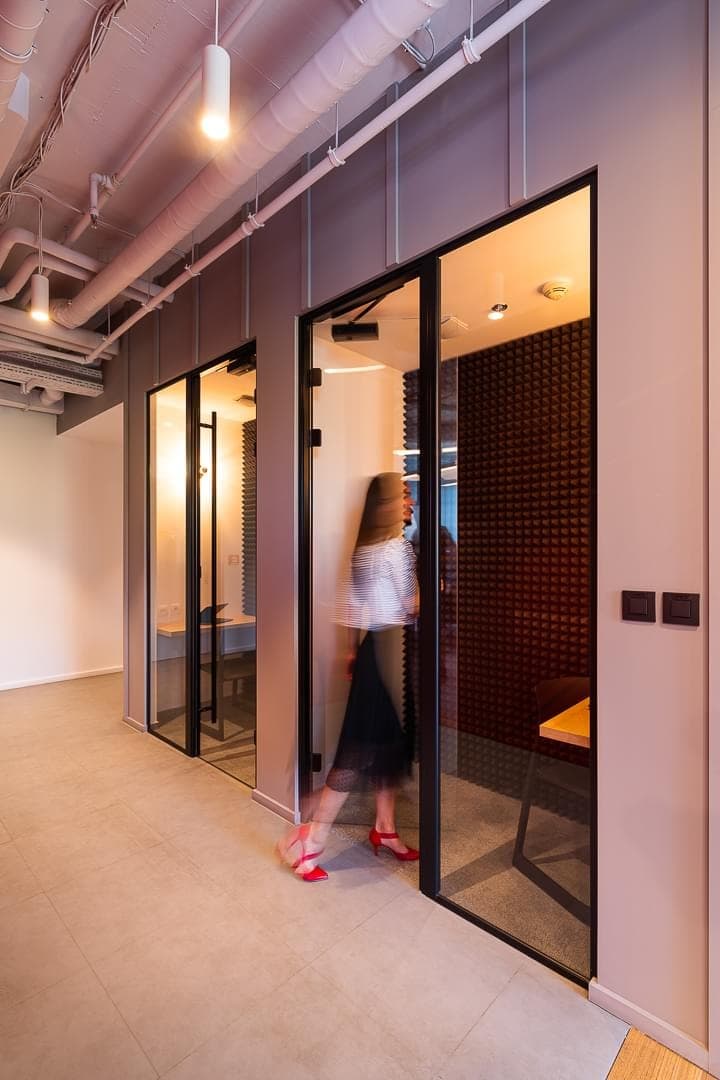 Soundproof conditions as in
a recording studio
Two soundproof rooms, which serve as telephone booths, impress at first sight. Acoustic insulation with an open cell structure was used for the walls, ensuring the absorption of reverberations in the shape of pyramids. Gluing was chosen as the method of fastening. Emphasis was placed on lines and 100% sturdiness during handling.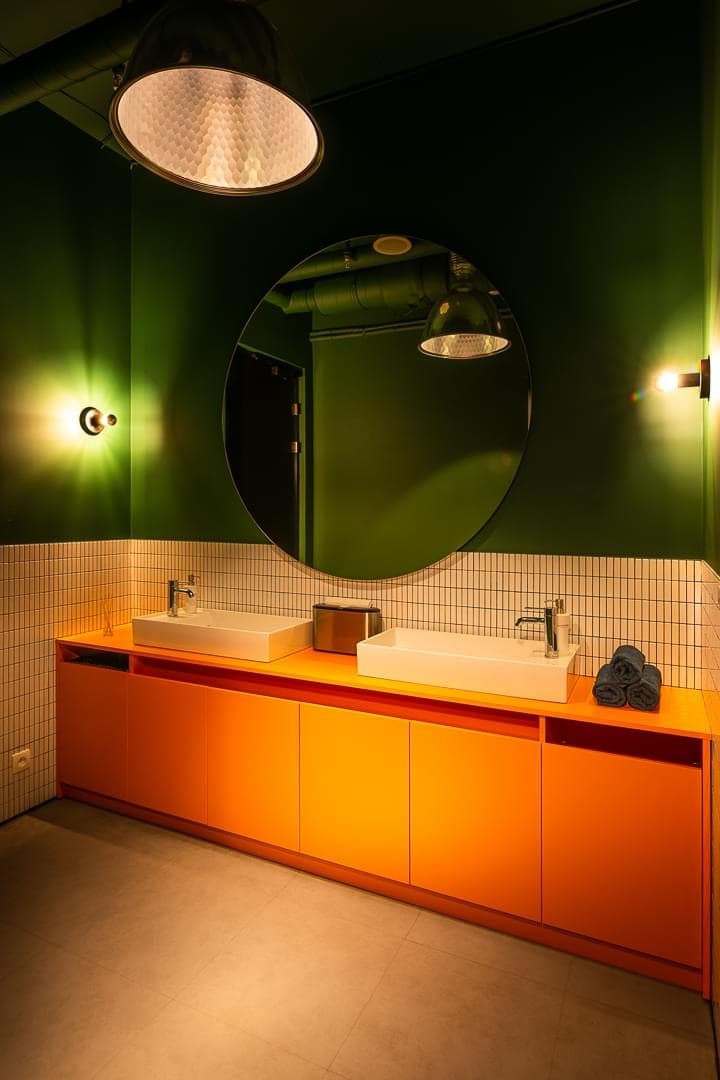 A little bit of "mystery" and elegance in the toilets. And why not?
The creative design continues. An alluring look was given to the toilets, which are characterized by their emerald green walls and atypical deep orange furniture. The luminaires are dimmed, intimately adding to the feeling of luxury. Seven-millimetre chequered vinyl was chosen for the floor, an indispensable feature of which is its easy handling (can be disassembled if necessary).
Do you like this workspace? Put yourself in CAPEXUS's hands and be the proud owners of a glorious office.
Author of photographs: Tomáš Schiller
Do you like it? Share it.
Want to sit in an office that looks like this?
Write to us with your requests and wishes. We will create your dream interior.