Holiday Inn luxury hotel lobby for demanding clients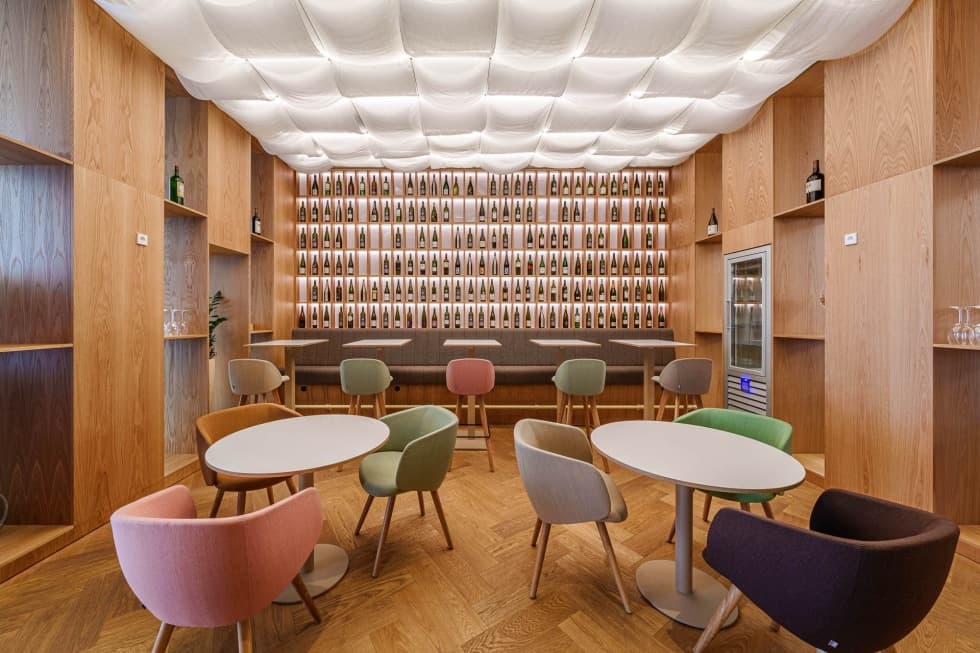 This modern hotel in Prague, close to Vyšehrad and the Prague Congress Centre, welcomes guests with a completely renovated lobby, designed by our professional team based on an architectural design by Mackovič Studio. Explore a range of unique solutions and be transported for at least a brief moment with thoughts of a holiday.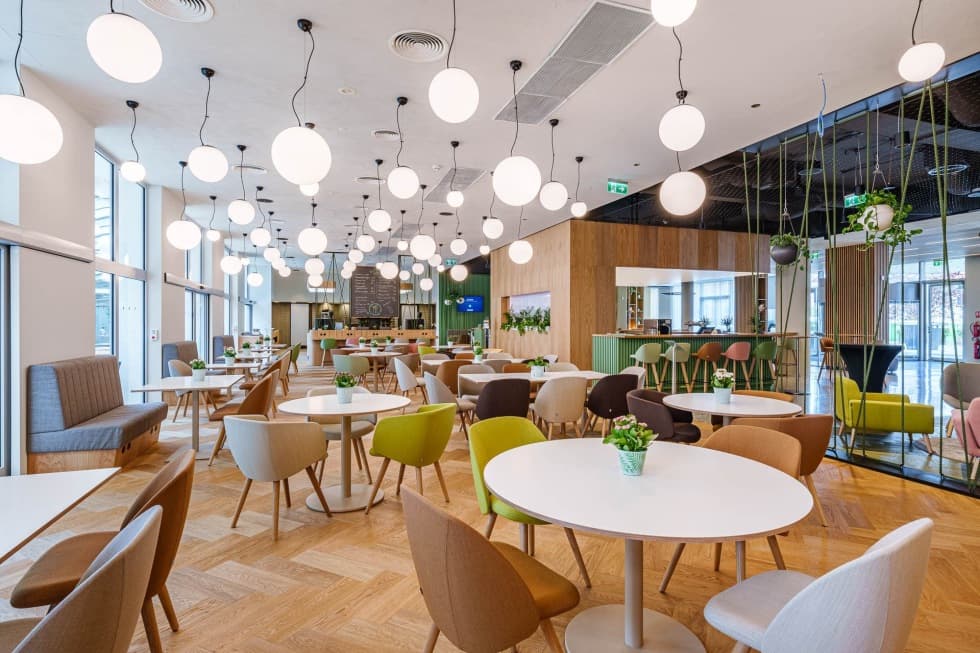 Combining function with elegance
The external look of the hotel had a major influence on the overall appearance of the interior. The building functions as a congress facility for a demanding clientele. The open lobby concept, in which the bar is the central point, was designed to support a variety of activities during
the day, including business meetings.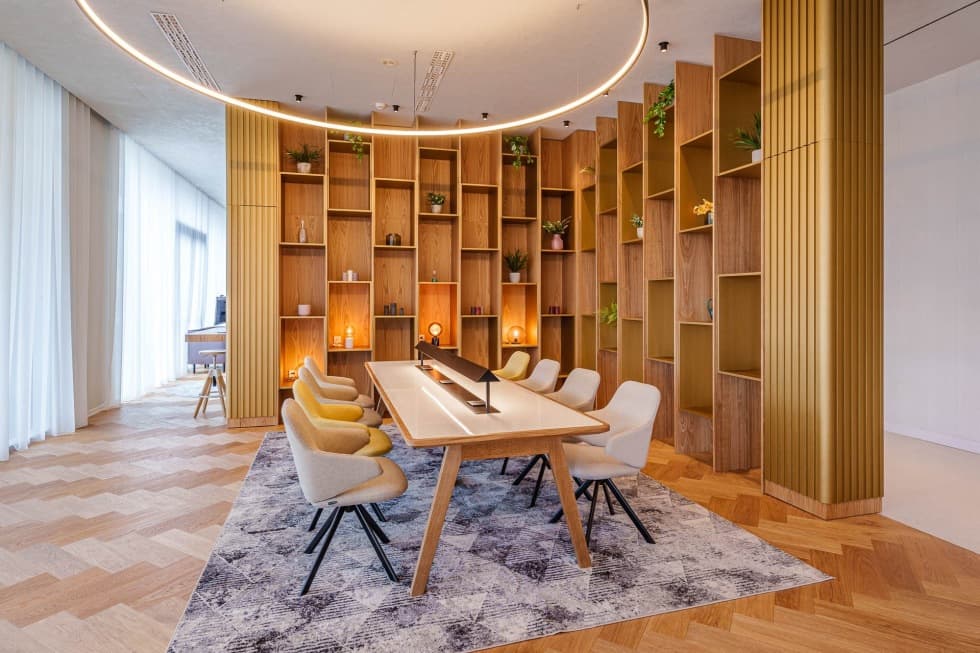 The interconnection of different functional zones from the restaurant to the conservatory offers a flexible use
of space. There are even two fully equipped meeting rooms. The presence of sliding doors in the lobby allows the layout to be divided into conference
and hotel areas as required.
A friendly atmosphere is a matter of course
Quality and timelessness are emphasised in the material and surface design. Carpentry wood panelling, concrete squeegees, ceramic mosaics, translucent curtains and decorative plaster blend naturally in all spaces. The colour palette responds to the exterior appearance of the building, with a green central bar complemented by red granite.
Natural tones are preferred, creating an elegant yet welcoming atmosphere. The artistic interplay of the ripple motif or vertical troughs is unmistakable. Furniture and other interior furnishings are designed with individuality and practicality in view. The combination
of bookcase sets, shelving walls and mobile furniture contributes to the functionality and aesthetics of the entire interior.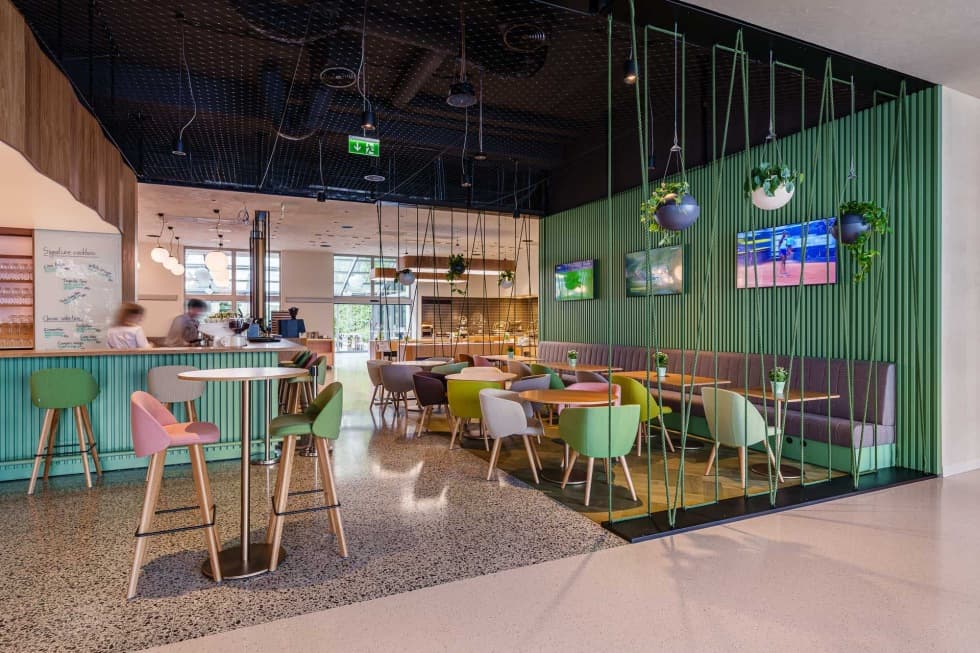 Unique floor solution
A completely unique feature in the hotel lobby is the terrazzo or cast stone floor. This solution is very challenging to implement, not least given the fact that the construction work was carried out during normal hotel operations. The noisier tasks were carefully coordinated in order not to disturb the hotel guests. However, the result is a breathtaking effect and appearance that is not common in hotel lobbies.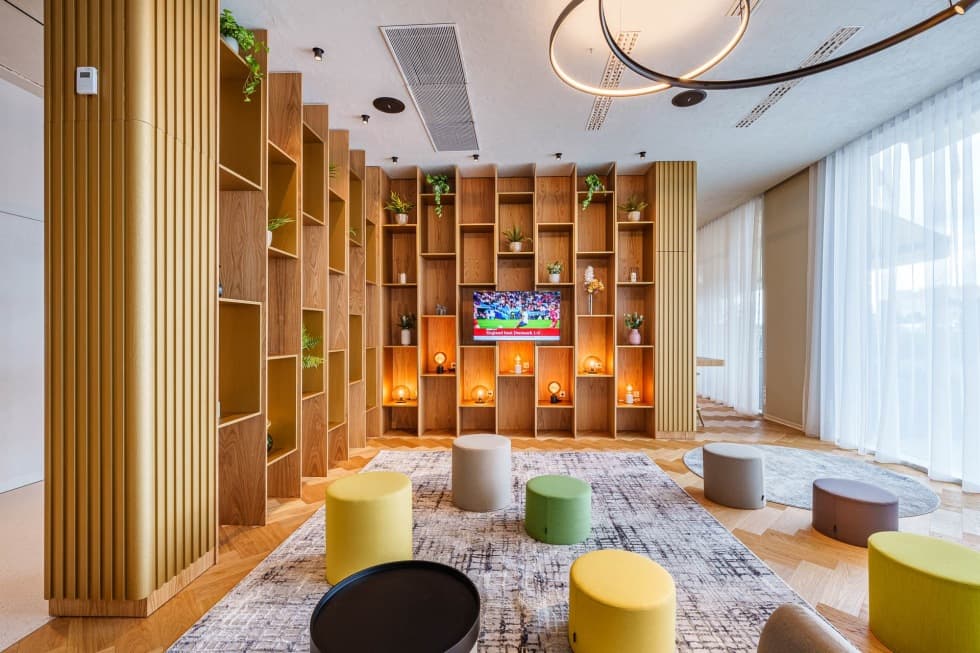 Check-in?
As CAPEXUS, we create bespoke commercial interiors, from initial design through visualisation to furnishings or decorations. The luxurious lobby of the Holiday Inn hotel is proof that in addition to offices for renowned brands, we can also create hotel spaces for the most demanding clientele with the utmost expertise. Are you interested?
Author of the photos: Petr Andrlík
Do you like it? Share it.
Want to sit in an office that looks like this?
Write to us with your requests and wishes. We will create your dream interior.