A minimalist office for GROHE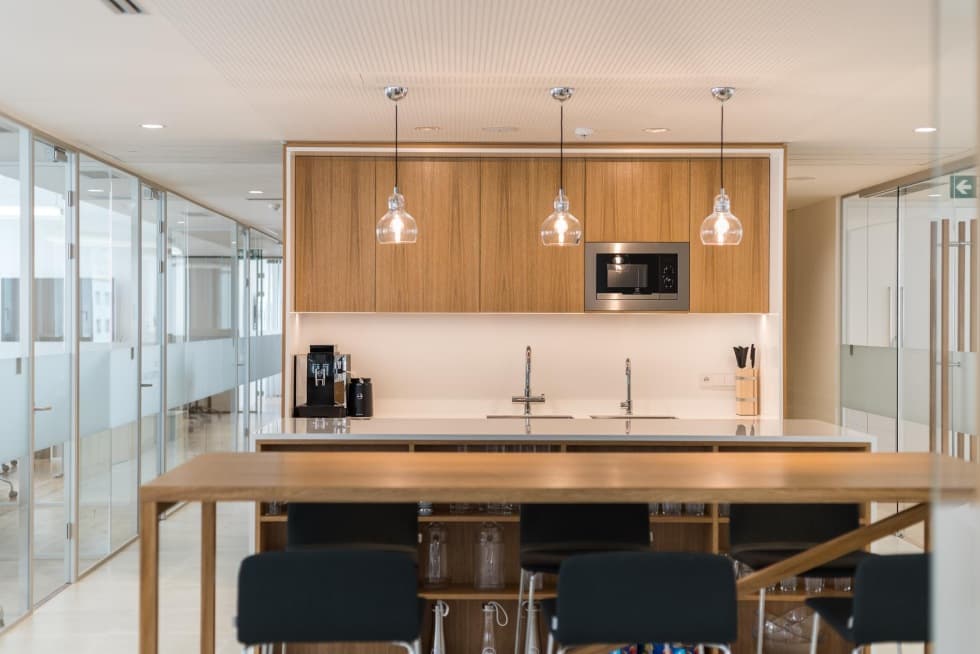 Technology, quality, design and sustainability. These values played an important role in the creation of new offices for GROHE, a leading world manufacturer of sanitary equipment.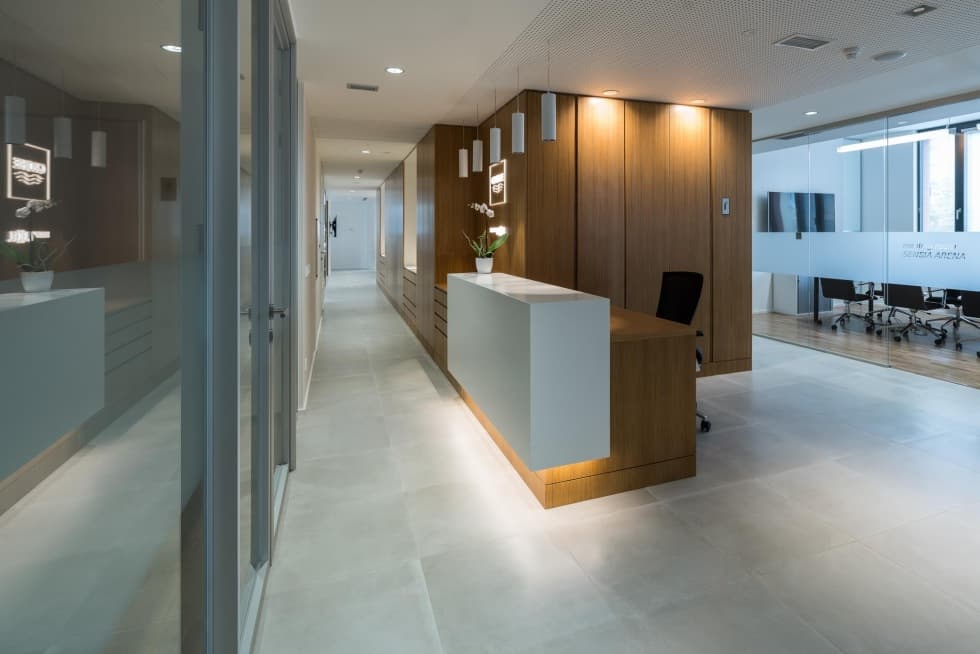 Water experience
We worked on the project together with the Jakub Cigler architectural studio, which created a simple, airy design without superfluous embellishments. The new office space exudes the spirit of the company's motto, which promises an uncompromisingly pure water experience ("Pure Freude an Wasser"). Wood combined with neutral colours (white, grey and black) gives a luxurious impression and the mark of quality.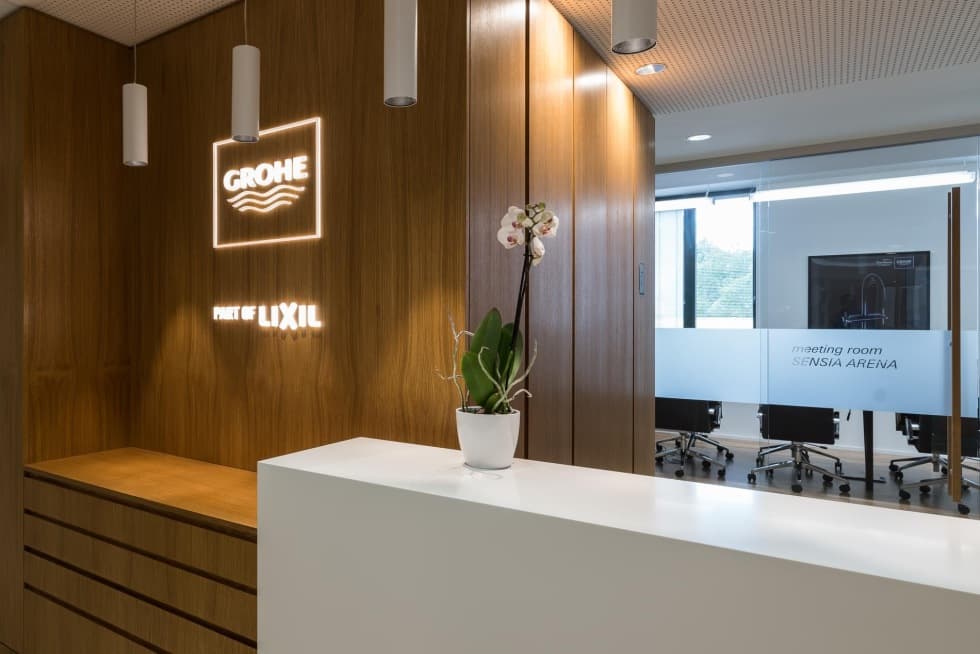 Wood and neon
Upon leaving the elevator, visitors are welcomed by the company's main logo with the above-mentioned motto. A glass entrance door reveals the lobby and the wood reception desk. Part of the reception desk is raised and finished in white lacquer, behind which there is an area that serves as storage space. The room is complemented by a vibrant neon logo of the company and suspended luminaires in the shape of cylindrical tubes.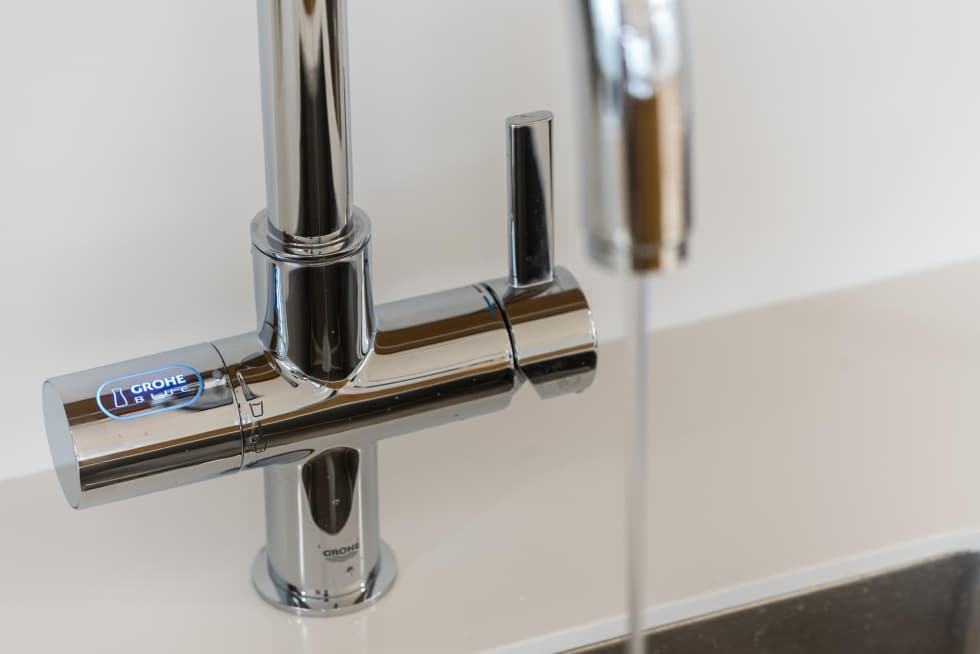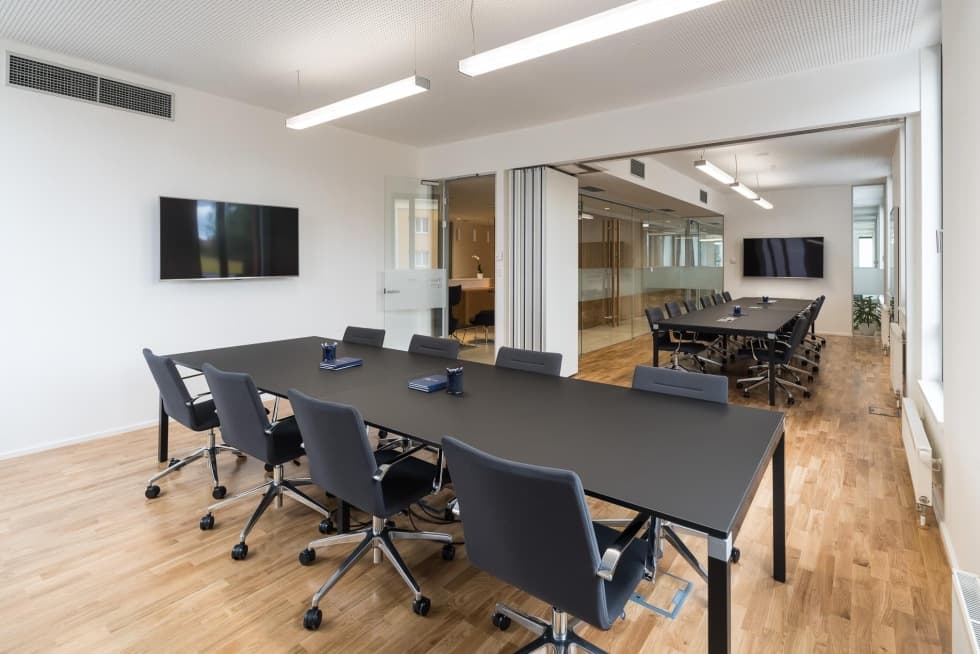 Variable meeting rooms
For ease of orientation, the meeting rooms are marked with stickers on glass rails. The meeting rooms feature white sliding screens, making it easy to reconfigure and connect them as needed. Some rooms contain thematic stickers on the walls related to the company's identity..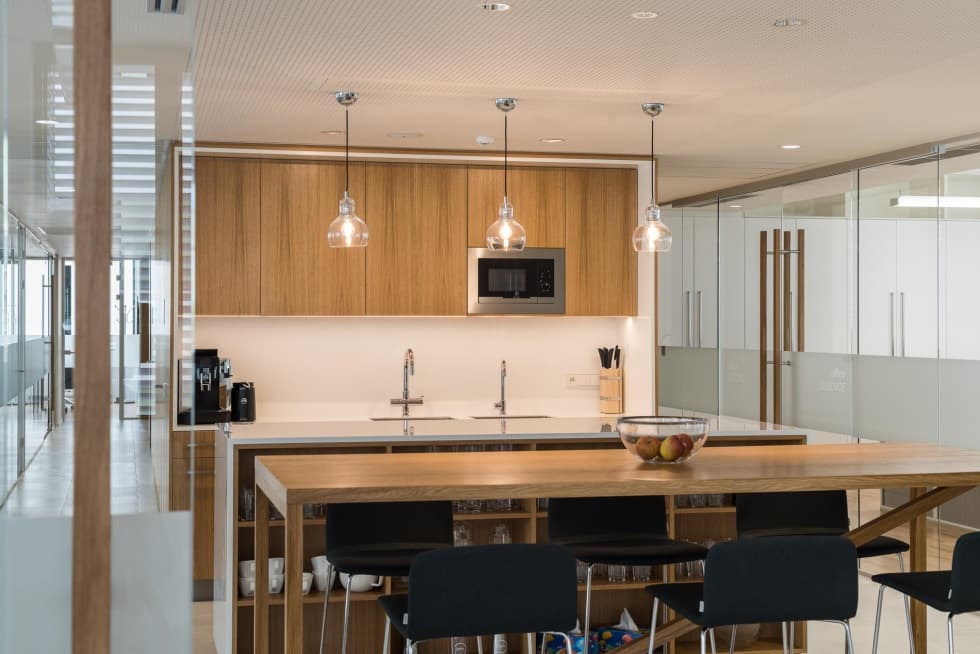 Luxurious kitchen
Wood as well as black and white elements and design lights are also the dominant features of the interesting and luxurious kitchen. The kitchen area is extended by an island that employees can use to prepare snacks or as an extra place for lunch.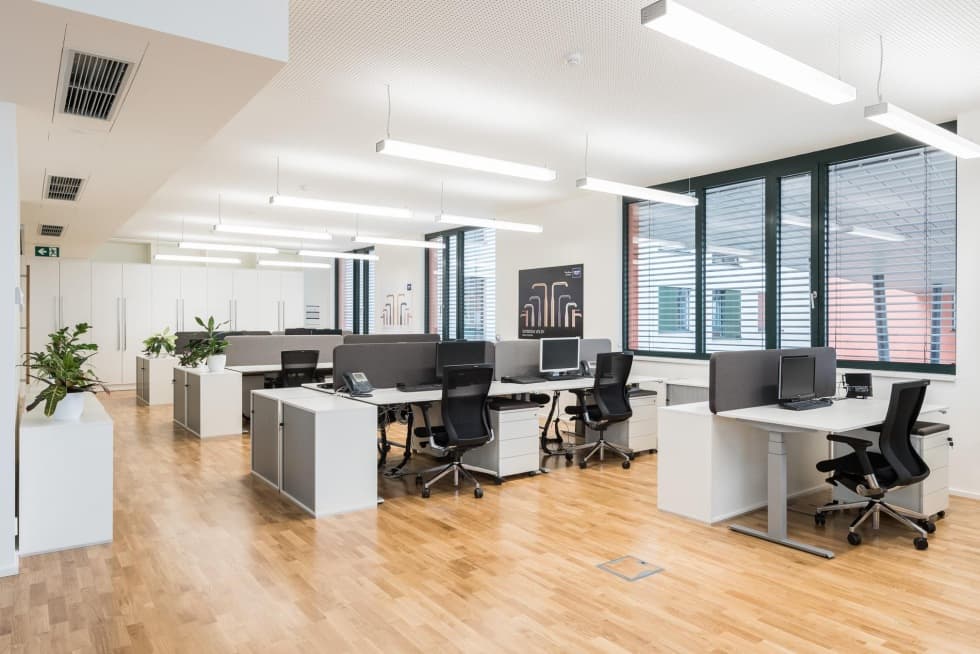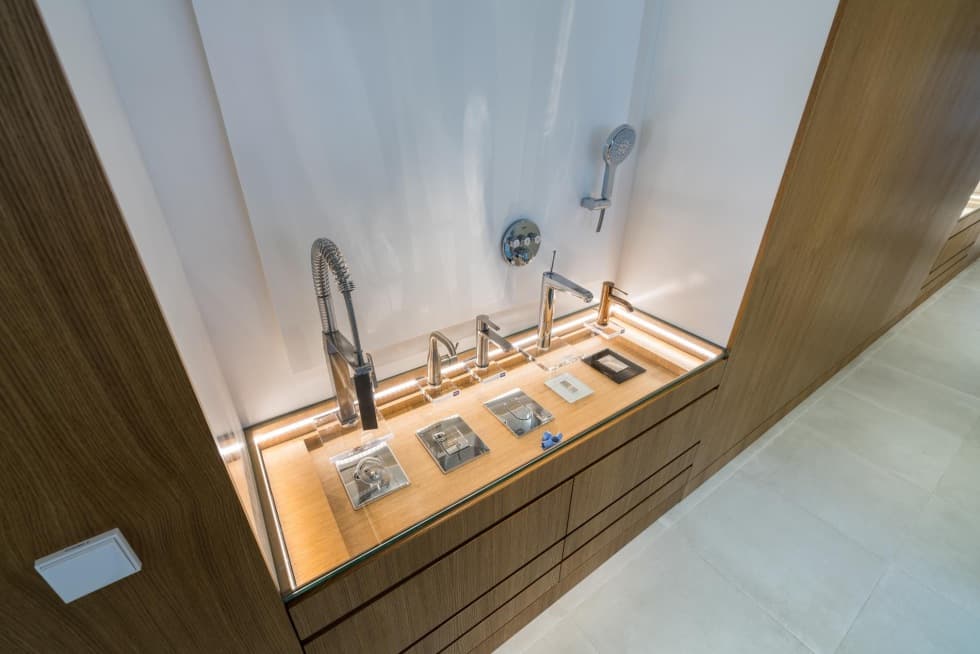 Privacy in an openspace
The grey and white open space is brought to life with flowers
and hardwood flooring. Employees can enjoy privacy thanks to the grey acoustic screens that separate each workspace. To store office supplies and documents, employees can use the white
built-in wardrobes in the rear part of the open space.
Products and more
In the product shelves, which are embedded in a wooden built-in wardrobe, one can find not only the company's products such as faucets and showerheads, but also its current catalogues and samples stored in drawers just beneath them.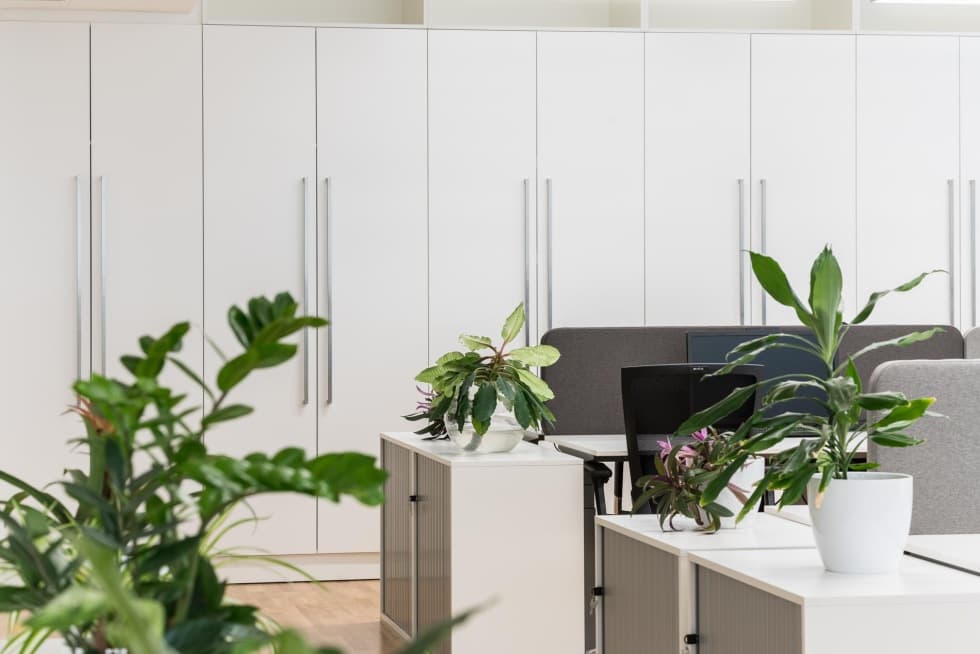 Own design products
The bathroom and toilets are equipped with the company's own products and gadgets, so visitors can hardly be left in doubt about what the company does. Sustainability as one of the company's core values is reflected in waste recycling and devices to ensure lower and more economical water consumption.
Do you like it? Share it.
Want to sit in an office that looks like this?
Write to us with your requests and wishes. We will create your dream interior.