High standard CEBIA offices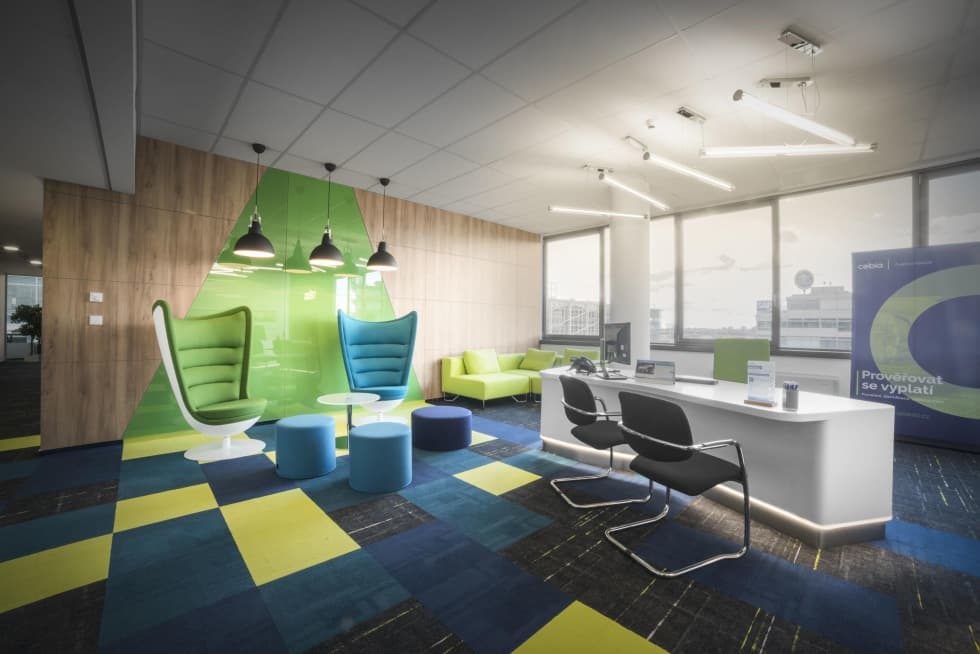 In March 2017, CAPEXUS completed furnishing 1,200 m² office for Cebia. on the 7th floor of the ALPHA building. The main goal was to create representative premises, with a prominent reception and client zone. Another key requirement was the precise design of the offices and meeting rooms.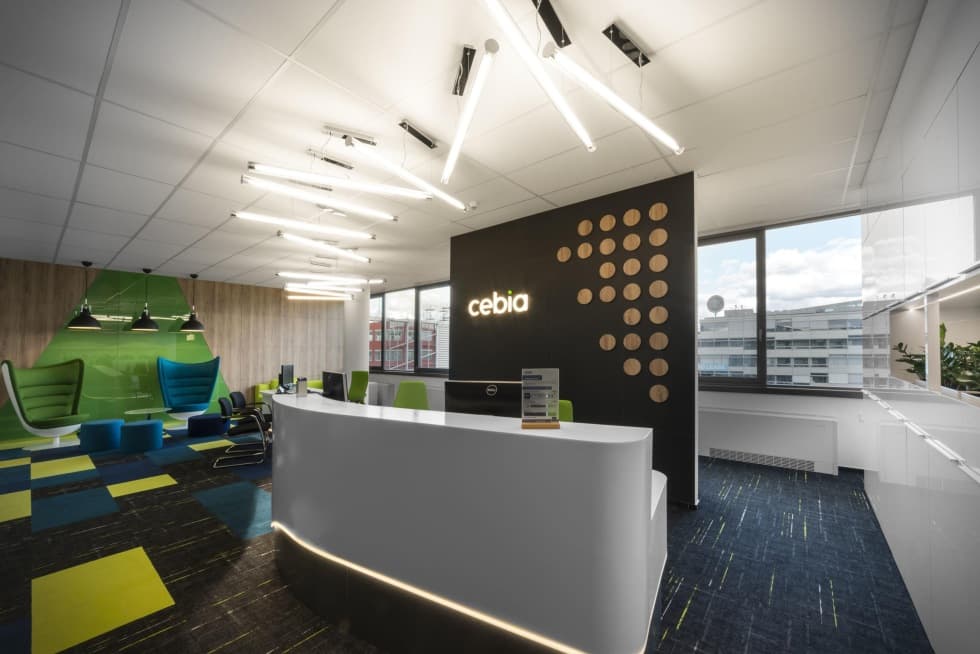 Oval shaped building
The interior of the individual levels of the administrative building ALPHA in Prague 4 presents challenges for any architect. As the building has an oval shaped ground plan and its outside walls do not have right angles, this created complications for example fo laying the carpets or installing a ceiling grid.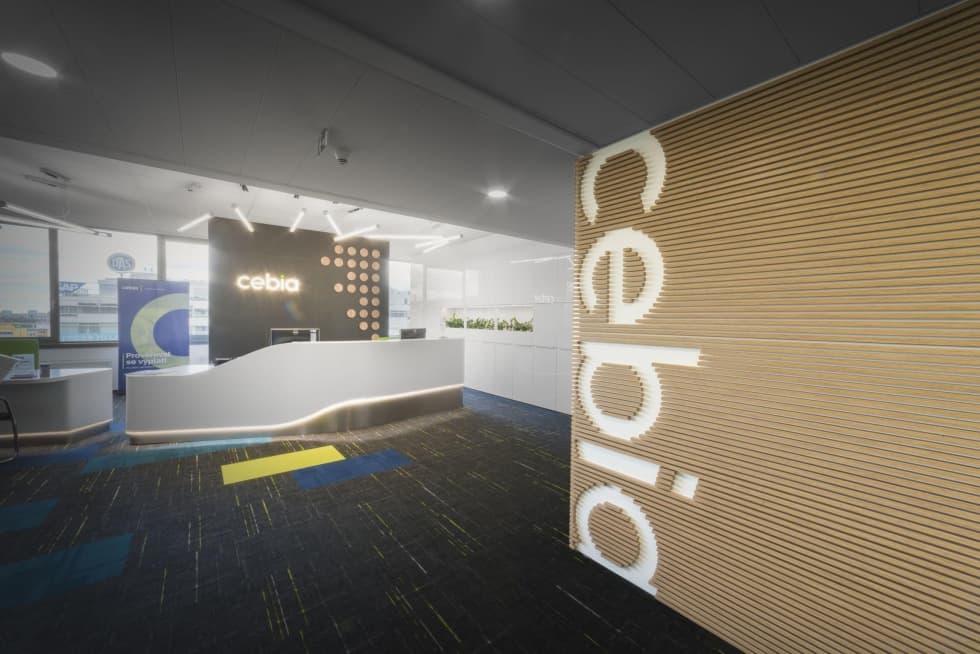 Wave shaped lobby
CAPEXUS architect Jan Andrle created a fit-out that relates to the rounded shapes of the building. He designed the reception in a wave shape, which spreads from the reception desk to the meeting point table. The reception is made of corian complemented with large format ceramic tiles and backlighting of Cebiaˈs logo. The corporate identity of Cebia is integrated in the interior – especially the logo, which appears in several places.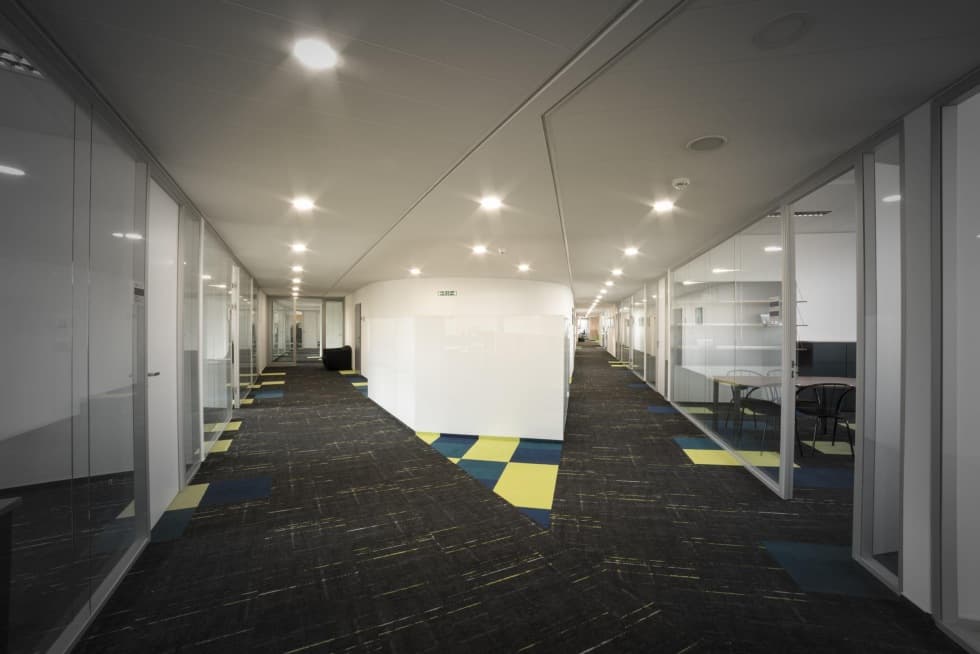 High standard
The entire space is very atypical and the project was executed with high-standard design using quality VOXFLOR carpets from the STRIKE product line, shiny laminate and accessories. The individual offices are separated by glass partition Panorama walls, which allow the carpets to flow optically throughout the whole area and define its colors. In the copy corner, the walls are covered with green and white Lacobel glass.
Two design Badminton armchairs from the Spanish producer Actiu add to the uniqueness of the reception area. The use of the other soft-seating features, made by the Scandinavian supplier Softline, make the area appear compact and lightened at the same time. The furniture fabrics were selected anticipating expected heavy use.
Budova ALPHA
The ALPHA Building comes from the drawing boards of Aulík Fišer Architects and was completed in 2003. Located in the southwestern part of Pragueˈs BB Centrum, at the corner of Vyskočilova street and the ramp from the 5. května trunk road, the ALPHA building offers a total of 11,000 m² of office space on 8 aboveground floors and 400 m² of ground floor retail space. Parking for 228 vehicles is located on four underground floors. The building features a cafeteria, a café, as well as a rooftop terrace with a garden with rare tree species.

ALPHA has excellent transport accessibility: direct connection to the Prague Ring Road and the D1 motorway, as well as a bus stop Brumlovka that is located directly in front of the building and just 2 minutes away from the Budějovická metro station. The ALPHA Building is part of BB Centrum, which features all amenities, such as restaurants and cafés, supermarkets, drugstores, a post office, healthcare facilities and more.
Want to sit in an office that looks like this?
Write to us with your requests and wishes. We will create your dream interior.