Cozy café for T-Mobile employees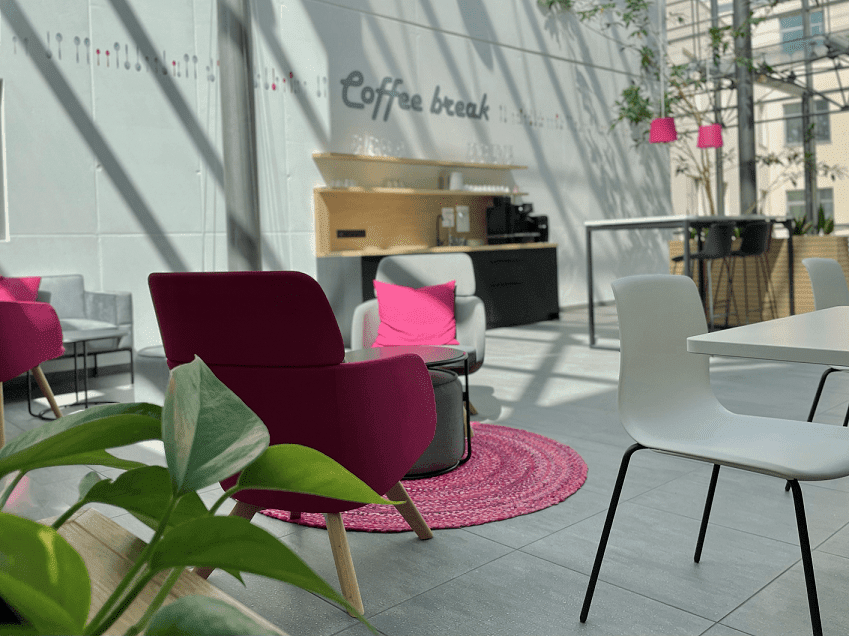 Our implementation in Hradec Králové for T-Mobile shows how a previously underused space can be transformed into a modern café inviting for a "coffee break". The goal of creating a pleasant meeting place was achieved and employees have the opportunity to enjoy coffee in an exemplary cosy environment with interesting design elements.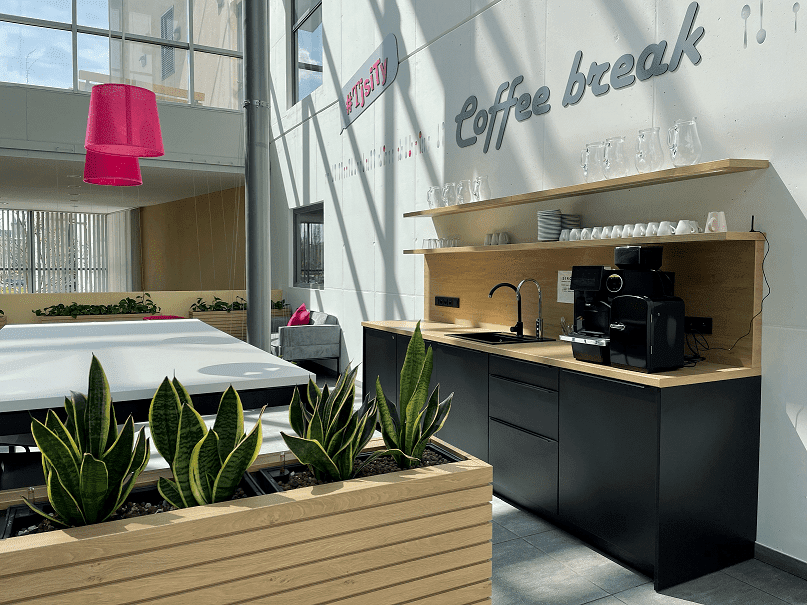 In the spotlight
The café is located directly behind the reception and is therefore part of the communication hub of the building. Practically in the centre of all the action, a multi-level and illuminated space has been created, which is maximally suitable for staff meetings. The path to the final look led through a search for cost-effective solutions, which included retaining the original flooring and clever use of planters to visually separate the entire space.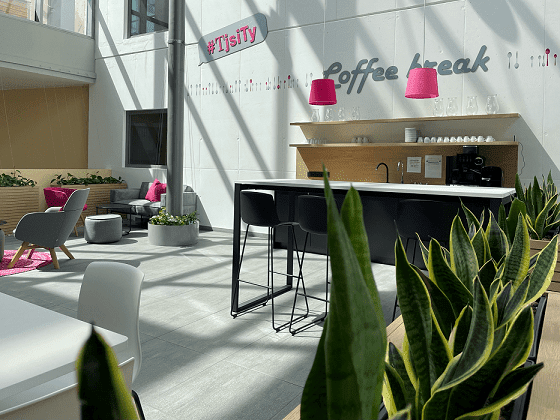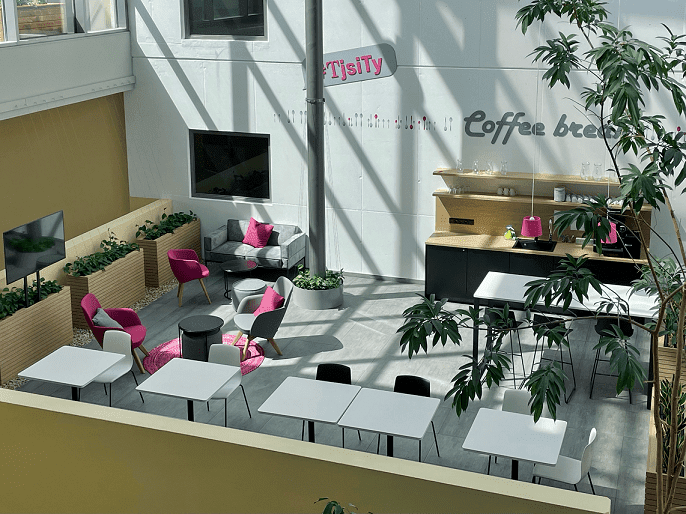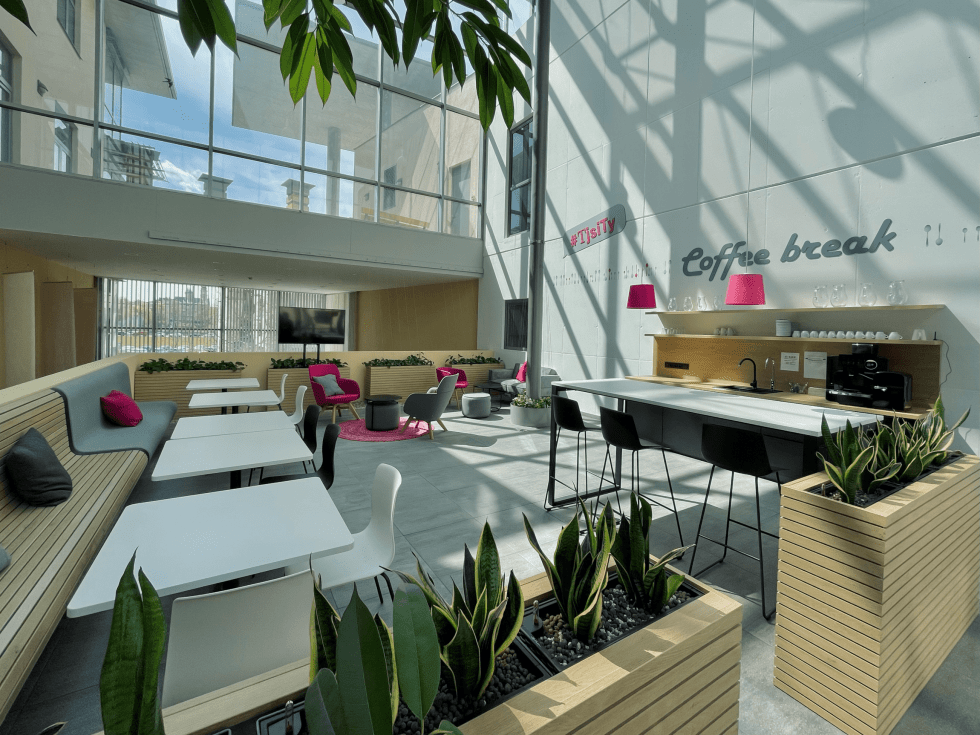 New equipment not to be missed
Originally there was only seating in the atrium behind the reception. The new café for about 20 people changes everything. It boasts a practical kitchenette, a bar counter, atypical furniture and an original bench that is partly upholstered. Because the glazing of the atrium has been preserved, the café has a spectacular play of light and shadow during the day. The combination of bold elements in magenta and green is very attractive.
In this unique multi-storey space for informal encounters, I would highlight the play of light and shadow. We added a lot of greenery to the internal café.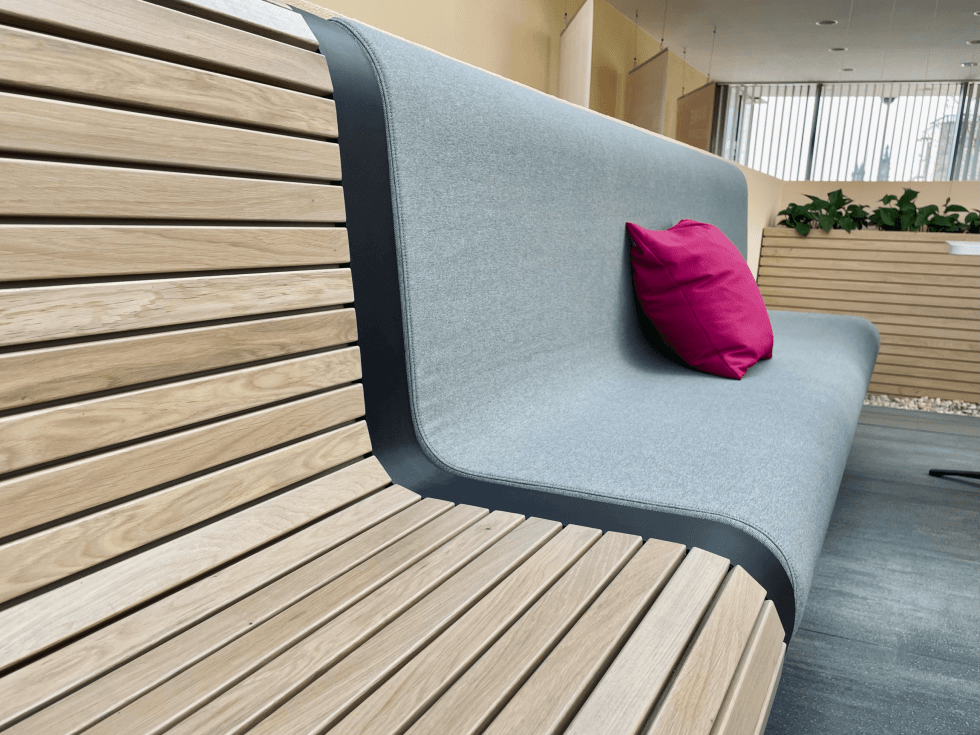 The little
things matter
The overall impression of coziness and a modern approach to the café environment is completed, among other things, by design lighting and playful additions to the walls with 3D signs and stickers. This realization is proof that even with maximum use of existing structures, truly radical changes can be achieved.
If you are looking for new offices, let us know how we can help. We will be happy to take complete care of your project.
Do you like it? Share it.
Want to sit in an office that looks like this?
Write to us with your requests and wishes. We will create your dream interior.