Combined offices of financial consulting firms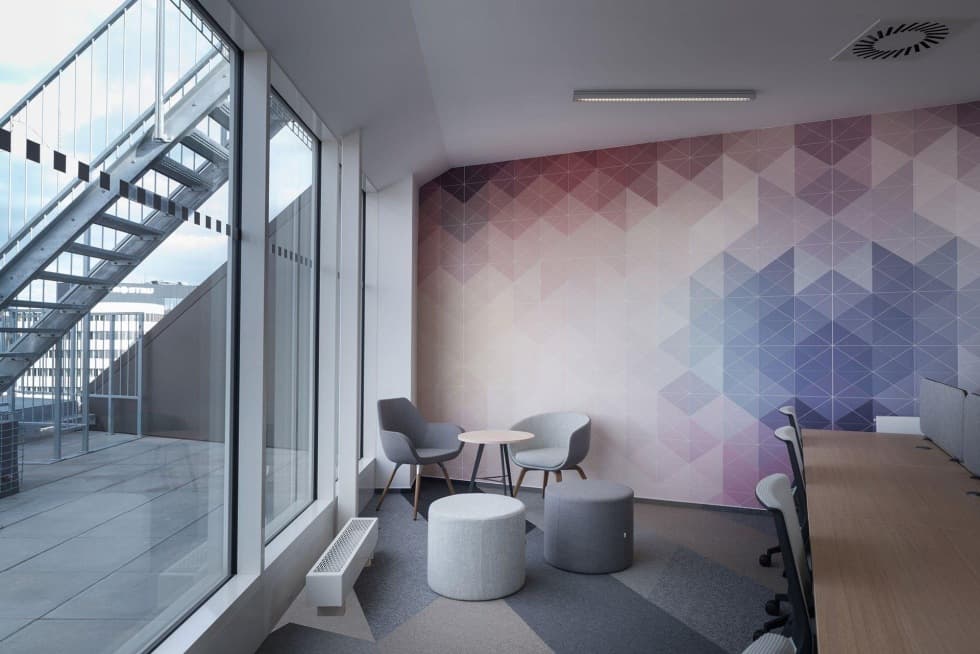 Another of our successfully completed projects is an office for two separate financial consulting businesses, which share only a reception area, social facilities and an unconventional full-service café paid for by the employer. Pleasant warm shades complemented by wood elements and colourful wallpaper – this is the interior of Arca Consulting.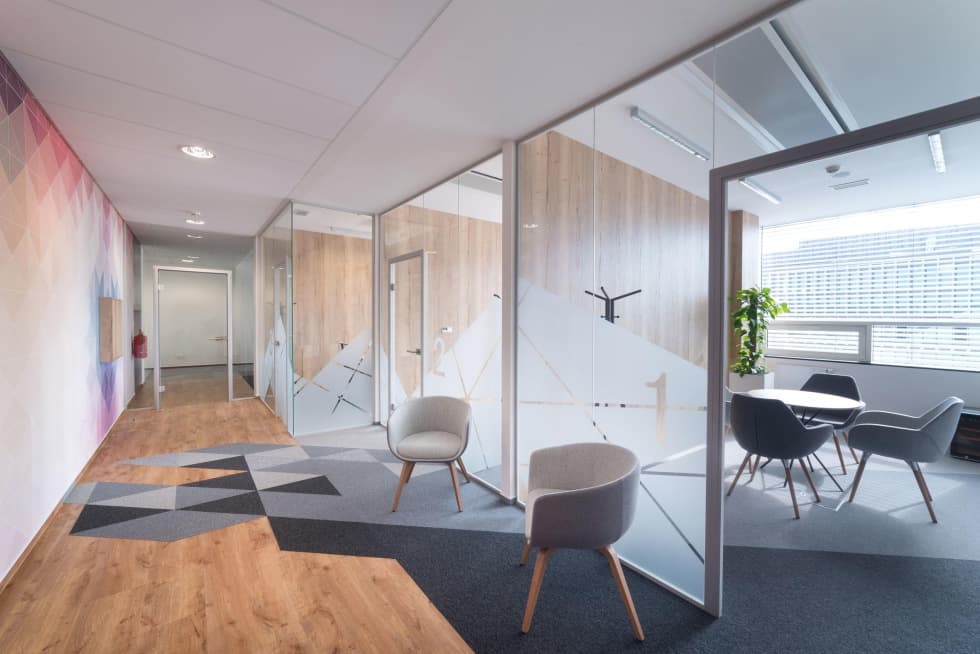 Financial consultants in a new office
A design & build project that in addition to the architectural design, space planning, visualization of the space and all construction works also included final furnishing.
The client was moving into an entirely new space and had two specific requirements. The first was to suitably combine two separate businesses, including two separate teams of employees, who would share social facilities, but otherwise operate entirely independently of one another, and the second was to incorporate the original reception desk from the company's previous headquarters. The companies also share an entrance and reception area.
Darker shades
We opted for pure colours and tones in contrast to the colourfulness of the wallpapers. The main element is wood: oak in combination with black and anthracite, and grey carpets, which make the space cosier. The overall impression is enhanced by bright yellow elements, combined with
multi-coloured wallpaper, which is repeated in the interior three times. Wooden panelling is also used in the meeting rooms.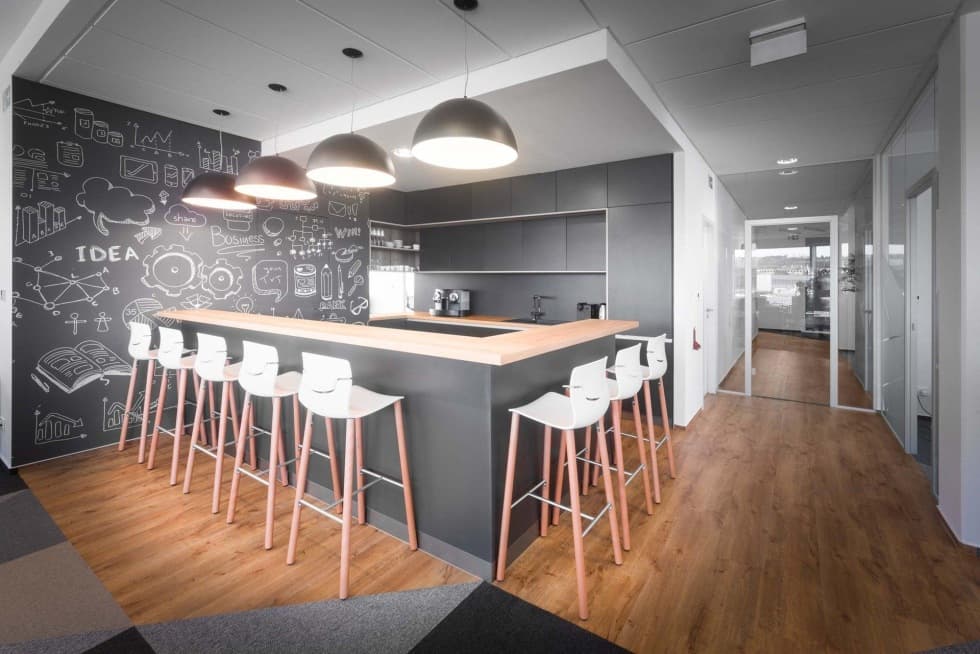 Full -service café
A totally unique benefit for the client's employees is the staffed full-service café instead of standard kitchenettes or relax corners – all paid for by the employer!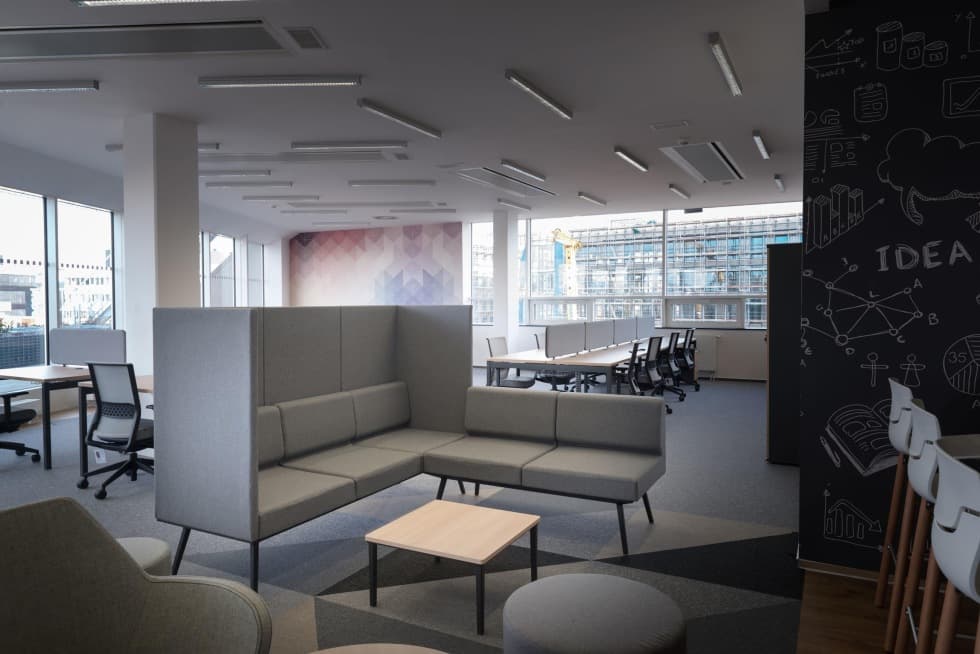 Relaxation zone
The relaxation zone is comfortably separated by a grey acoustic sofa LONGO and Profim armchair. The barstools are by Italian manufacturer Gaber.
The carpet is full of geometric shapes such as triangles and trapezoids. Similar shapes were also used in the form of special stickers on the glass railings. The space is complemented by the atypical lighting created by the dominant lamps in the soft-seating area and above the bar.
Live plants for the interior were supplied by Jungle Interiors.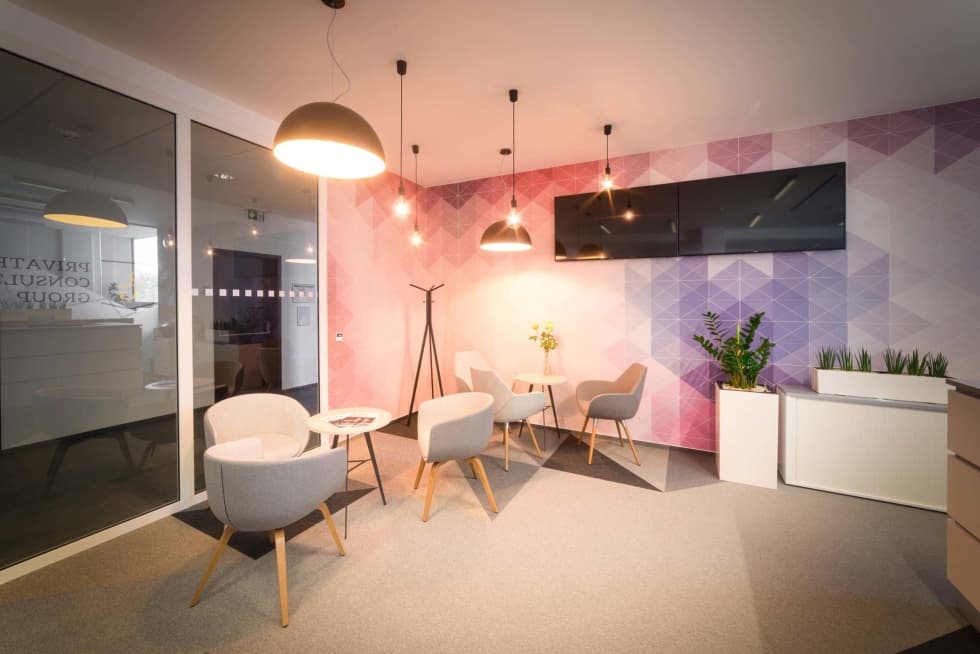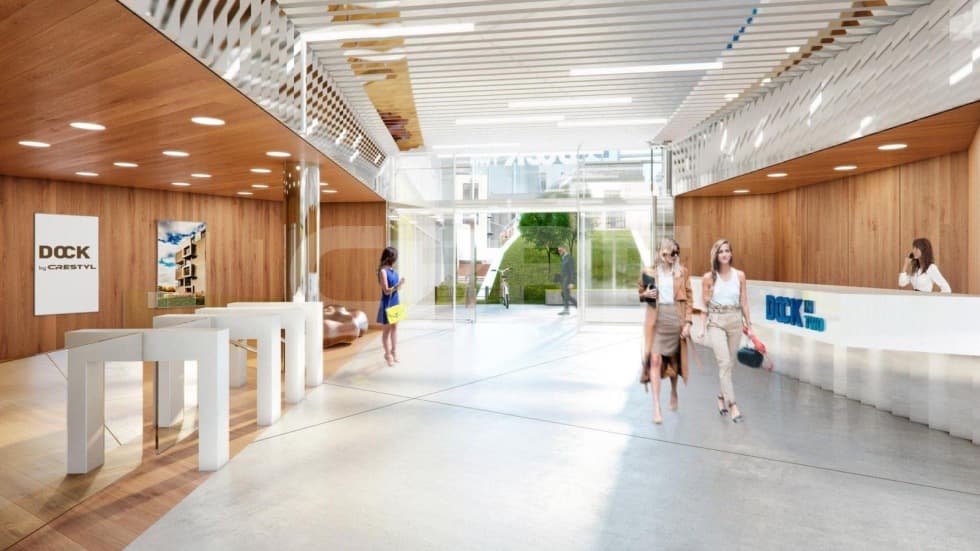 DOCK IN TWO
The DOCK IN TWO building is part of a modern development in the area of the former Libeň docks. DOCK IN originated on the border of two worlds: the Zen park environment with the river and the pulsating centre of the metropolis. The architectural concept is of a city within a city, environmentally friendly and aesthetically flawless with plenty of innovative elements.

Do you like it? Share it.
Want to sit in an office that looks like this?
Write to us with your requests and wishes. We will create your dream interior.