The office as a gallery? Discover the benefits of art in the workplace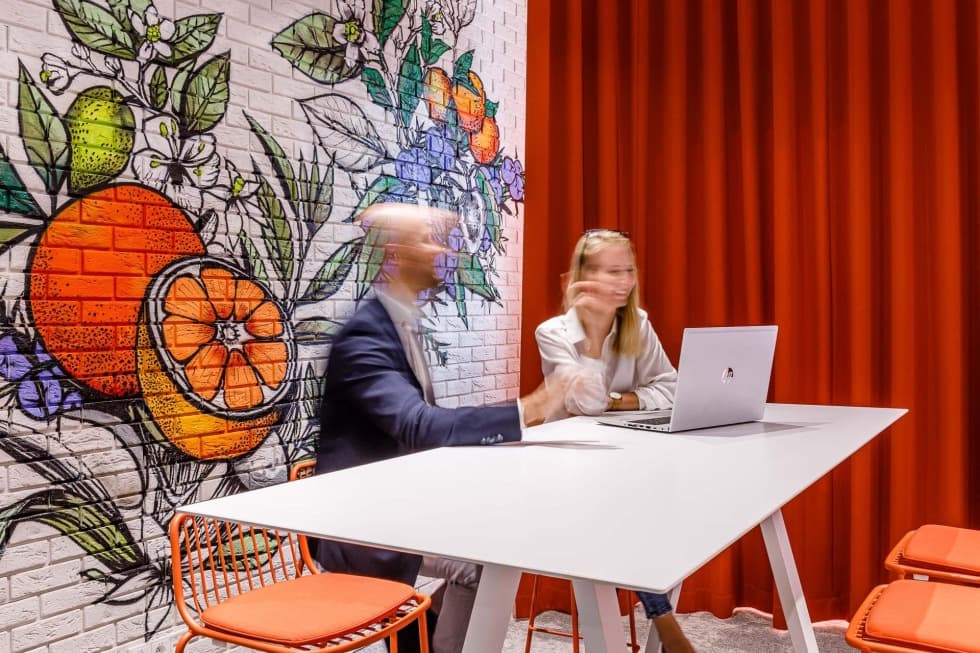 Decorations fundamentally affect the feeling that an interior evokes in a person. If you want people to work with passion, you can't just opt for bare walls and office grey. Instead, playful colours, tasteful accessories, live flowers and, perhaps surprisingly, works of art are suitable for workplaces. Appropriately chosen pieces of art can help people express and experience emotions, and support creativity and work performance. Discover the reasons for placing art in offices and a way to support promising artists. Interesting displays do not necessarily have to bear the signature of Vincent Van Gogh.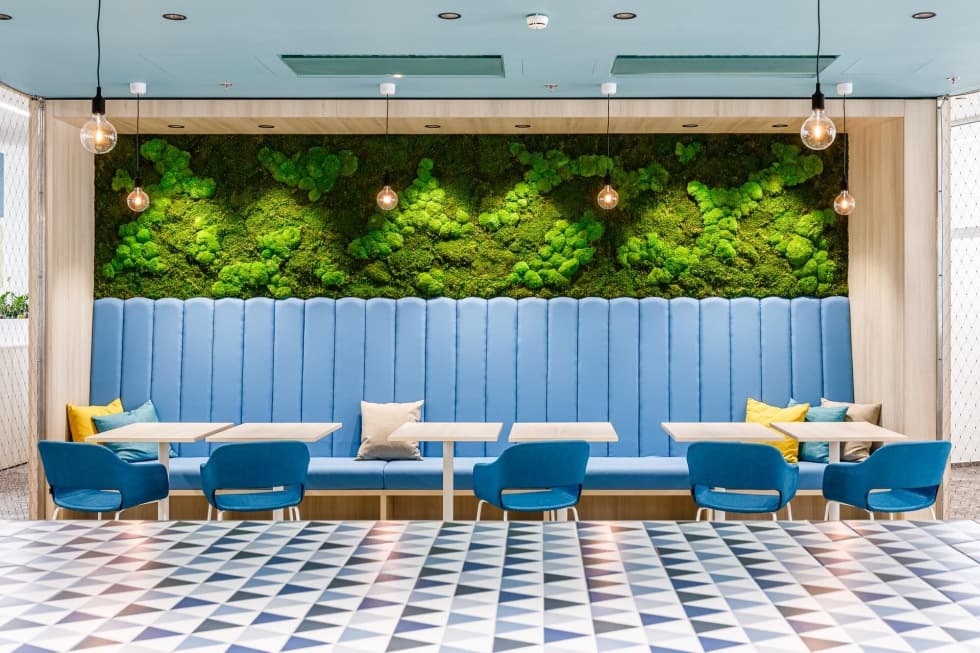 Less stress, more creativity
Stress is a killer – literally. During a stress response, the body behaves in the same way as when it is in acute physical danger. Long-term stress tires the body and weakens all its defence mechanisms. Of course, art on the walls is not a panacea that completely prevents stressful situations.
But it can reduce the overall level of employee stress, as shown by research conducted by Cass Business School for Forbes magazine. In a survey of 800 employees, 78% of respondents confirmed that art in the workplace helps minimize their stress. An interesting result here is the division by gender. A total of 80% of women surveyed, compared with 65% of men, said that art was important to them as a stress reliever. So it seems that choosing art for the office should be based, at least in part, on the composition of your team.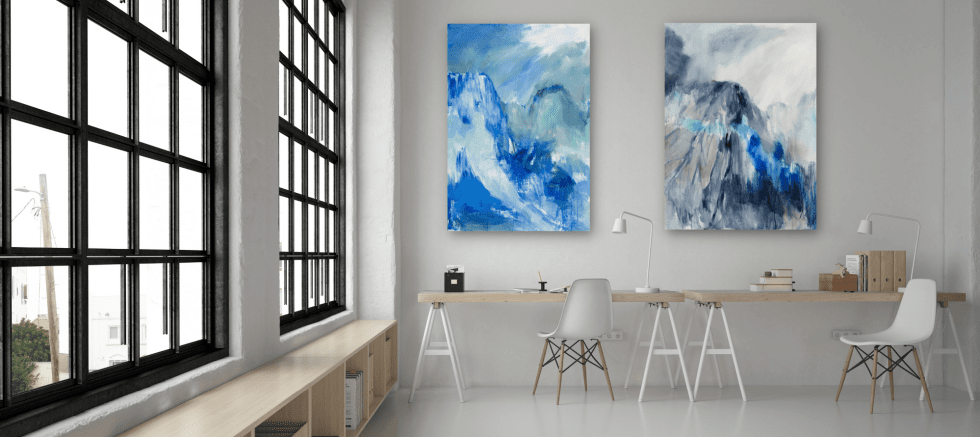 Art in the right colours
Employees naturally are better able to focus on their tasks when their minds are not stressed. If part of their work is to create innovative solutions, then art has the added bonus of also providing valuable inspiration – often subconsciously. An important aspect of art is colour, which can stimulate our brains in interesting ways.
The psychology of colours shows that strong greens (close to natural shades) together with contrasting combinations of blue and red are most beneficial to our creativity. In addition to wall art, these colours can of course also be incorporated into the furniture and other interior elements, as many of our projects demonstrate.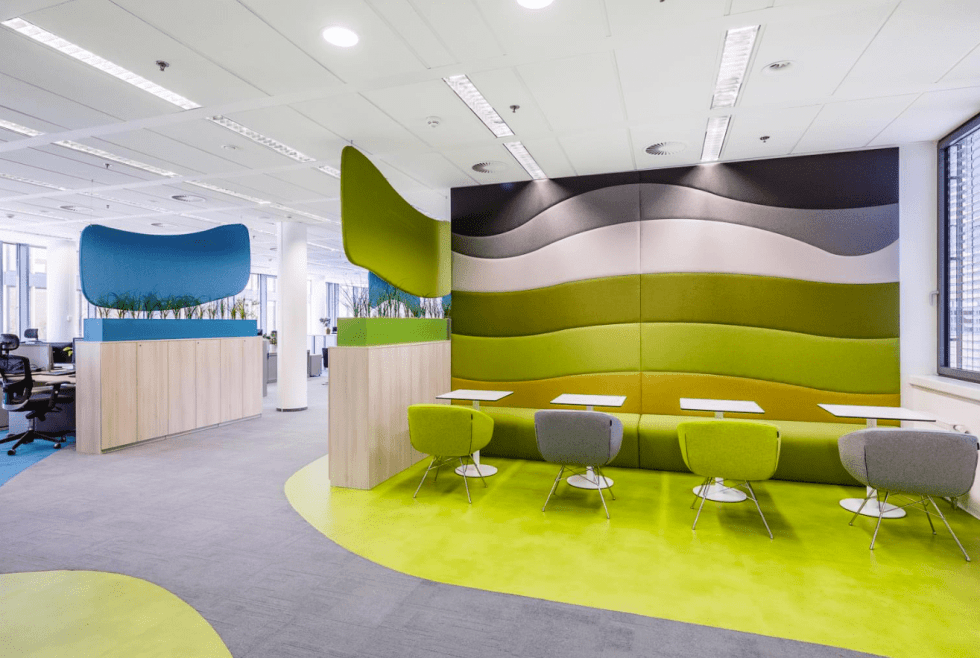 The effect of art on overall productivity
We already know that thanks to art, employees will not be stressed and can come up with original ideas. But what about productivity for other types of tasks, which may not be creative but which the company cannot do without? Here, too, art helps.
A positive effect of interior art on productivity is demonstrated by a study conducted at the University of Exeter. Study participants were asked to perform the same tasks in four different types of office environments, which differed in the degree of decorativeness from a completely austere space to an office decorated with art and plants. The result? Participants were 17% more productive in offices containing plants and paintings and 32% more productive in a space where they also had a personal approach to art in their immediate area.
So don't underestimate art in all types of office interiors. Your accountants will appreciate its contribution as much as developers.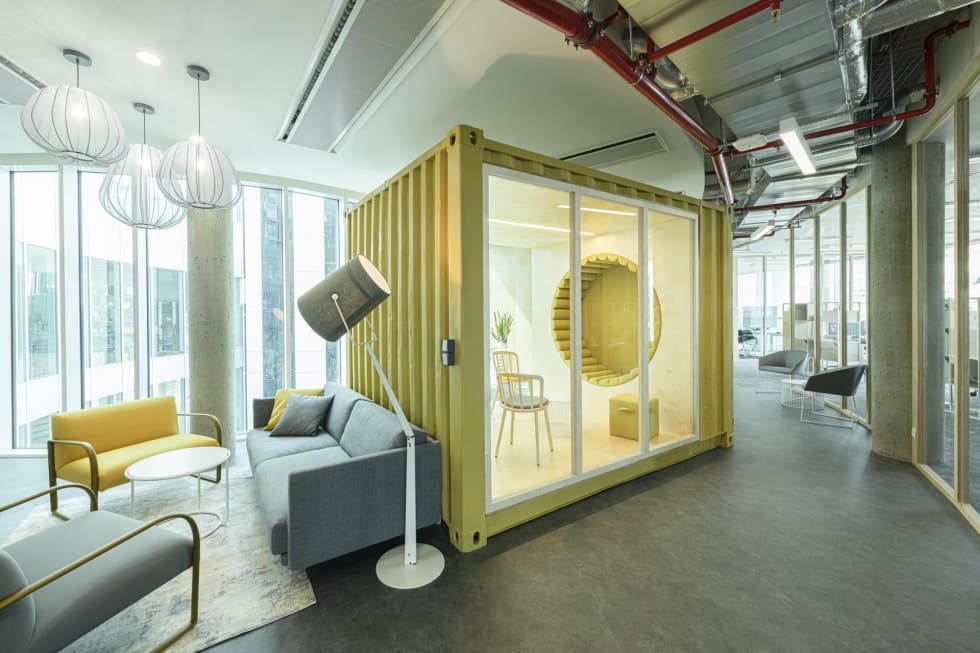 A great way to express corporate identity
Art is an opportunity to underline the company's main values and goals. There are really no limits to the imagination, but as an example we can mention a travel agency that decorates its offices with photographs of destinations. Moreover, it doesn't have to be anything especially original. Instead of realistic pieces, abstract images in which the company's colours or the basic elements of its logo are reflected also work well.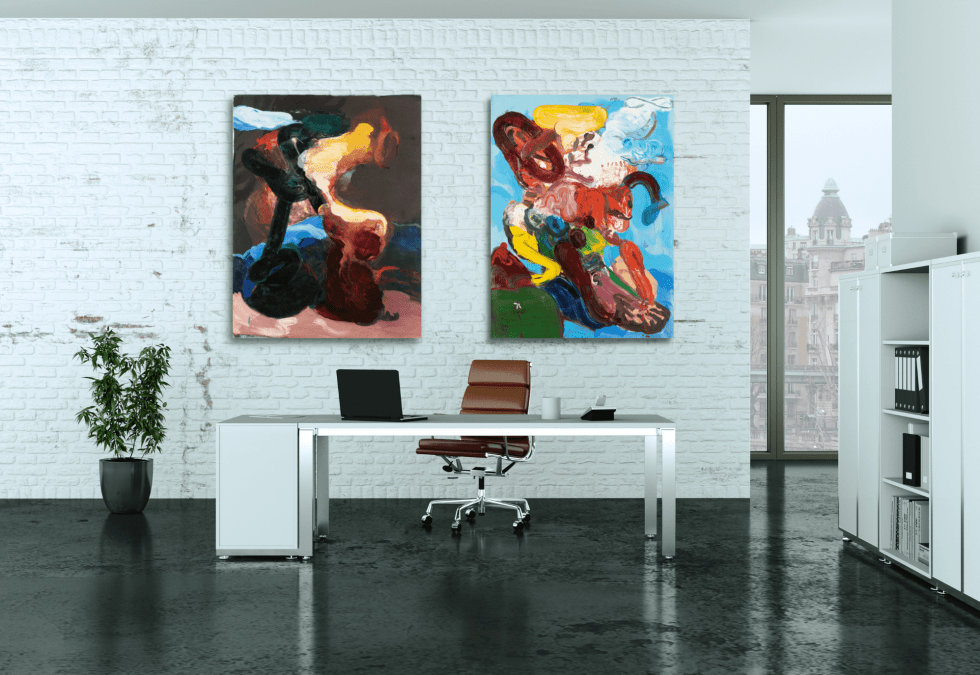 Startup Artist's Hero
The start-up Artist'sHero can advise you on selecting and obtaining a unique work of art that will benefit your company. It provides short-term and long-term rental of art by Czech and Slovak professional artists. Thanks to this, you can enjoy the original artwork and its benefits without having to own it. The artwork is insured and Artist'sHero will take care of the installation and logistics. The portfolio is always tailored by the art consultant
to suit both the brand image and the preferences of the work team. In addition, you can regularly change the pieces of art according to current needs.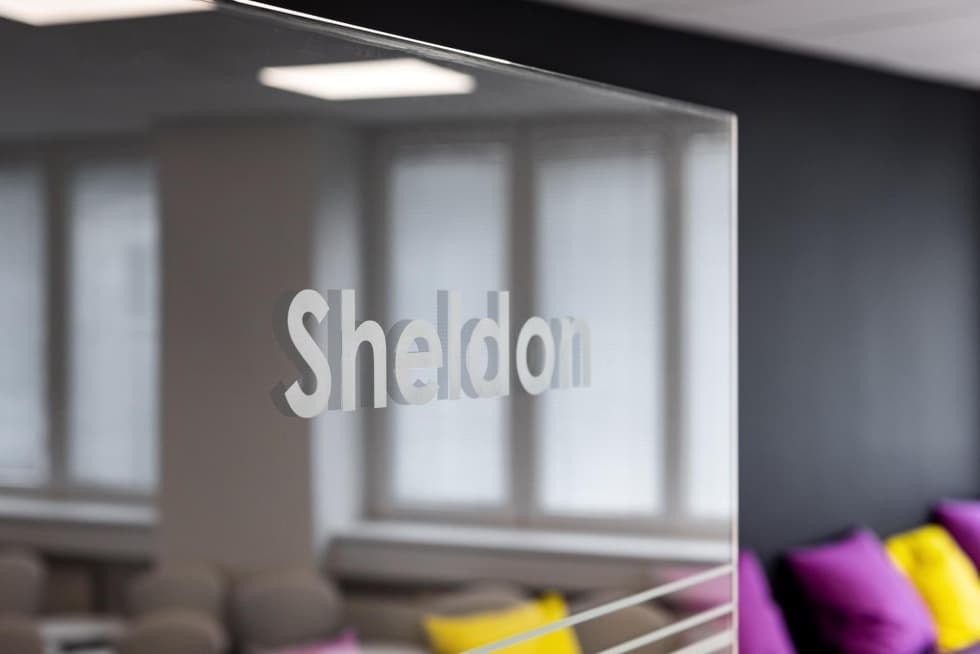 Beauty and practicality in one
Works of art are often iconic and are immediately etched in our memory. This aspect can be used when deploying them in the office. Many companies have tried to name individual conference rooms after the works of art that hang in them. When a colleague says "Let's meet at Picasso" you immediately know which room they're talking about. From the point of view of the company's management, paintings, sculptures and other works of art with verified authenticity can also function as long-term investments. But here, be careful not to damage them. After all, an office is not a museum.
Choosing the right art for the right office
Each office requires a specific approach when choosing works of art that will adorn its walls and empty spaces. But here are three practical rules to follow:
Give a positive example. It is known that works depicting people helping each other reduce stress in the office as well as personal anger.
Consult everything with an interior design expert, preferably at the beginning of the office design. Art is a decorative element like any other and should fit in perfectly with the rest of the space.
Works of art should not get in the way of the normal operation of the office. This is especially true when placing sculptures in corridors and areas with higher traffic.
We are also organizing a Czech webinar called The Power of Art in Office Space for you on 21 October 2021. Let's take a look at the world of contemporary art and trends and think about why it's a good idea to surround ourselves with art, how art can help us make office work an experience, and how to get the right pieces of art. If you do not have the opportunity to participate in the webinar, you will be able to watch a recording.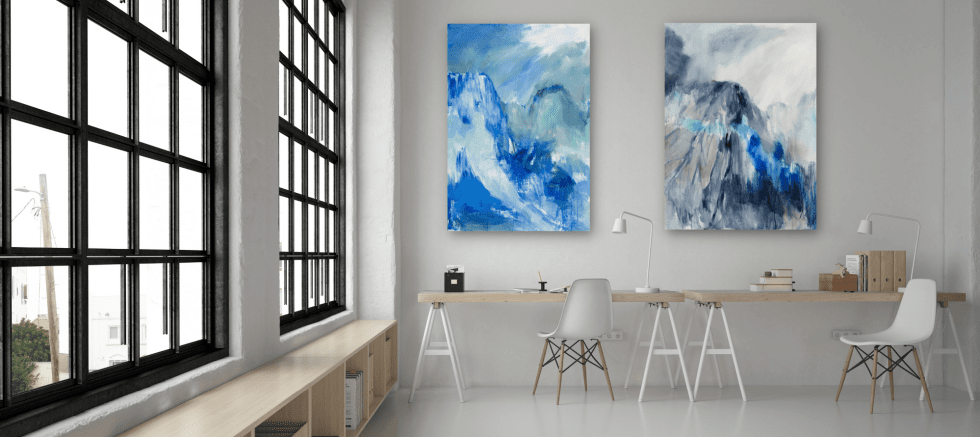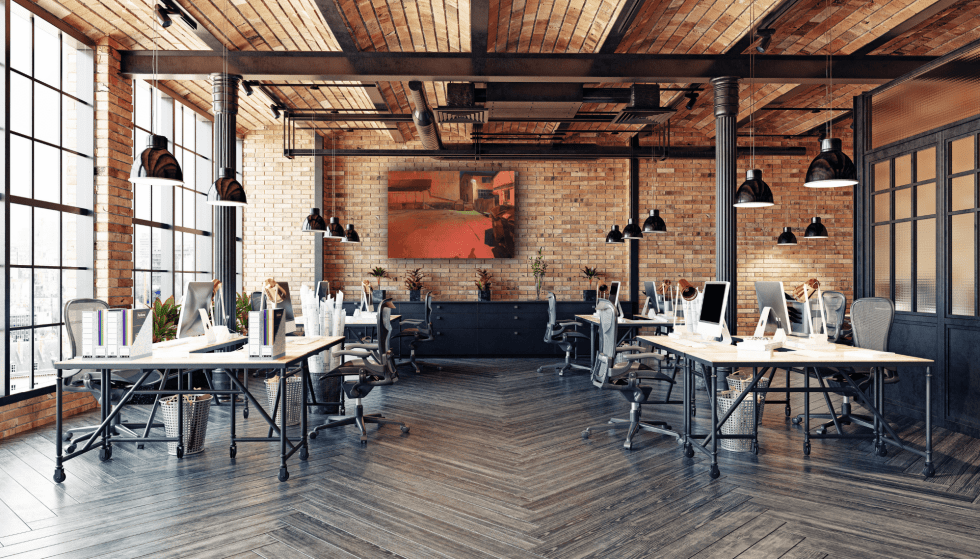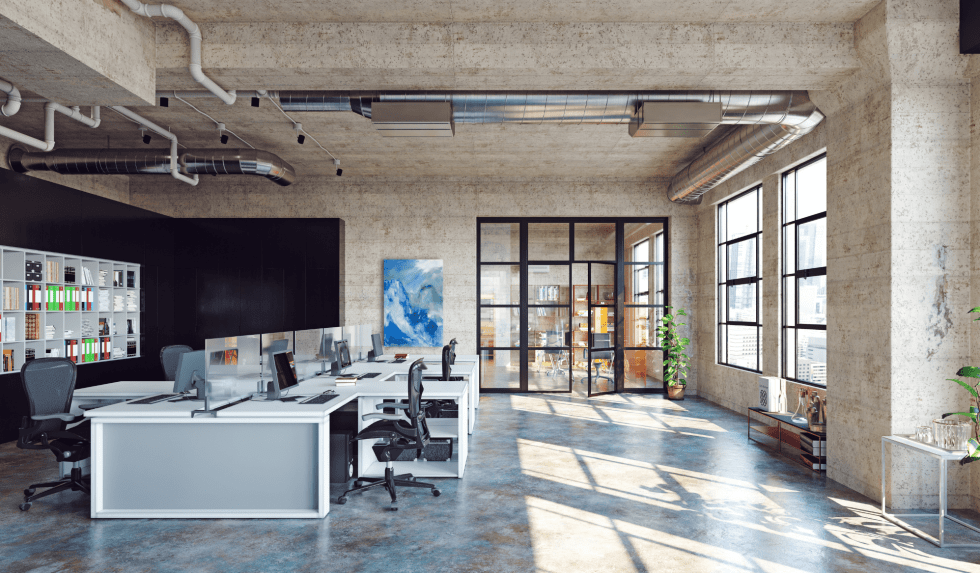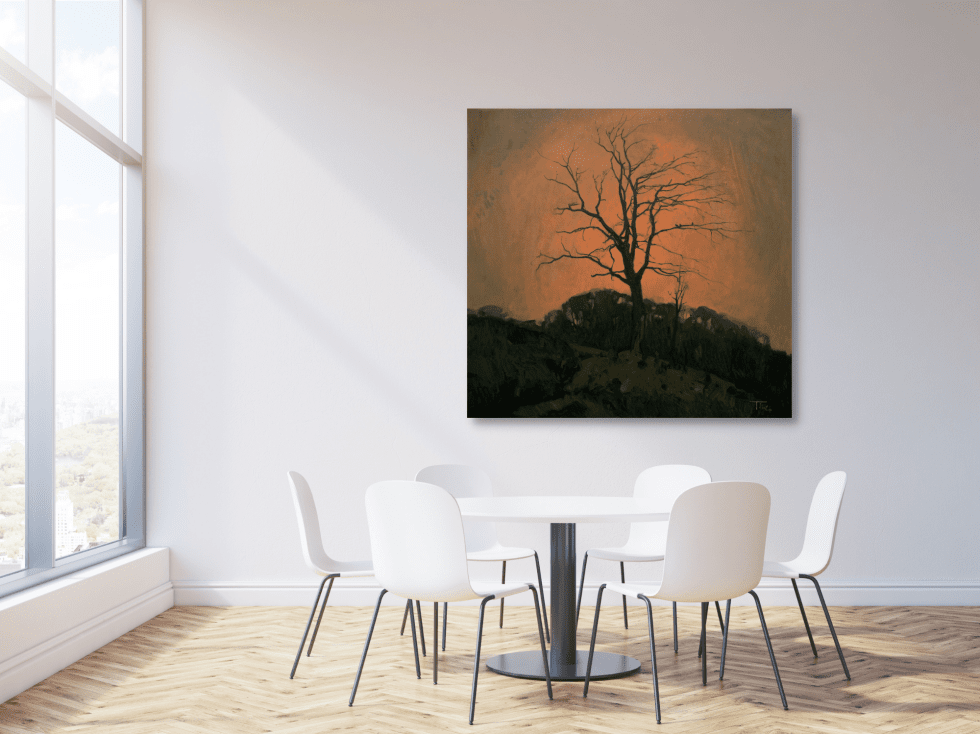 If you are thinking about the quality of the work environment and how to incorporate art into the office, do not hesitate to contact us. Our specialists will help you turn your workplace into a place where both art and corporate culture will flourish.
Authors of the photos: Alexander Dobrovodský, Petr Andrlík, FR/VR
Published September 10, 2021
Got interested by this article? Share it.