SPORTISIMO: Architecture that represents all the latest trends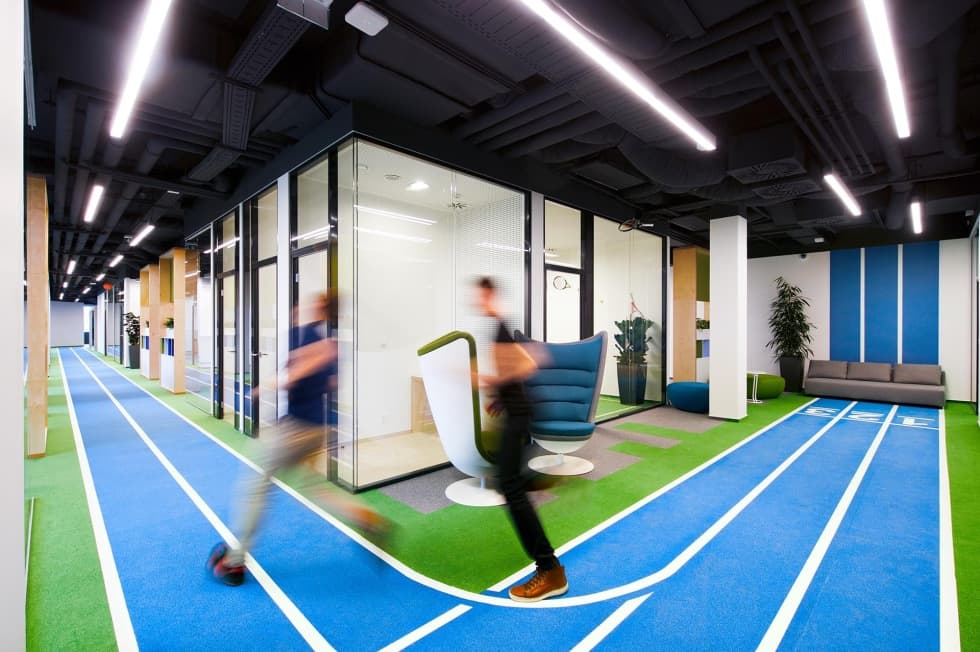 Sometimes it can be a challenge for architects to take the client's core business and transform it into an office design concept. Of course, when the business is readily understandable, it's a whole lot easier. With SPORTISIMO, we took inspiration to the next level: sport is the key element throughout the company's entire new HQ, which we both designed and built. SPORTISIMO's new premises are a one-of-a-kind space that truly represents the modern approach in the cleverest way possible.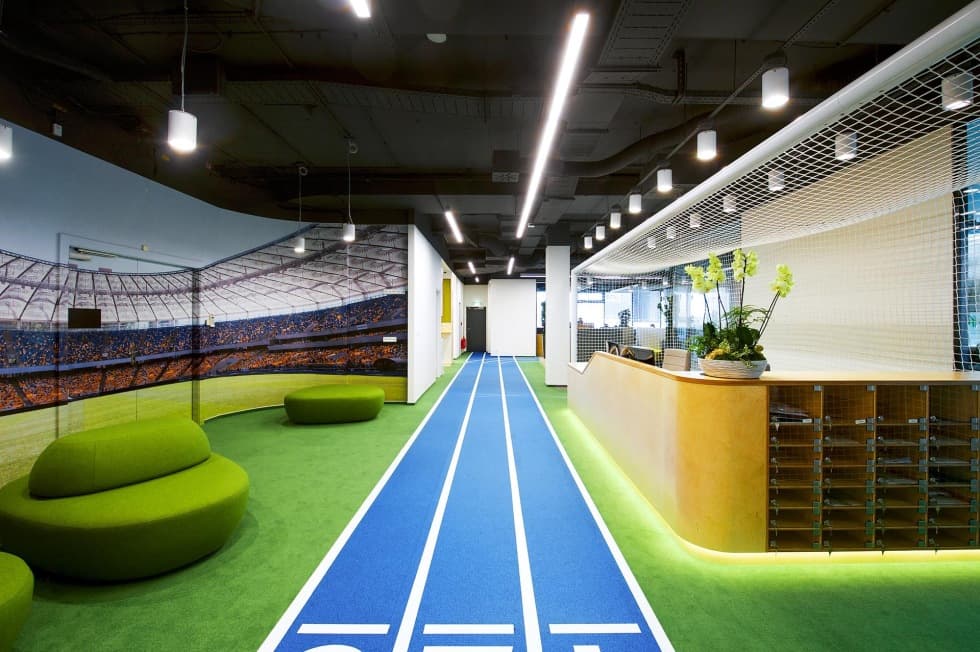 Trendy office
It is important that offices adapt to the needs of current and upcoming generations. One third of employees today are millennials. Employees under 30 prefer workplaces that can be adjusted and changed easily, rather than strictly divided offices and meeting rooms.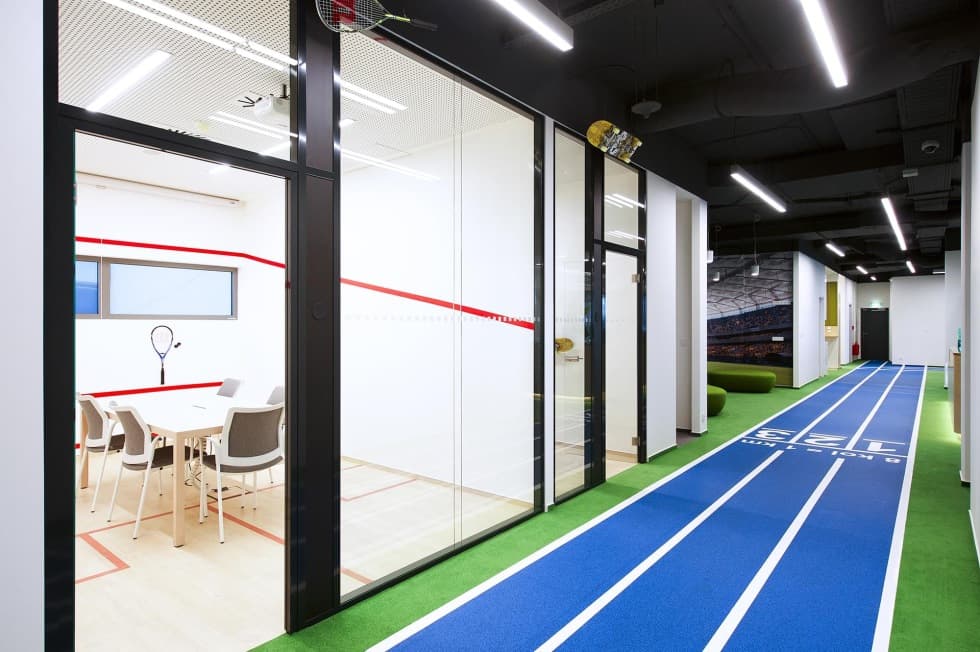 Flexibility
Therefore, SPORTISIMO is a flexible workplace, as can be seen in the various meeting rooms, closed and open, larger and smaller, as well as the large number of focus rooms and a break zone that can also be used for work.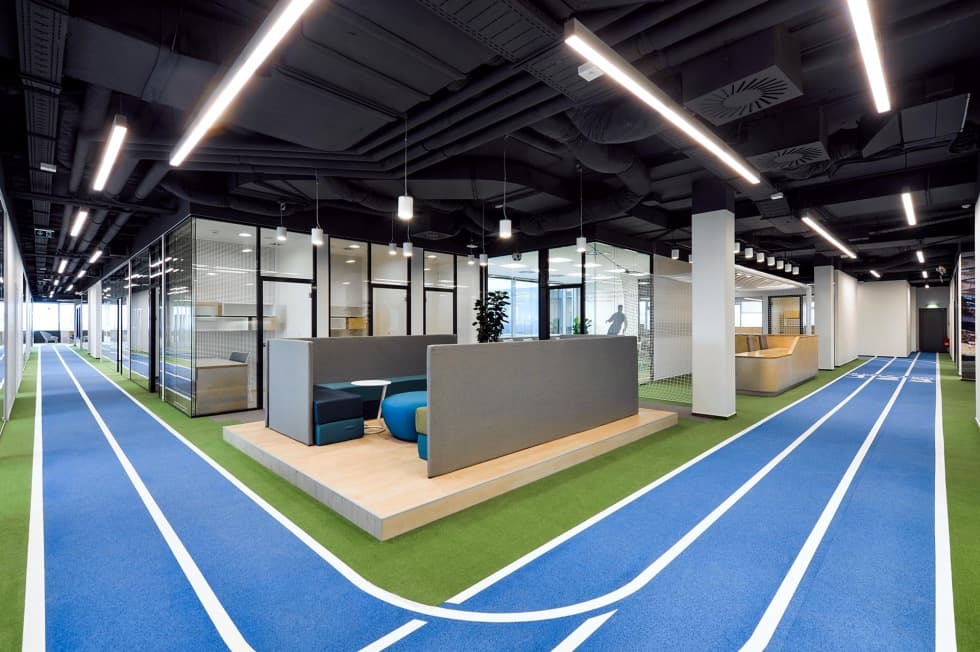 Variability
Meeting rooms occupy approximately 20% of the whole area – much more than the standard. An employee can choose where he or she wants to work from.
See the Oregon House building virtually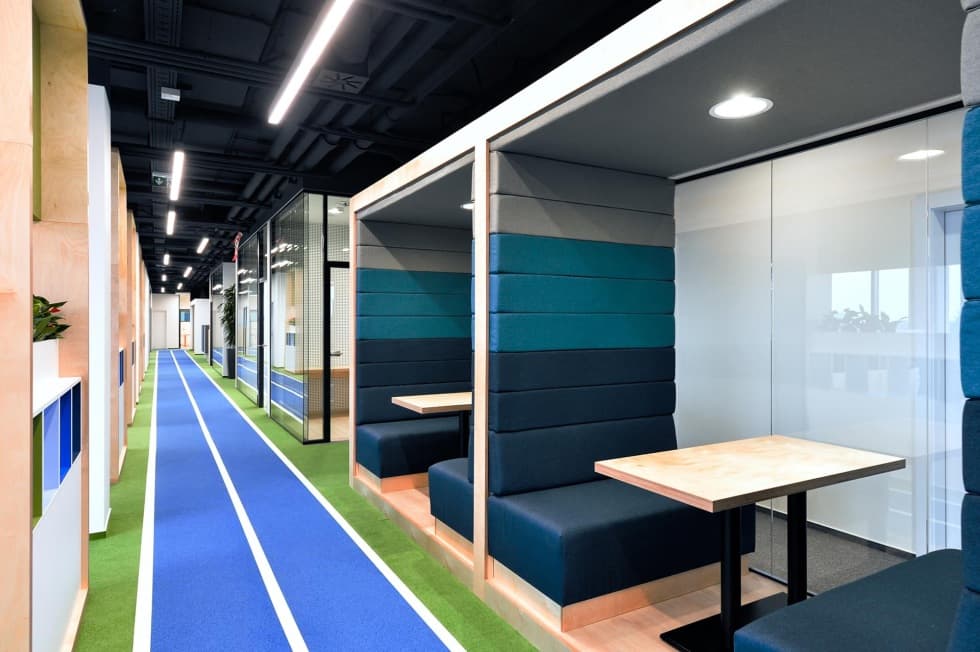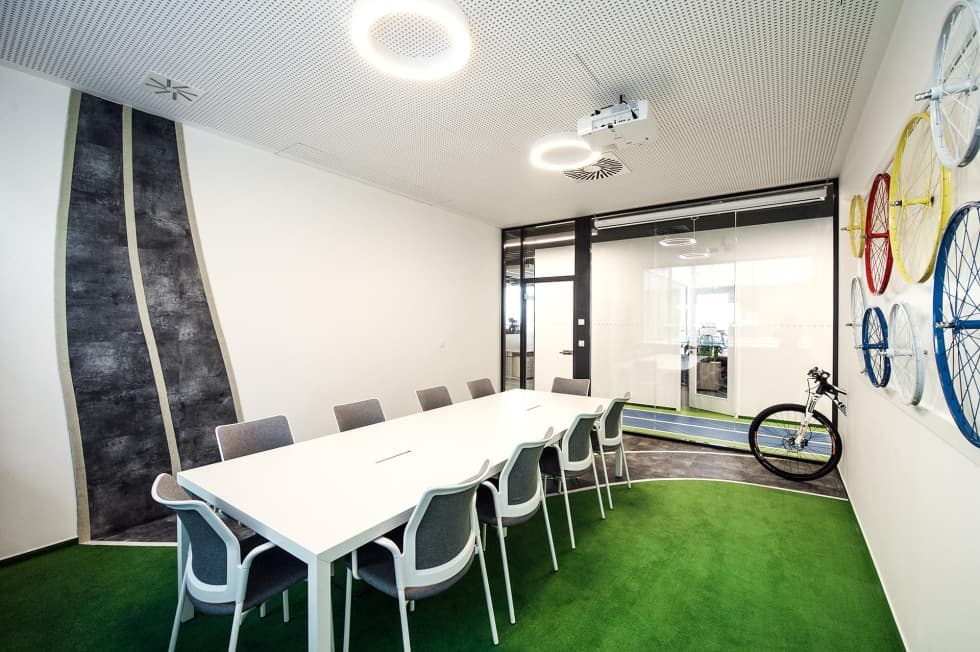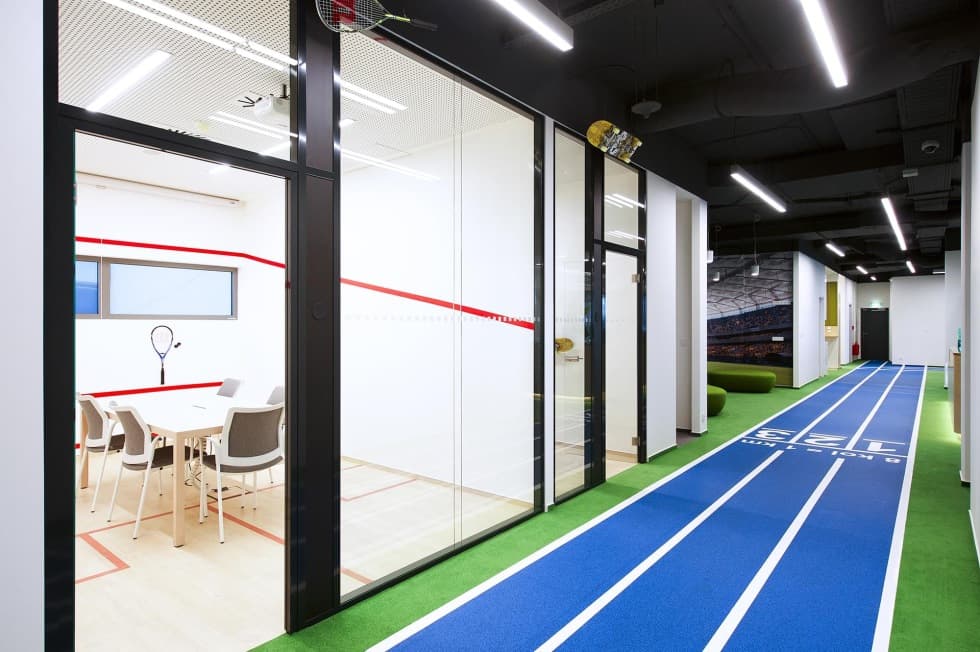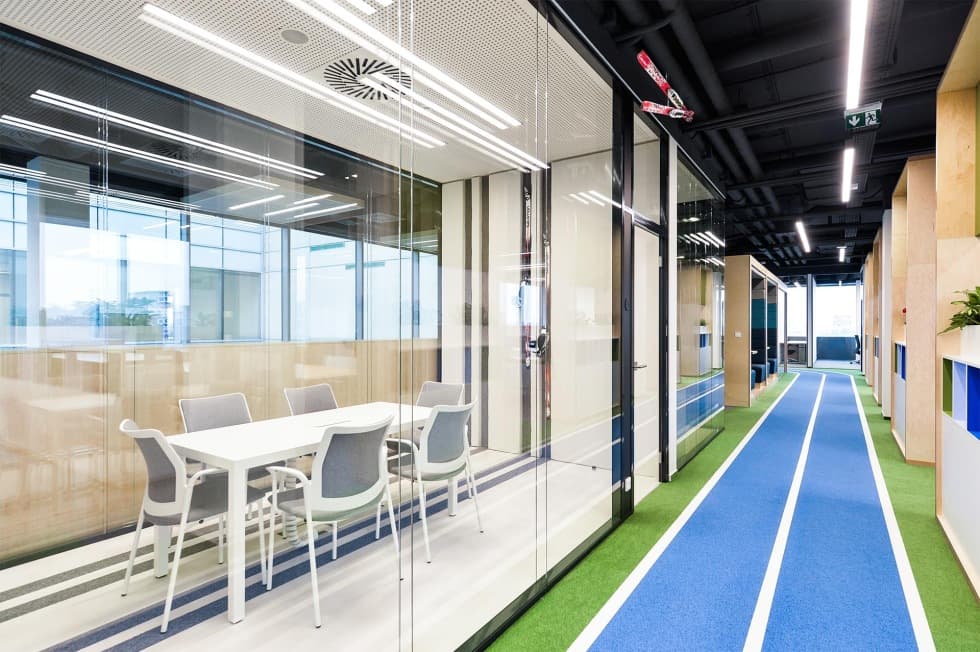 Playfulness as the key feature of how we design
Sports flow so naturally throughout the office that you feel like you are standing in a stadium, listening to the roar of the crowd. The dominant element is a blue track that circles around the patio and guides employees and visitors. In addition to looking like an authentic tartan track, the material also has surprising sound absorbing qualities.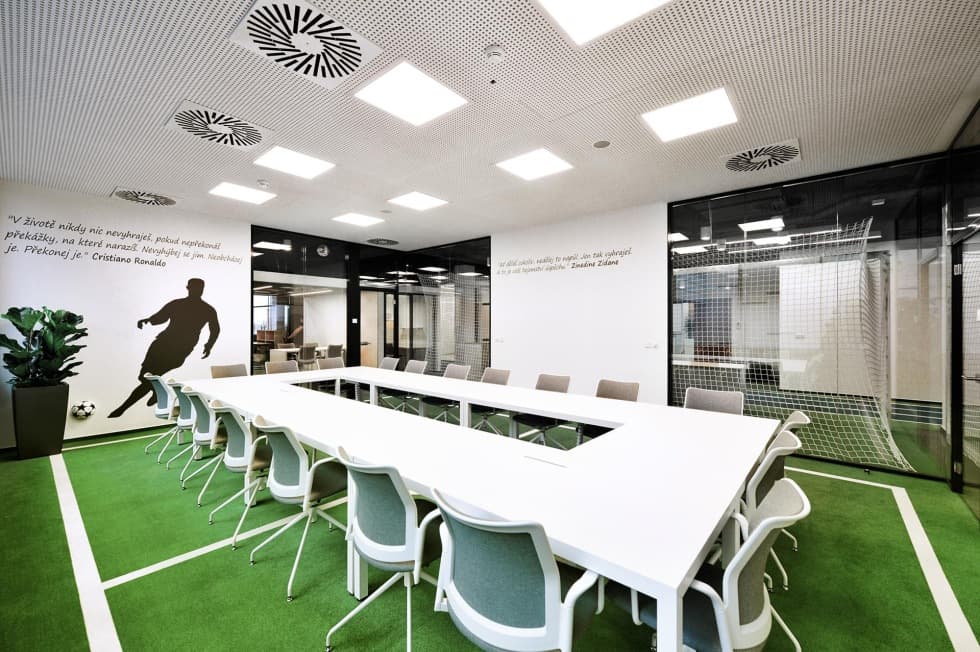 Meeting rooms
The premises are full of clever and amusing ideas. For instance, each of the 10 meeting rooms was inspired by a different sport. There's one that looks like a squash court with lines and real rackets, another with a real bicycle racing out of the wall, and one with skateboards on the walls and a U ramp. In these offices there is always something new to discover.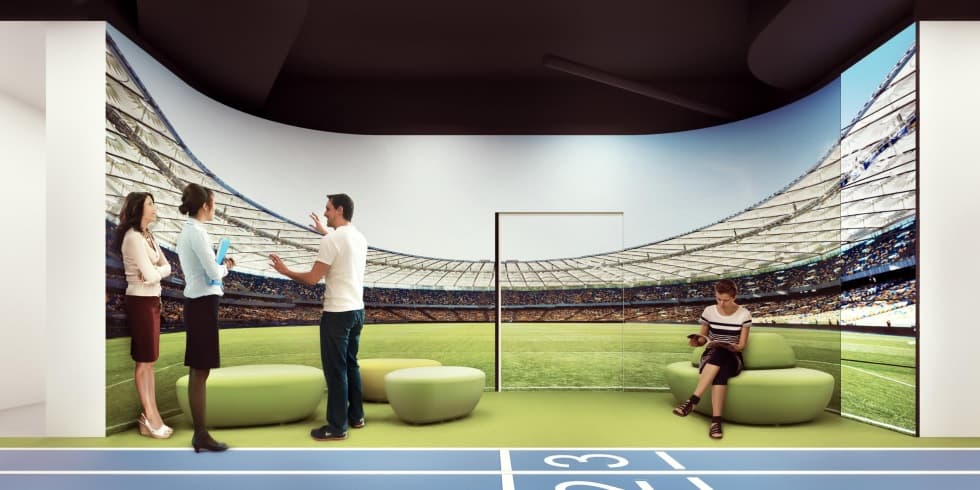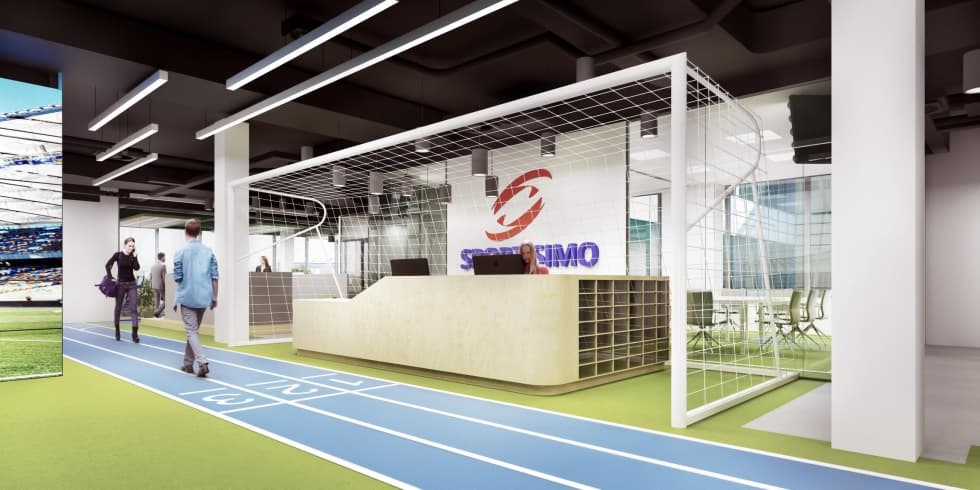 Lobby area = fotball stadion
Our architects really wanted the space to be as playful as possible. The whole lobby area is like a football stadium, with grass and wallpaper that creates a three-dimensional effect. Visitors are surprised by the reception desk, which is installed in a real size football goal. We know that the devil is in the details and every component is fabricated perfectly.
Another key element of the design is the open ceiling with exposed mechanical, electrical and plumbing features that supports a hip industrial look.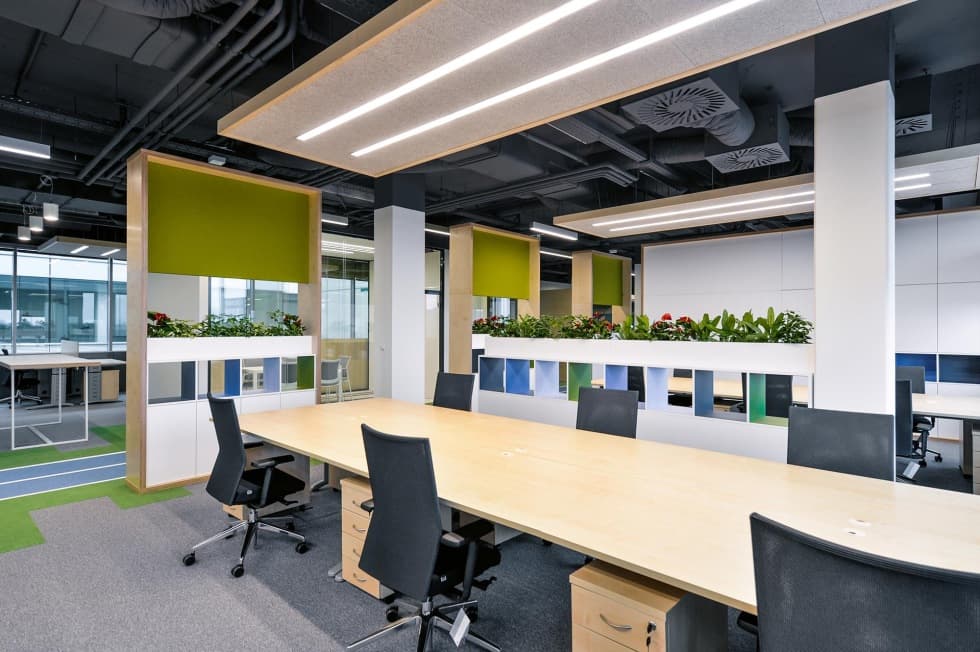 Focusing on noise
The client was used to classic cubicles, so the transition had to be smooth. The open space in this project is therefore divided optically and functionally with furniture walls serving four functions: absorbing sounds, dividing the corridor from the workspace, providing storage for items, ensuring a place for flowers. Each team is also divided by furniture walls that help keep out noise.
700 hours
How did the project evolve? The client had broad knowledge and a clear idea of how the offices should look. Through a series of meetings we showed the client how people can work in offices in a modern but proven way. We also helped the client re-evaluate the functionality and understand how all employees really want to work in new offices.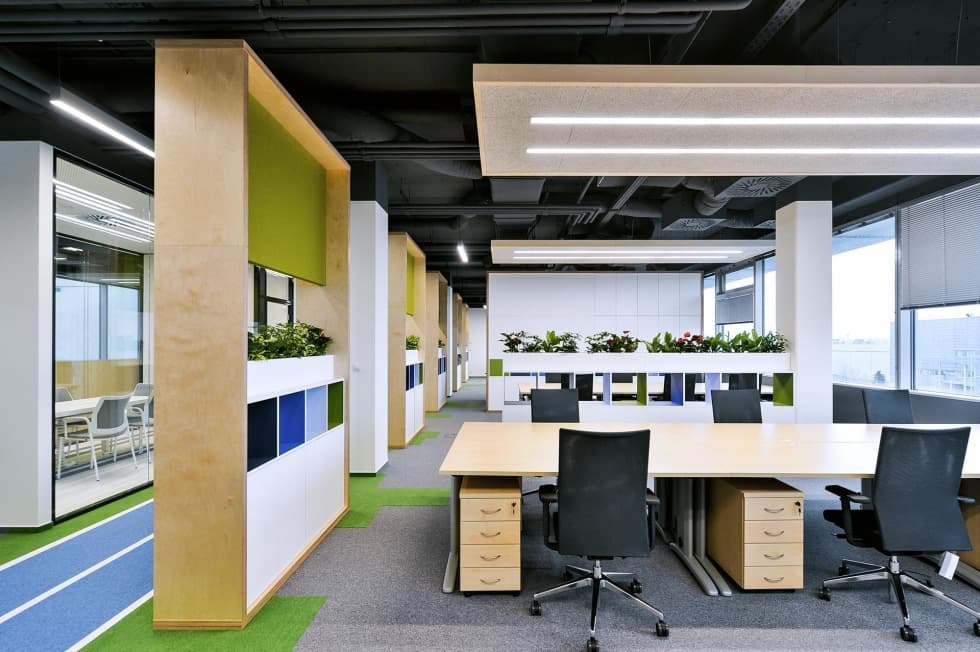 Acoustic
We focused on acoustics with specialized products, too. Acoustic ceiling coverings are placed directly above the workplaces, while acoustic desktop screens divide employees from each other. Acoustic plasterboard in meeting rooms guarantees comfort when a meeting is held. All these solutions eliminate the negative aspects of a classic open space, which the client was worried about. Thanks to all these items, the acoustic comfort of the premises is excellent.
Photo credit: Jakub Pelnář
Do you like it? Share it.
Want to sit in an office that looks like this?
Write to us with your requests and wishes. We will create your dream interior.