New common spaces for IPP 5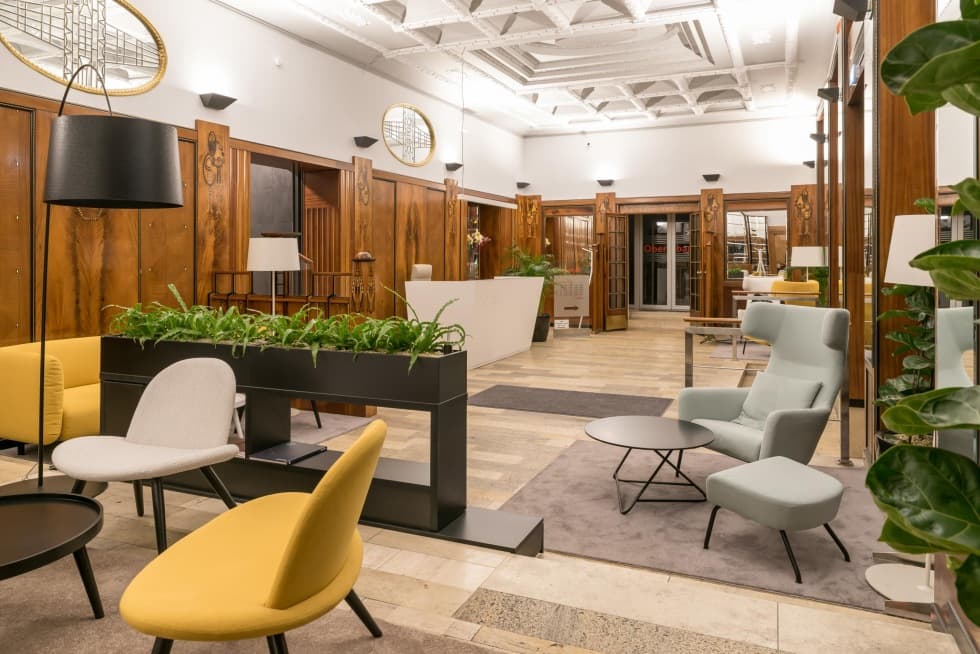 The task: To transform the common spaces in a historic building. The spaces: A lobby with reception area, elevator and corridors in five floors, and roof terrace with a spectacular view of the centre of Prague. The client's requirement: Clean, light Scandinavian-style wooden interiors. The person in charge: Our architect Monika Palová, who expressed the Nordic style with a combination of neutral colours with wooden elements and furniture in warm tones.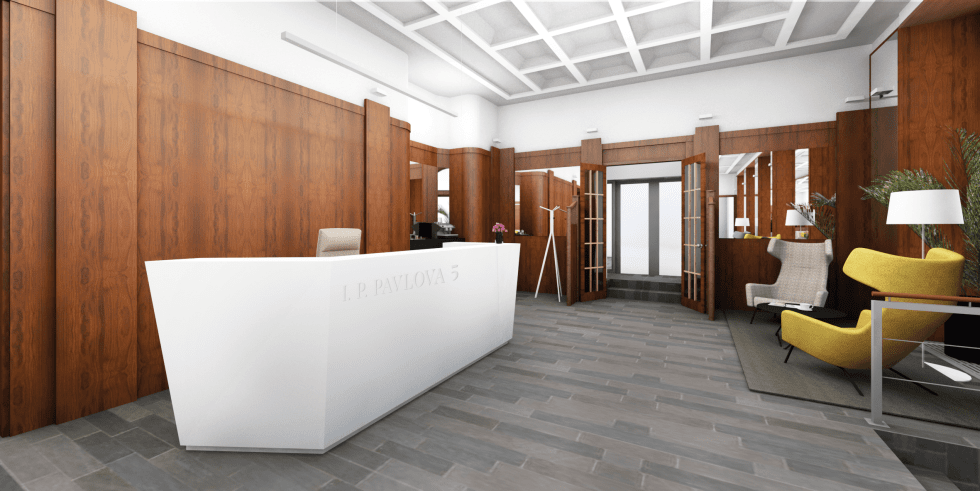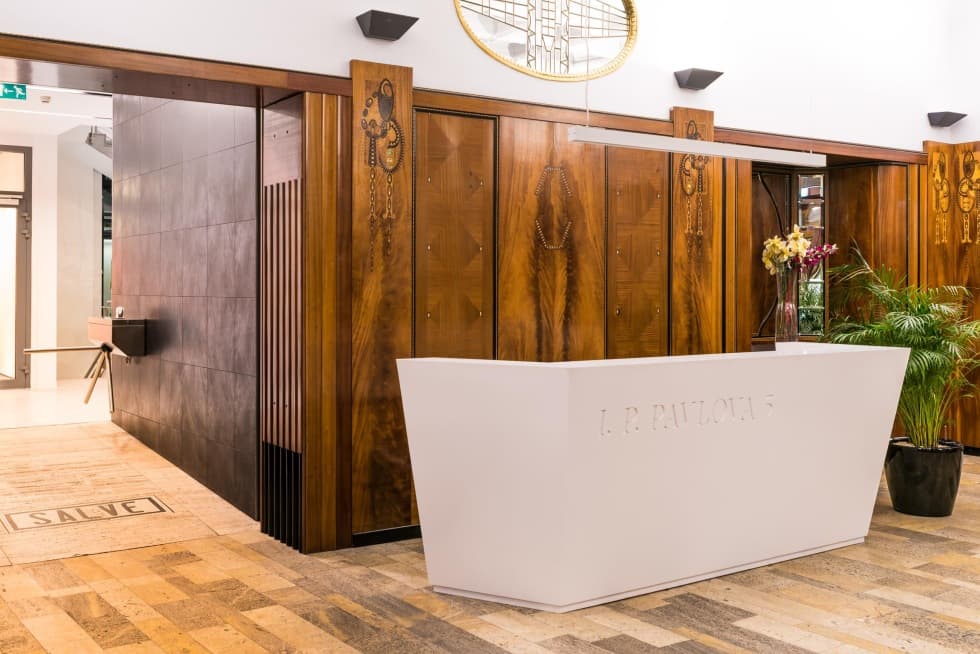 Visitors entering the lobby of the historic building on I.P. Pavlova square in the centre of Prague are immediately welcomed by the elements in the aforementioned Nordic style. We achieved the luxurious appearance of the space by means of magnificent wooden cladding and a Corian reception desk. The soft seating and plants give the space a pleasantly cosy feel. The original idea of illuminating the dark lobby with aluminium reflectors was replaced by a variant of lights by Delta Light, not only due to its practicality, but also from a design perspective.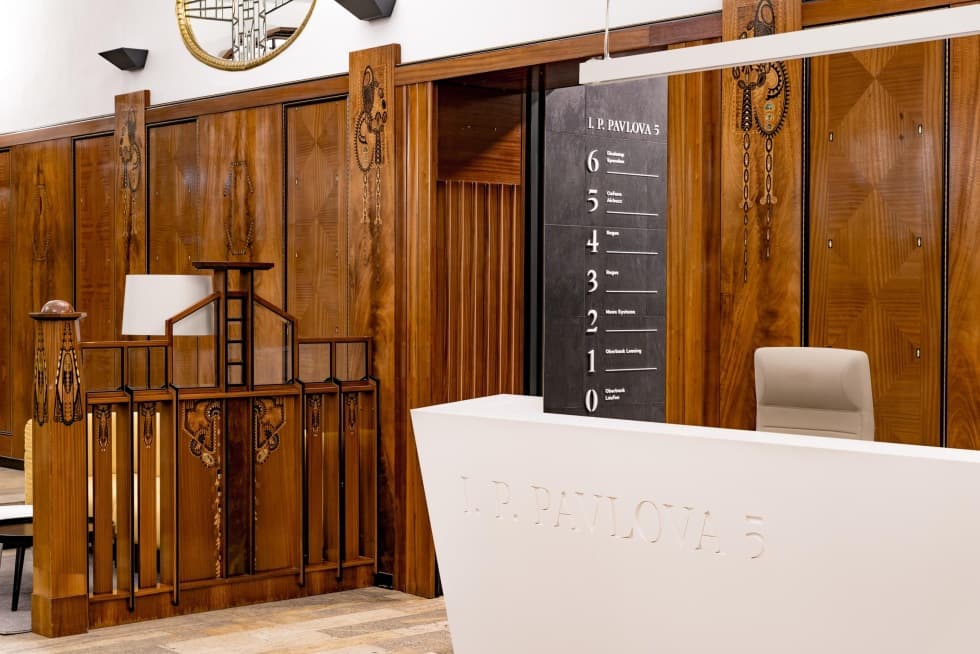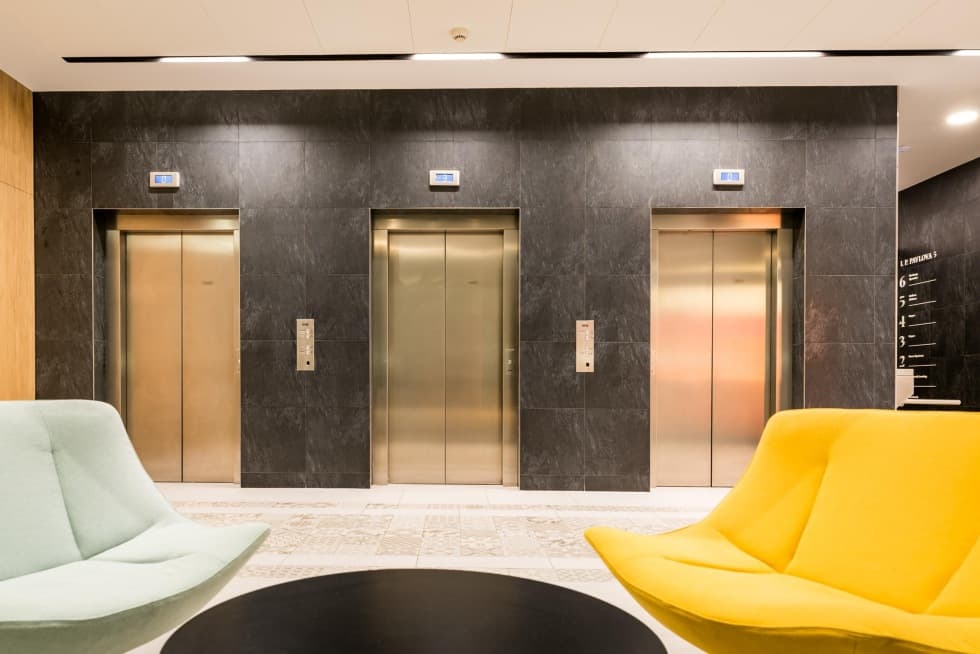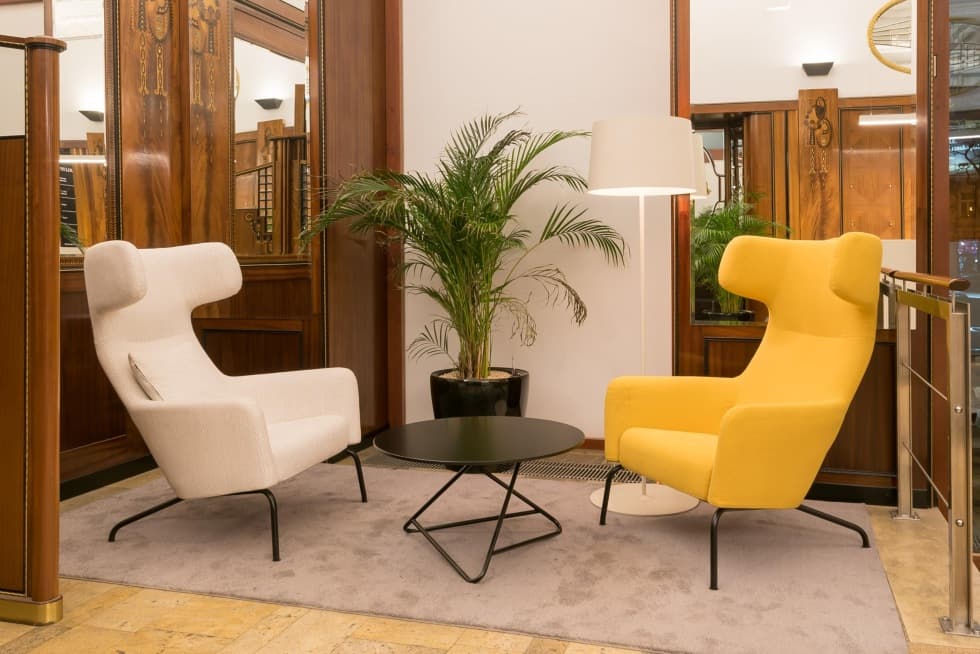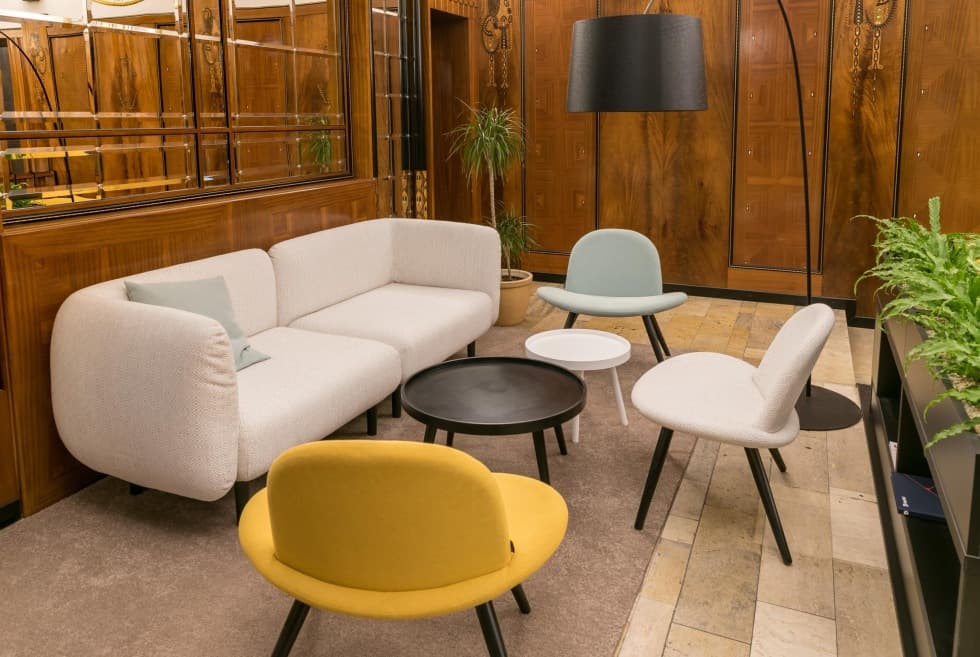 Soft seating on the ground floor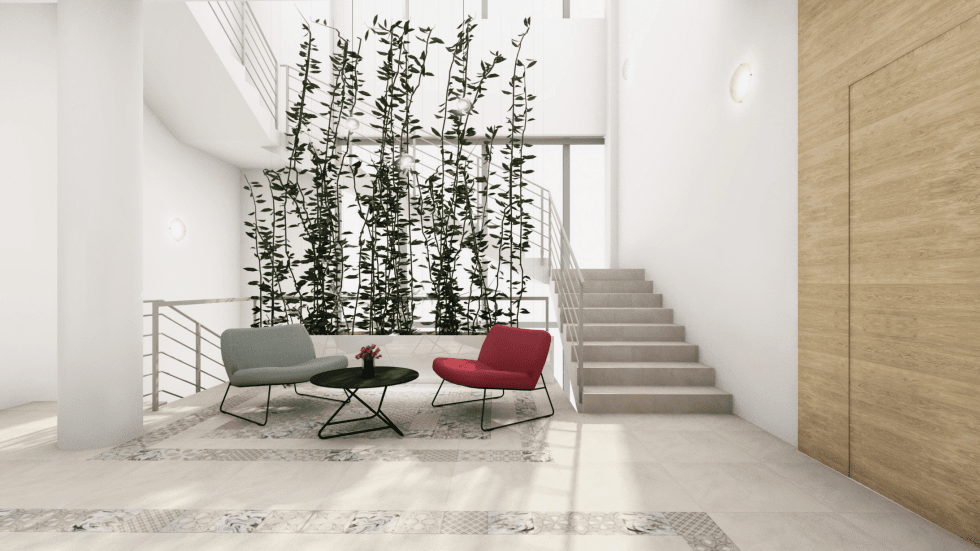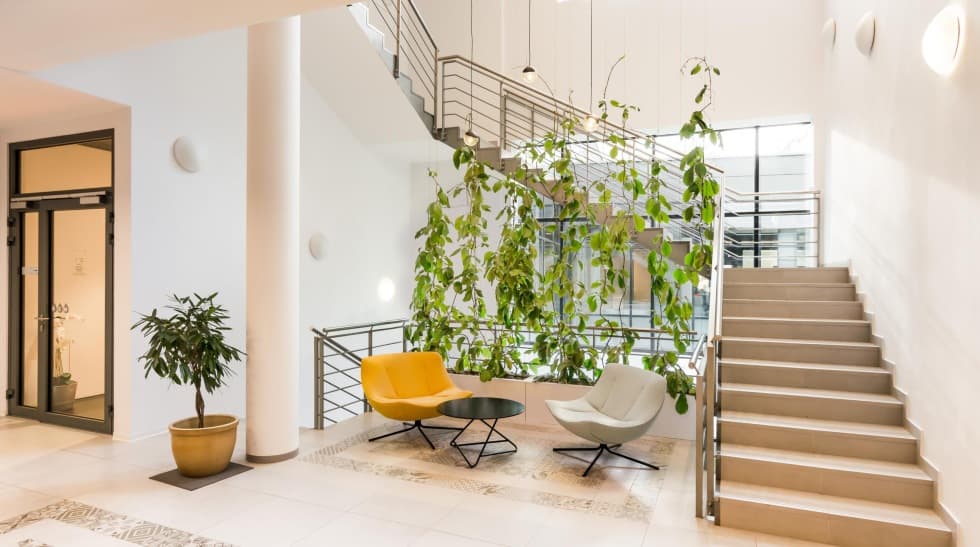 Pleasant soft seating on the ground floor consists of furniture by Softline (PDF catalogue): Vera chairs and Tribeca table. A large amount of daylight permeates through the glass wall behind the staircase, while additional artificial lighting is created by designer lights and wall lights suspended above the staircase. Vines from Flower service give the space a unique appearance.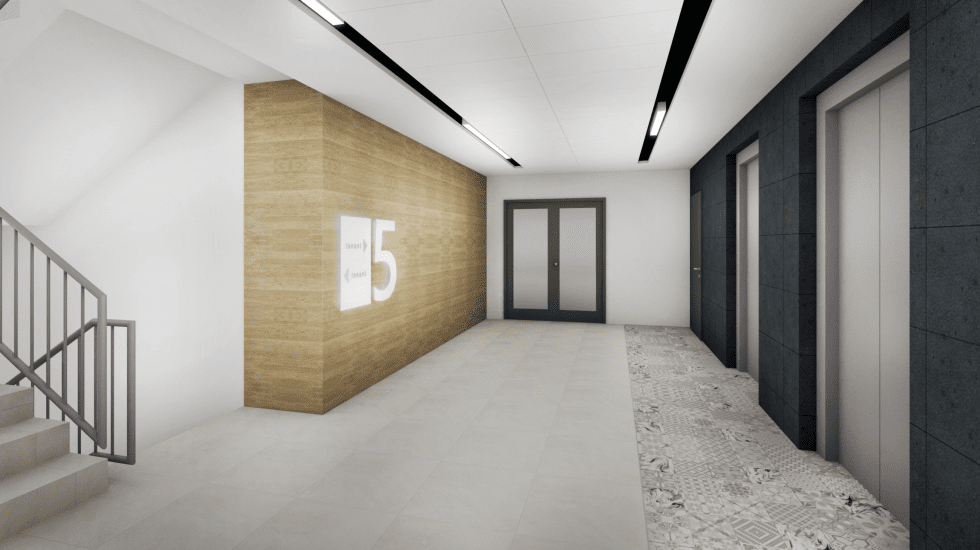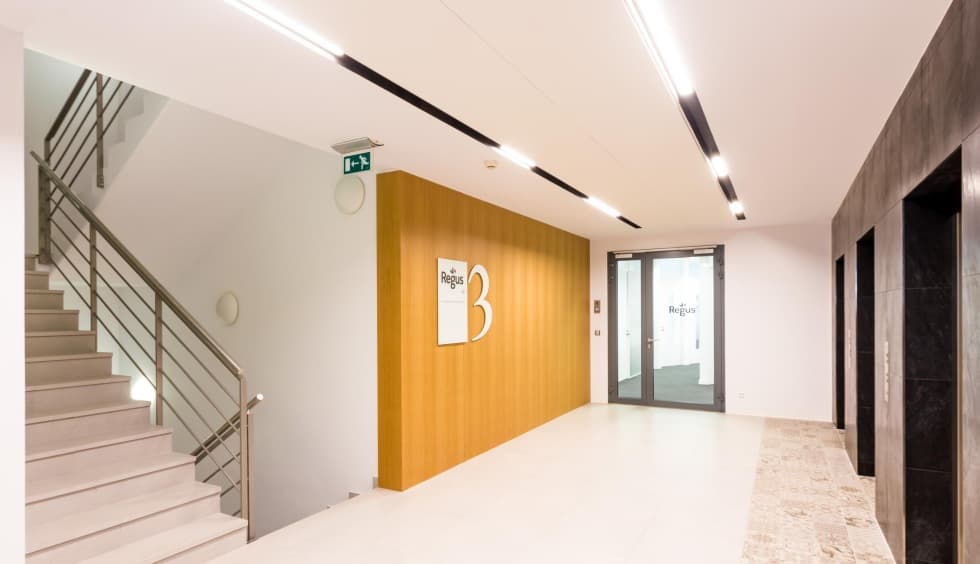 The common area with entrances to the individual office spaces is unified by wooden cladding with the floor number and a glass plate with the names of the companies housed on that floor. Due to its location in a protected escape route, the cladding had to be made of FLAMEX flame-retardant in conjunction with a wood veneer that meets the fire safety requirements. The random placement of small ornamental tiles creates a strip of playful floor tiling in the elevators. In contrast, the door frames for the rental units are rendered in a white anthracite hue, the doors are glass, and some tenants have therefore chosen to cover them with a variety of stickers. Since the layout of each floor is not identical, the details were always adjusted for the particular floor.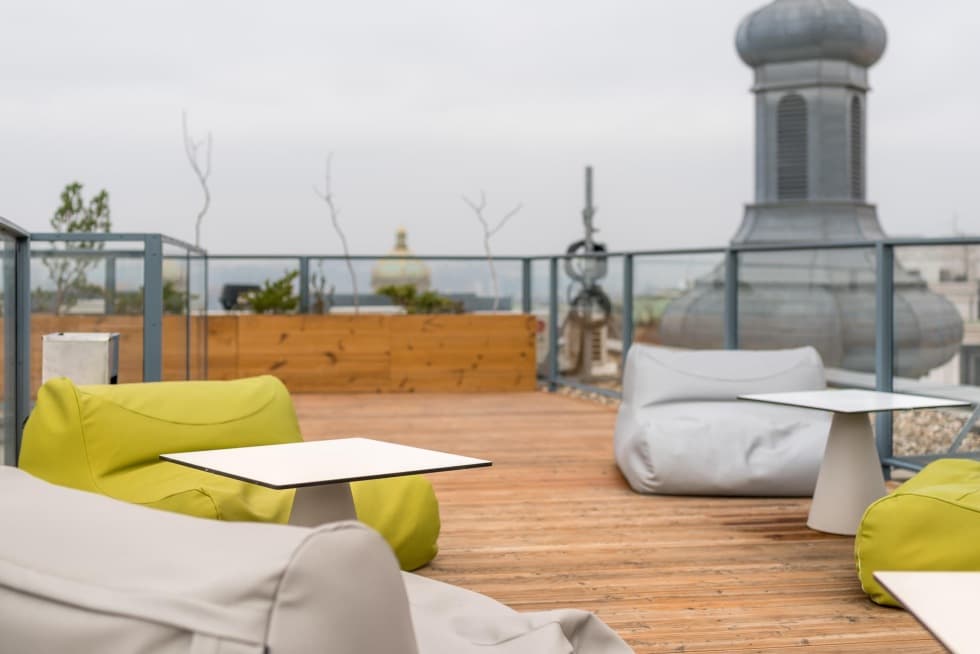 Terrace
Upon entering the roof terrace the panorama of the metropolis, including Prague Castle, open up before you. The wooden slats made of Siberian larch are complemented by matching furniture; FLUID upholstered chairs by Softline (PDF catalogue) together with IKON tables by Pedrali (PDF catalogue) allow for comfortable seating. Other seating options are the Volt chairs also from Pedrali paired with the higher Tabula tables by Actiu.
A stretched custom-made triangular sun shade provides protection from the hot rays of the sun. Wooden flower boxes serve as a decorative element, while also subtly concealing ducts and wiring.
Do you like it? Share it.
Want to sit in an office that looks like this?
Write to us with your requests and wishes. We will create your dream interior.