ČSOB – Zlatý Anděl Building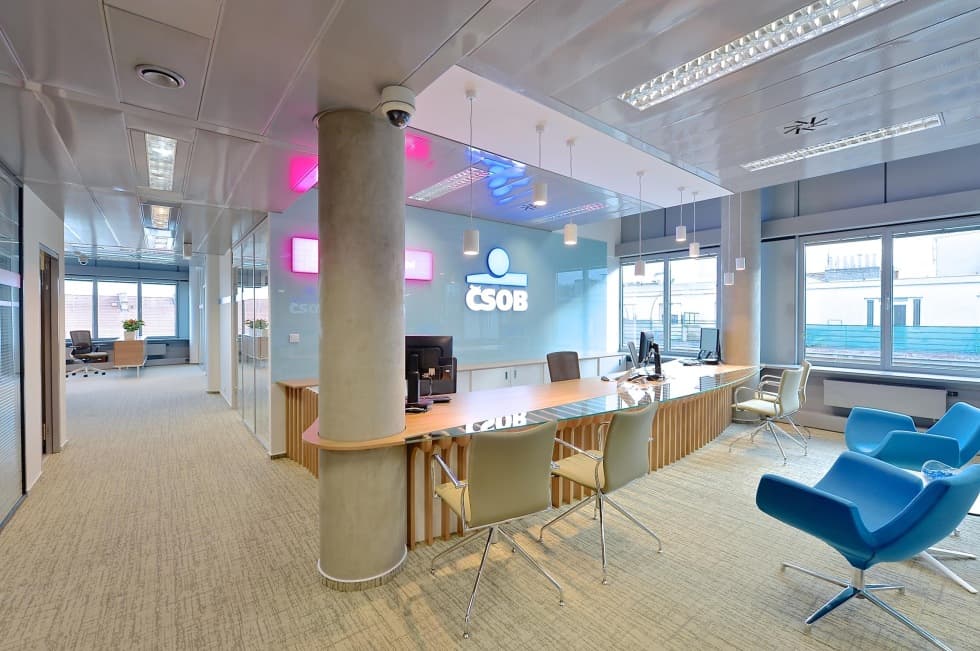 In November 2015, we completed the implementation of an office space for our client, the bank Československá obchodní banka (ČSOB), which asked us to design and implement their 300 sqm corporate banking branch in the Zlatý Anděl building in Prague 5.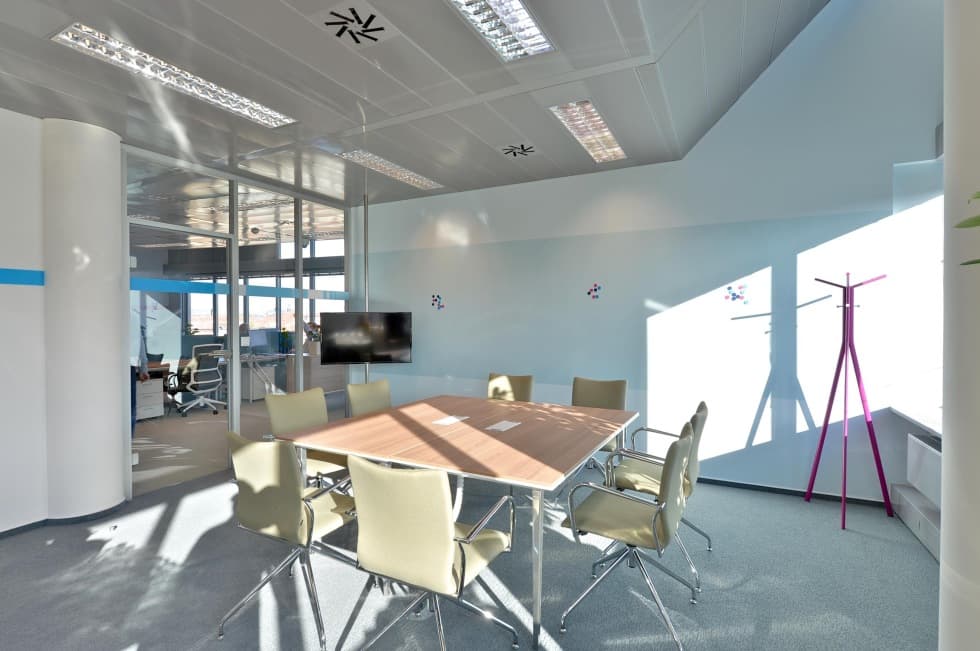 Curved shapes
The design concept was to create a bright, pleasant work environment featuring the corporate colours in small details. Our project consisted in the design of the reception area, an open space, offices, meeting rooms and new restrooms. The dominant element of the space is a tailor-made curved reception desk with wood slats. Curved shapes are also repeated in the carpet, which defines the public area. The wave motif is also applied to the colourful slats, creating discrete zones in the open space.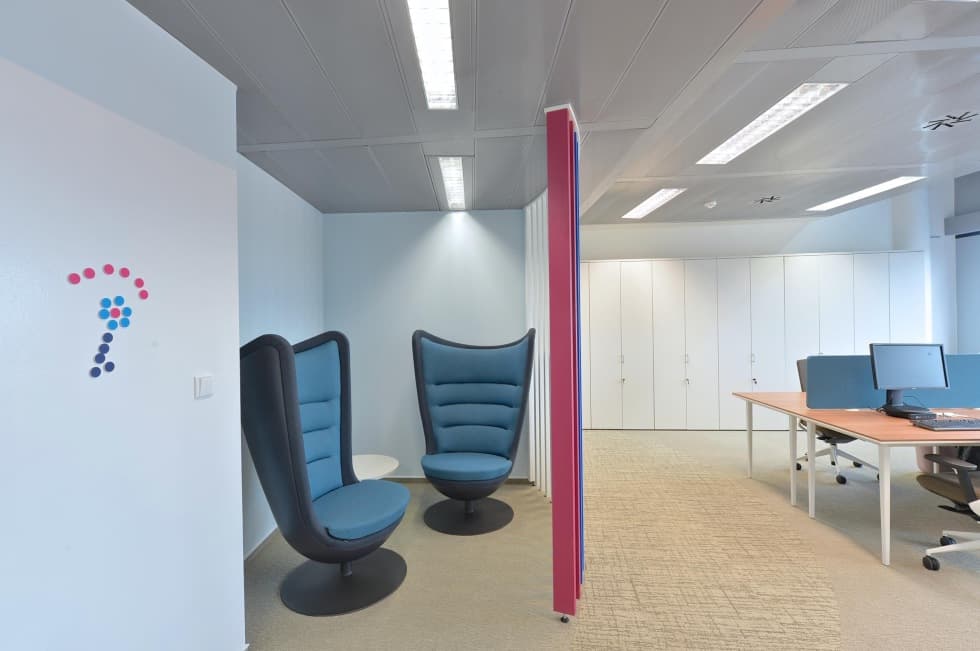 Acoustic armchairs
Our contract included not only construction work, but also the delivery of complete interior furnishings. To achieve
a balance between design and comfort, we chose office furniture from the Spanish manufacturer ACTIU, which we represent in the Czech Republic and Slovakia. The dominant feature of the space is the iconic Badminton acoustic armchairs. Ergonomically shaped for maximum comfort for work and relaxation, their modern design was a surprise at last year's trade fair in Milan, where they received an enthusiastic response.
Another equally interesting product chosen by the architects was the LONGO seating, which is separated from the work area by acoustic panels to create a sitting space for informal meetings in the open space. The work and conference tables are also based on the same LONGO foundation, which was created only last year as another new product from ACTIU. All the elements thus create a timeless space not only for ČSOB's clients, but mainly for the employees who spend every day here.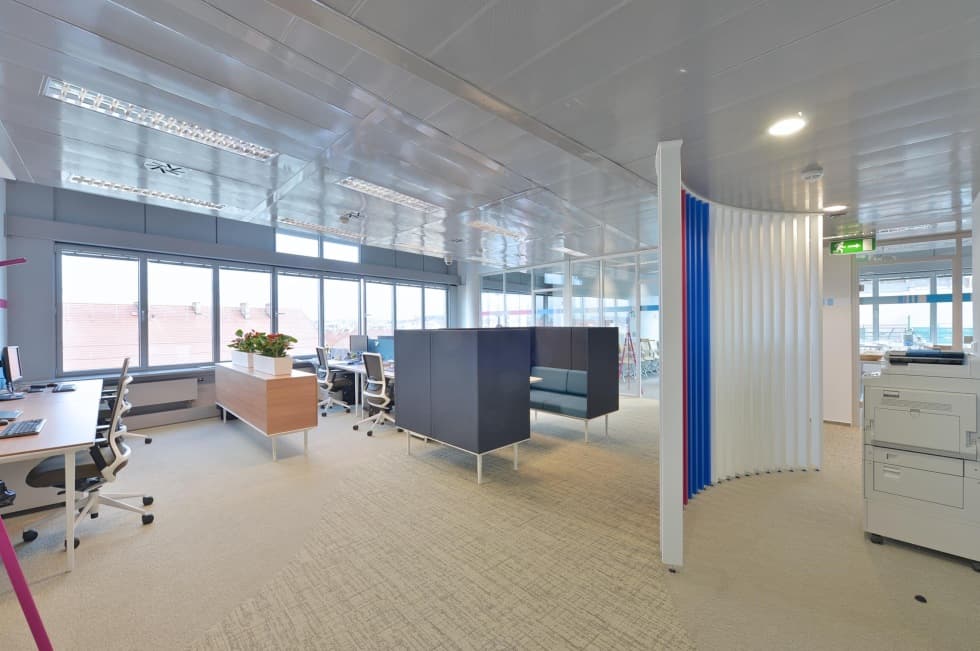 Just under two months
The work of architect Erika Doláková and the entire implementation team resulted in a successful office space project. Our chief reward is the great satisfaction of a major client such as ČSOB, which appreciated not only the quality and design, but also the fact that we delivered the project less than two months after agreeing on the architectural design and signing the contract.
Chcete sedět v podobných kancelářích?
Napište nám vaše požadavky a přání. Vytvoříme pro vás interiér na míru.

Do you like it? Share it.
Want to sit in an office that looks like this?
Write to us with your requests and wishes. We will create your dream interior.