Discover working outdoors! Carefully selected furniture will ensure efficiency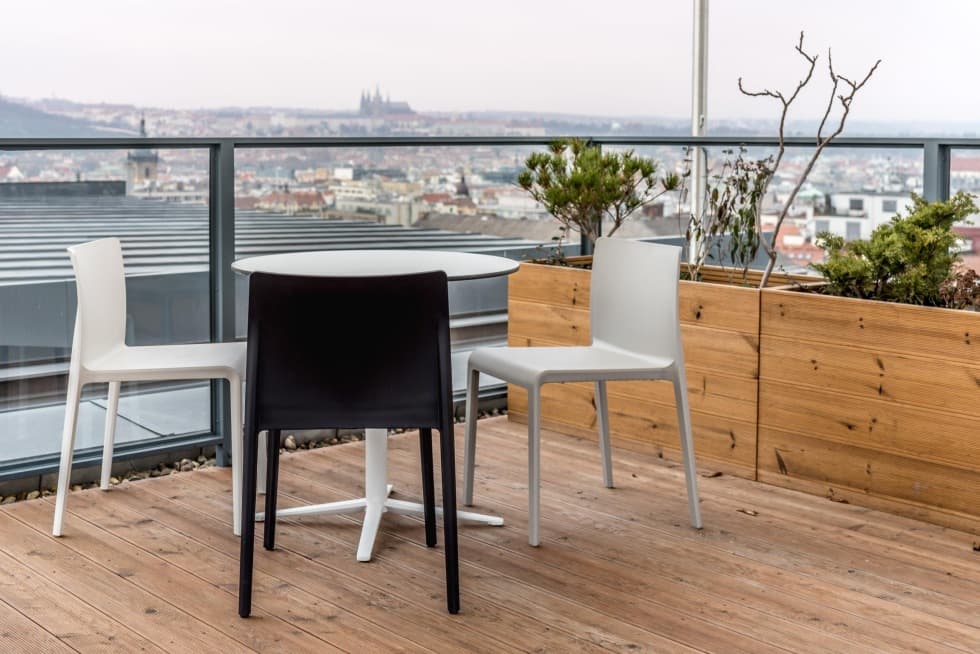 No, it's not about working from the beach, where the sun blinds your monitor and grains of sand get into your keyboard. We're talking about company terraces. You can also work outdoors in a focused and highly efficient way if the company's offices allow it and if you invest in suitable outdoor equipment.
Although offices with a sufficiently large terrace are still something of a rarity (at least in Prague), interest in them is growing, especially after the pandemic as employees seek the opportunity to work elsewhere than in an enclosed room. Young companies are typically interested in terraces as a space for informal gatherings, meetings or barbecues. But there are also progressive companies looking to add another dimension to their offices.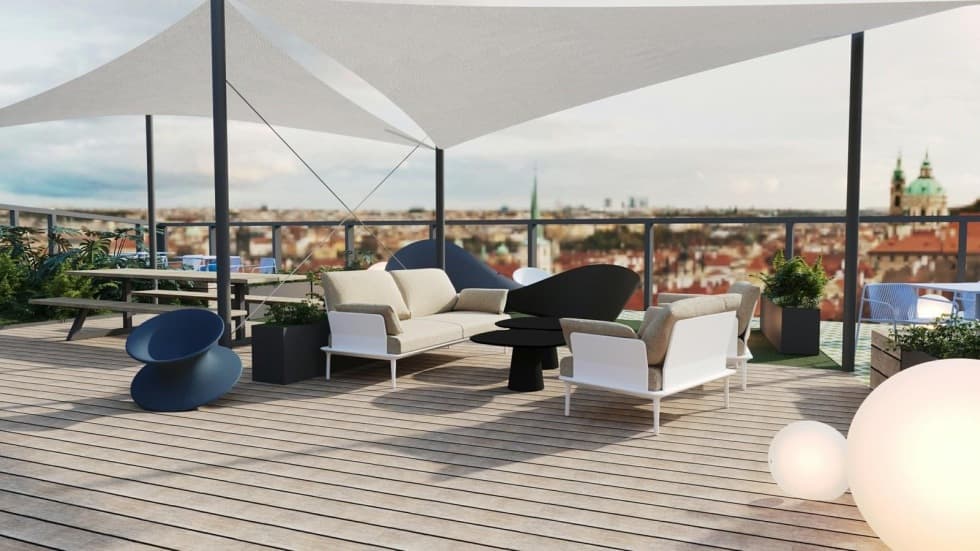 Stress reduction
The question arises as to why work outside at all. The main benefits include greater employee well-being, which is reflected in their physical and mental health. If your office isn't near a park or greenery, a terrace is a great alternative and a way to reduce stress in the workplace. Not to mention that in many companies it also serves as
a smoking room. If the outdoor space is connected to the office, employees can take breaks more often, but without wasting time.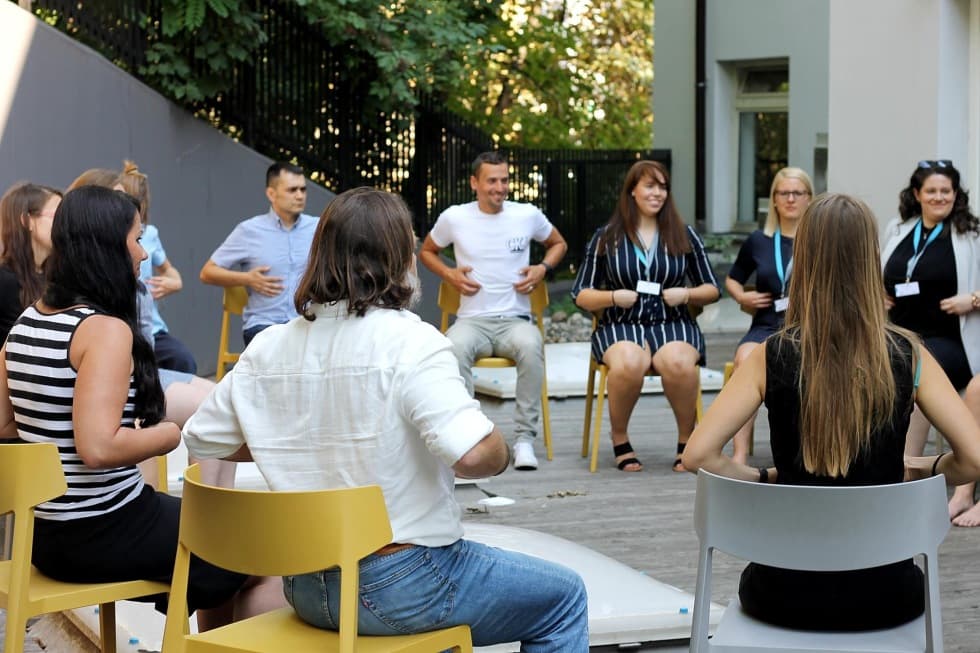 Employee satisfaction
The presence of a terrace also has a positive effect on the perception of your corporate culture. A well-maintained and exemplary outdoor space demonstrates that your company cares about the well-being of its employees, which tends to attract new talent. If you also want to show a penchant for sustainability, you can grow blooming flowers, herbs or vegetables on the terrace. The terrace can also house an insect hotel for solitary bees.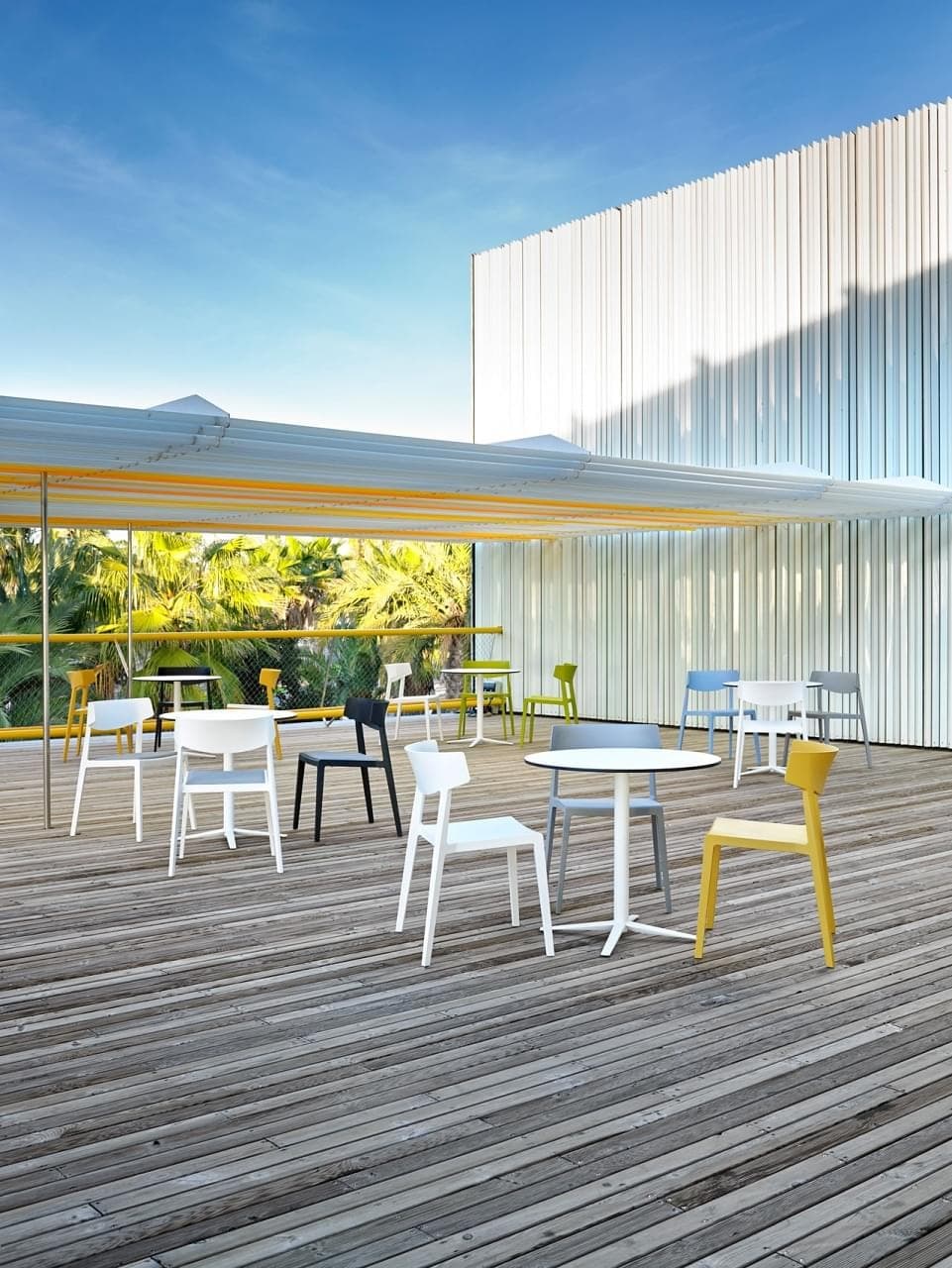 Air quality
Finally, spending time in the fresh air helps increase productivity. A study of 2,000 employees and 1,000 managers found that just 29 minutes outdoors led to a 45% increase in productivity. Here it is also important to mention the essential role of air quality. This should be observed not only indoors, but also outdoors. According to a NOAA report, poor air quality leads to losses in the tens of billions of dollars. The negative effects of bad air are headaches, fatigue or irritation.
Chairs you won't sweat on (you know what we mean)…
The choice of furniture determines how usable a terrace will be. It should meet several important parameters. While it may be tempting, don't just choose the cheapest pieces in the regular garden furniture section. Really cheap furniture does not offer the necessary durability. Considering how much they will be used in an office setting plastic chairs would be destroyed very quickly.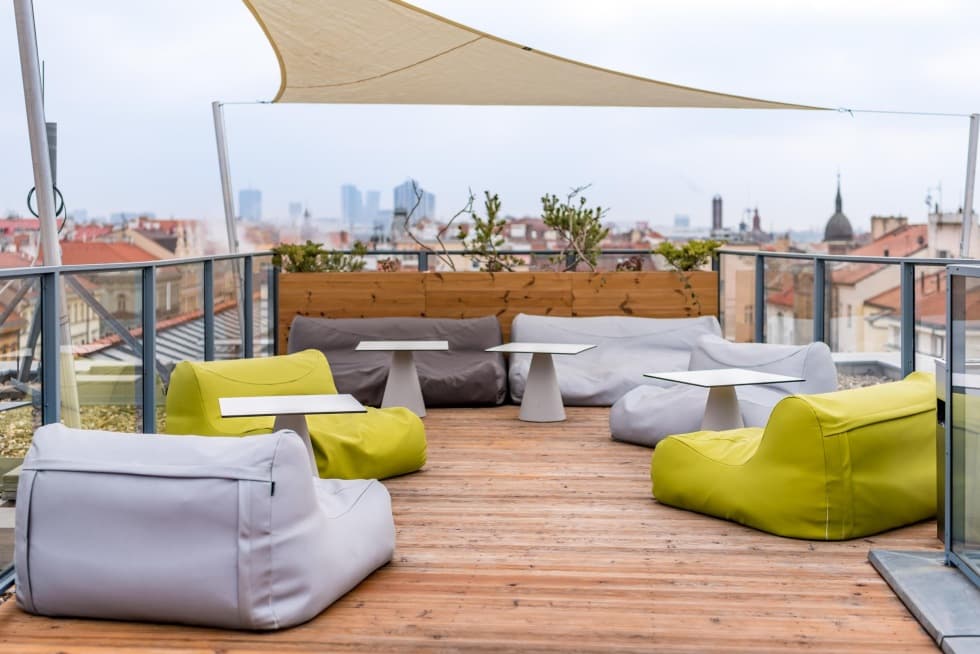 Material should be at the top of your list of priorities
For example, outdoor furniture can be made of teak, stainless steel, aluminium, wicker or rattan. Each material has its pros and cons. Aluminium is light and can be blown away, stainless steel heats up when placed in the sun, wooden furniture is not suitable for humid environments, hard plastic is easy to start sweating on and temperature fluctuations can lead to cracking.
The chosen material should always take into account the vagaries of the climate and weather conditions. Of course, upholstered furniture with materials that tend to absorb moisture and cannot be easily cleaned is completely unsuitable. You can increase comfort by adding various pillows, bean bags or seat cushions. Have storage space in the office interior ready for these.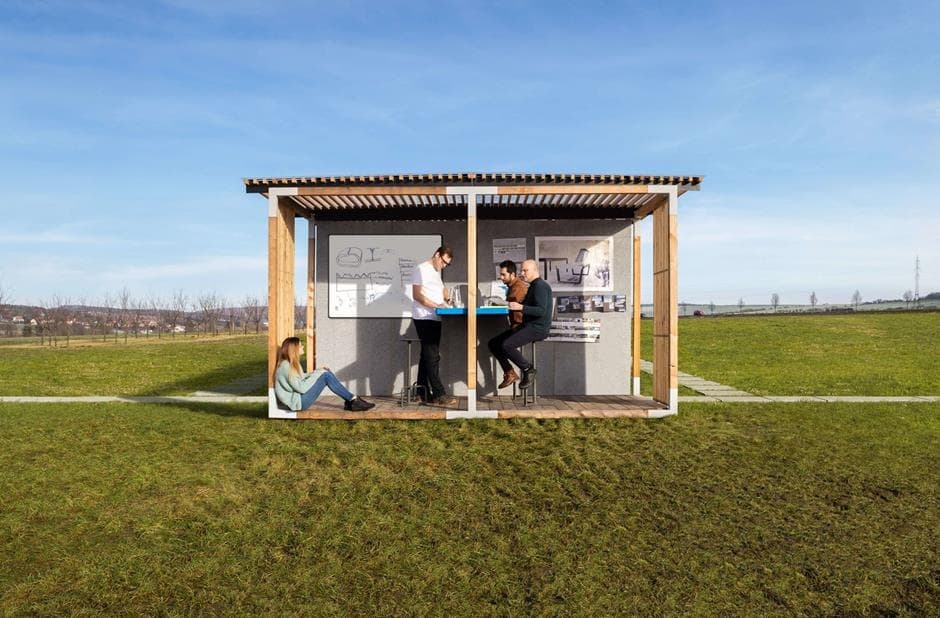 Outdoor office
The furniture and the overall concept of the company terrace should be easily customizable. The modular Leva Office system by the Czech manufacturer Egoé can be described as an outdoor office in the form of a practical "puzzle". The system reproduces the interior in the exterior, the office in the exterior. All steel parts are surface treated with zinc and powder paint. The supporting beams themselves are made of larch wood. Leva modules and accessories can be combined with Egoé outdoor furniture. The result is the comfort of the office, but outside on the terrace.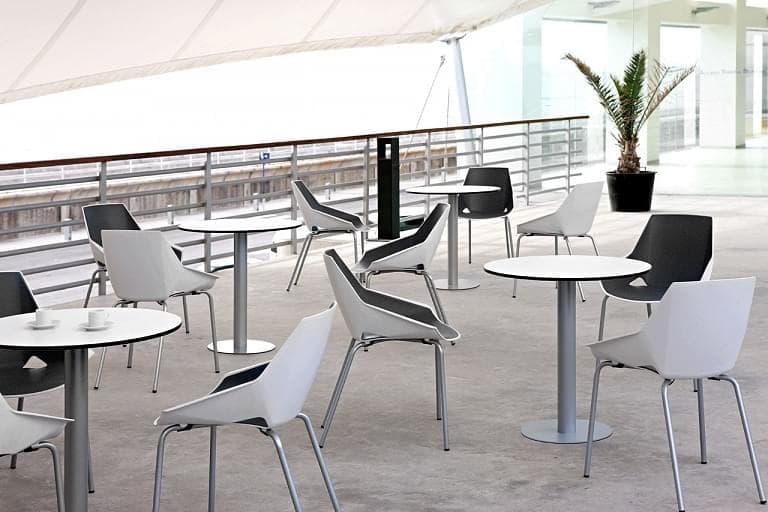 How to cope with adverse light?
For work on the terrace, it is essential to have plenty
of shade in sunny weather. On hot summer days, shade is not only pleasant, but also protects health. A portable parasol is the most economical solution, but a modern and more attractive solution are awnings (even against rain) or pergolas with a retractable roof. If custom made, it is possible to order them in the company colours or with the company logo. Some of the awnings have trigger steering as an optional accessory. So, if you want to work from sunrise to sunset, the sun will not bother you.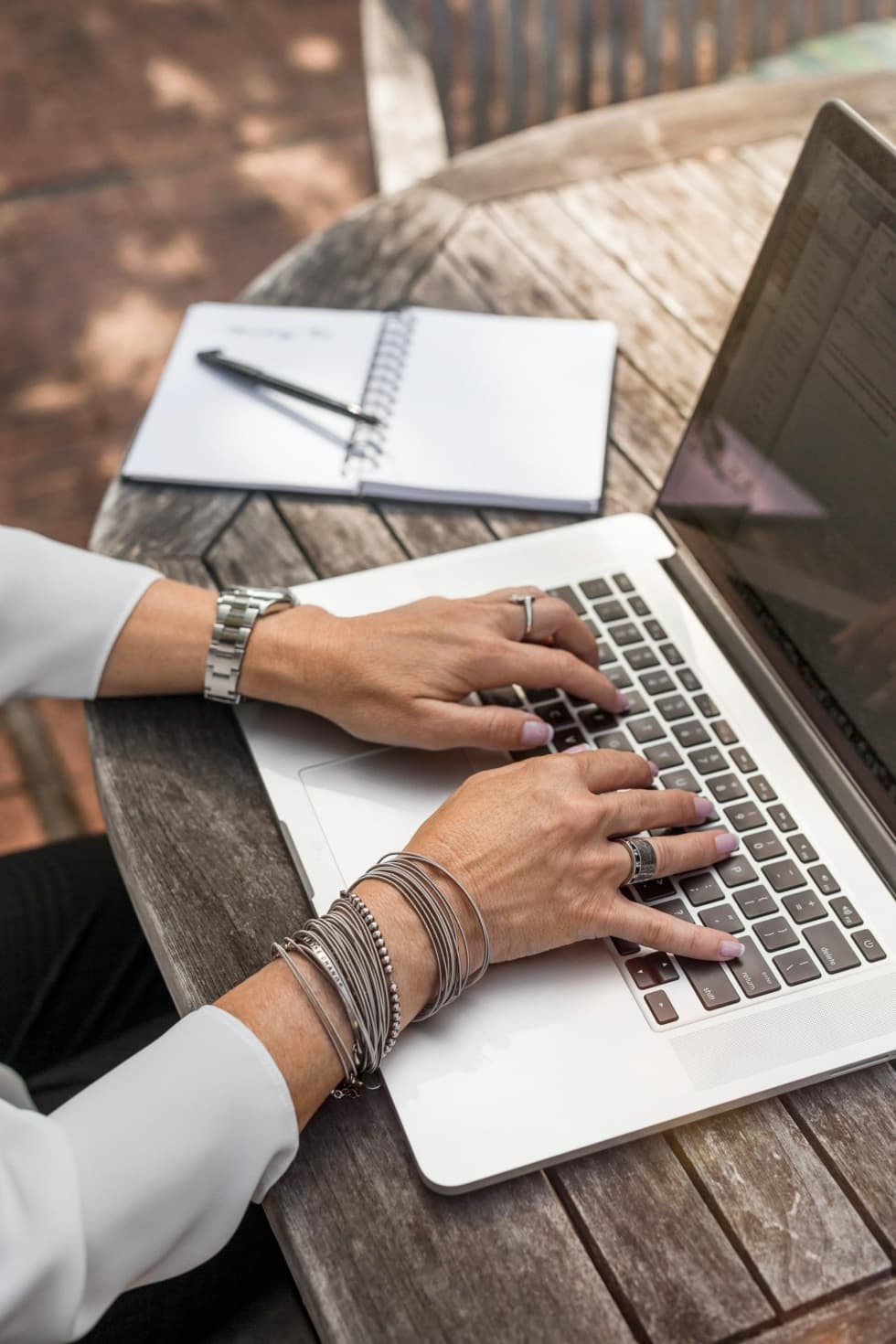 Outdoors wifi
However, to work for several hours on the terrace you also need to have all the technological conveniences, most importantly wireless internet. Fortunately, manufacturers have thought of this as well, and it is not a problem to get an outdoor access point powered by a network cable with a certificate of resistance to rain. Protected from the sun and with fast internet, employees can use their time on the terrace productively.
Do not leave the terrace or roof unused
It would be a great pity to leave the outdoor space of the office unused, when working in the fresh air can be productive, motivating and extremely comfortable. If you are thinking about how to turn your terrace into an outdoor office, do not hesitate to contact us. CAPEXUS experts will be happy to discuss all the details and requirements with you.
Authors of the photos: Petr Andrlík, Unsplash, Egoé
Got interested by this article? Share it.