Fit-out for Wall Street English in the office project Myslbek in Prague 1
We are very happy to announce that we have just completed the fit-out for Wall Street English in the office project Myslbek in Prague.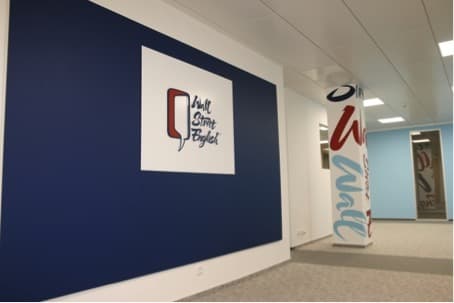 Overall modernization
Myslbek building was selected as the new seat for the language school Wall Street English. The property under management of the investment group AEW Europe is currently undergoing an overall modernization of all interiors and provides one of the most representative premises in Prague.
Pleasant space
The main target of the project was to create premises, which ensure functionality and comfort meeting the needs of a language school. Architects from CAPEXUS proposed final layout of the office and also proposed the design solution selecting materials and colours complementing the corporate branding of WSE.
The main challenge was a tight time schedule. However the outstanding communication and cooperation with both, the tenant and the building manager, company BNP Paribas, contributed to a smooth process and timely delivery.
Our new offices in Myslbek were delivered by CAPEXUS.
I was very satisfied with the cooperation and the entire organization, everything proceeded according to previously agreed scope and all works were delivered within the requested timing. This cooperation led to my decision to ask CAPEXUS to work with us on our next project. My thank you goes to the whole team.
Do you like it? Share it.
Want to sit in an office that looks like this?
Write to us with your requests and wishes. We will create your dream interior.