Relaxation zone for Philip Morris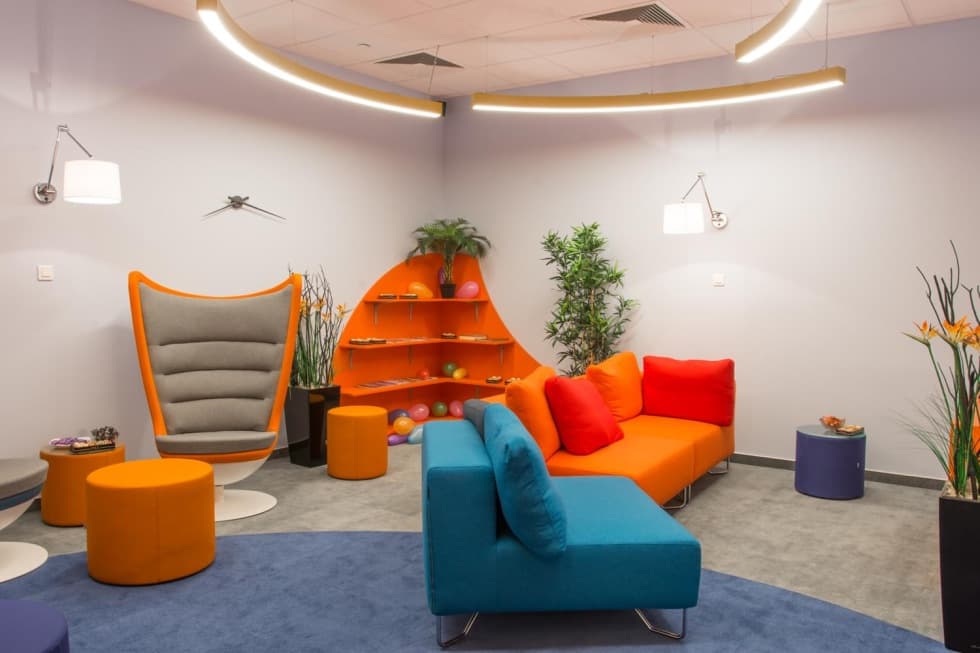 Based on our long-term cooperation, we completed another project for the company. Part of this project was not only an architectonical study, but also the realization of a unique relax zone and reconstruction of the entire floor of their building.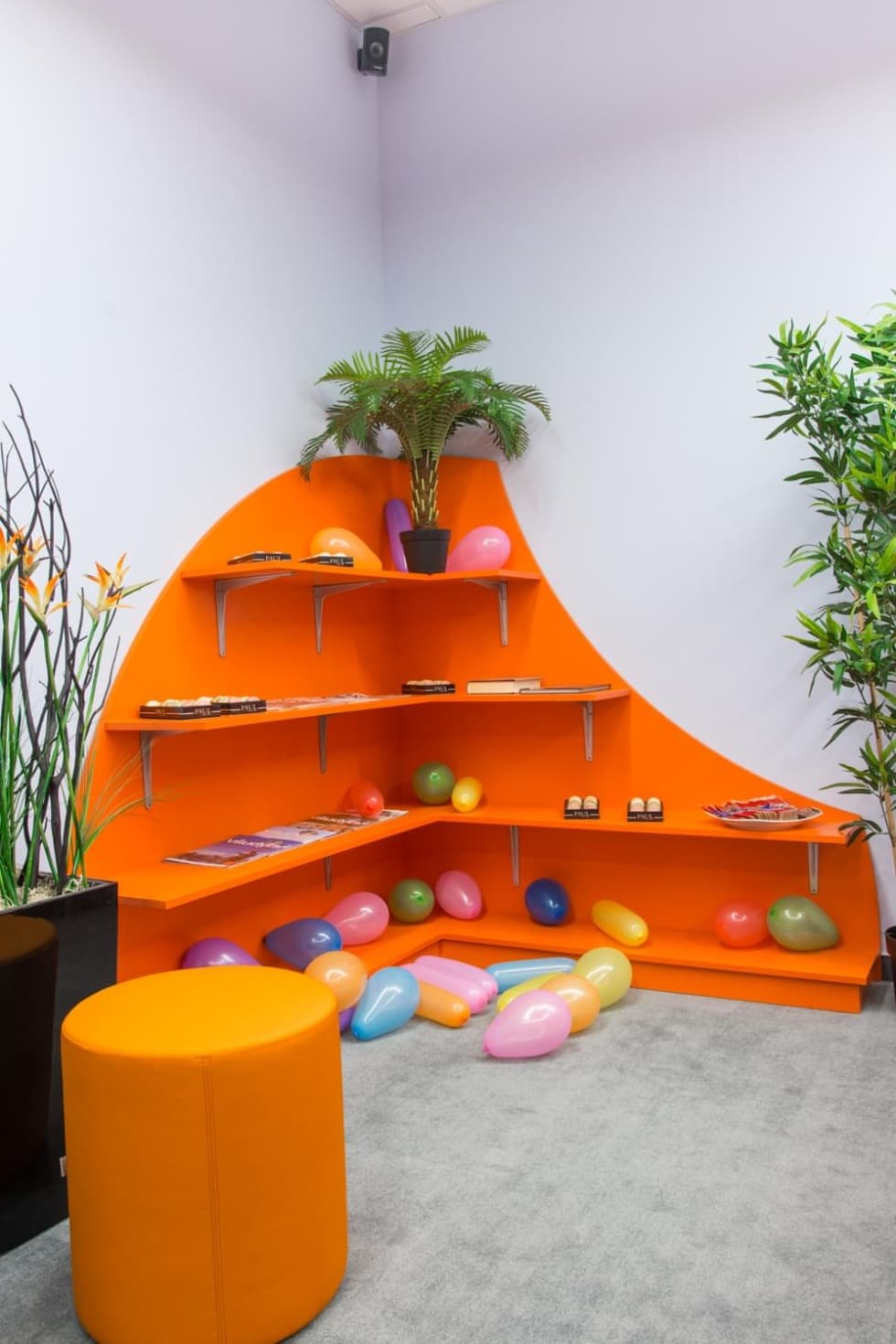 Orange shine
The architect from CAPEXUS, Bc. Josef Kolář, was inspired by the concept of the rising and setting sun. Based on this concept, the carpet floors are made to form a half circle, in a combination of blue and grey shades together with a shiny orange lacobel wall. The motive is completed by color coordinated furniture and a round bookshelf.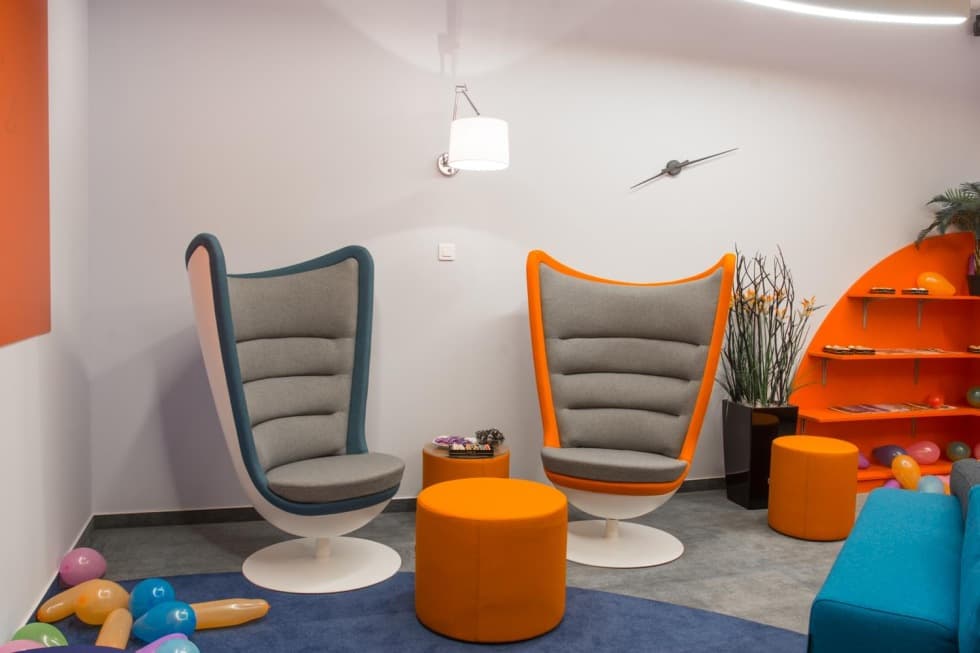 Elegant curves
The glass walls are covered with sticker decorations, giving the space a nice touch. The carpet floors are by VOXFLOR from the Goth series, designer chairs from ACTIU in the style BADMINTON and the soft seating is by SoftLine. Regardless of the absence of daylight in the room, the combination of colors and furniture makes the room a place suited for relaxation.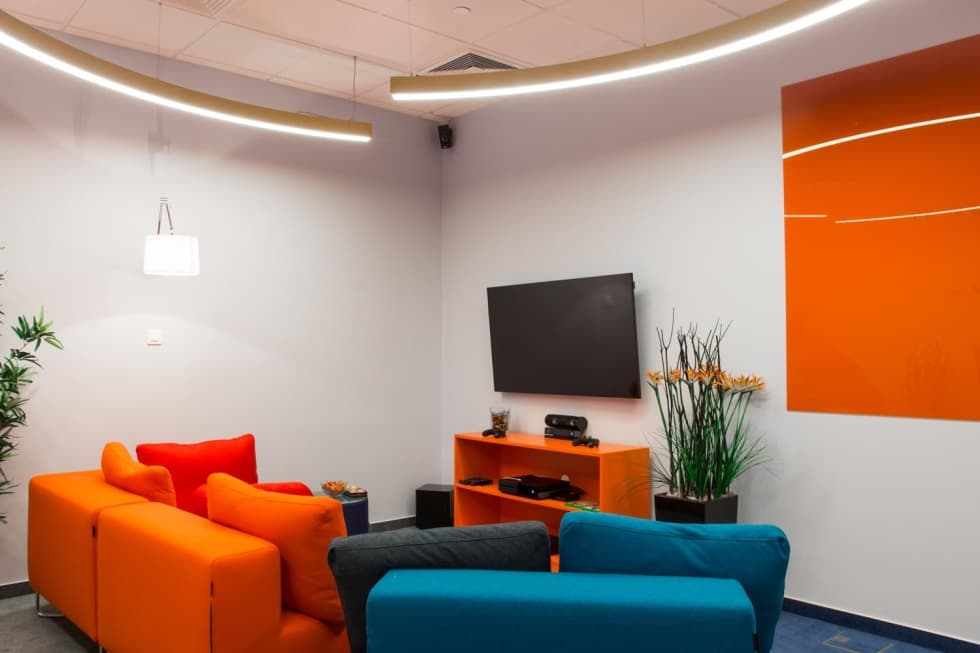 Not only relax
The realization of this unique relax zone was part of an extensive reconstruction of an entire floor of the building. The reconstruction included adjustments made to the office spaces, particularly adjustments of the office dispositions, technologies related to this process, and also changes of carpets and painting. The office architecture was designed by atelier ArchiCon plus and realized by CAPEXUS.
Charles Square Center
Charles Square Centre is a nine story polyfunctional building located on the corner of Charles square and Resslova street in Prague. It's a highly modern building offering 15 000 m2 of office space and almost 6 000 m² of store space. The stores are located in the shopping gallery part of the building, the Atrium. The offices are designed to meet all of the client's expectations. Besides open space offices, there are many individual offices in the building, which have the highest standards in office functionality and are also environmentally friendly. The Centre is directly next to the Metro line "B" – Charles square, tram and bus stops, and also close to one of the largest parks in Prague. All of the above make Charles Square Centre an attractive and sought after location.
Do you like it? Share it.
Want to sit in an office that looks like this?
Write to us with your requests and wishes. We will create your dream interior.